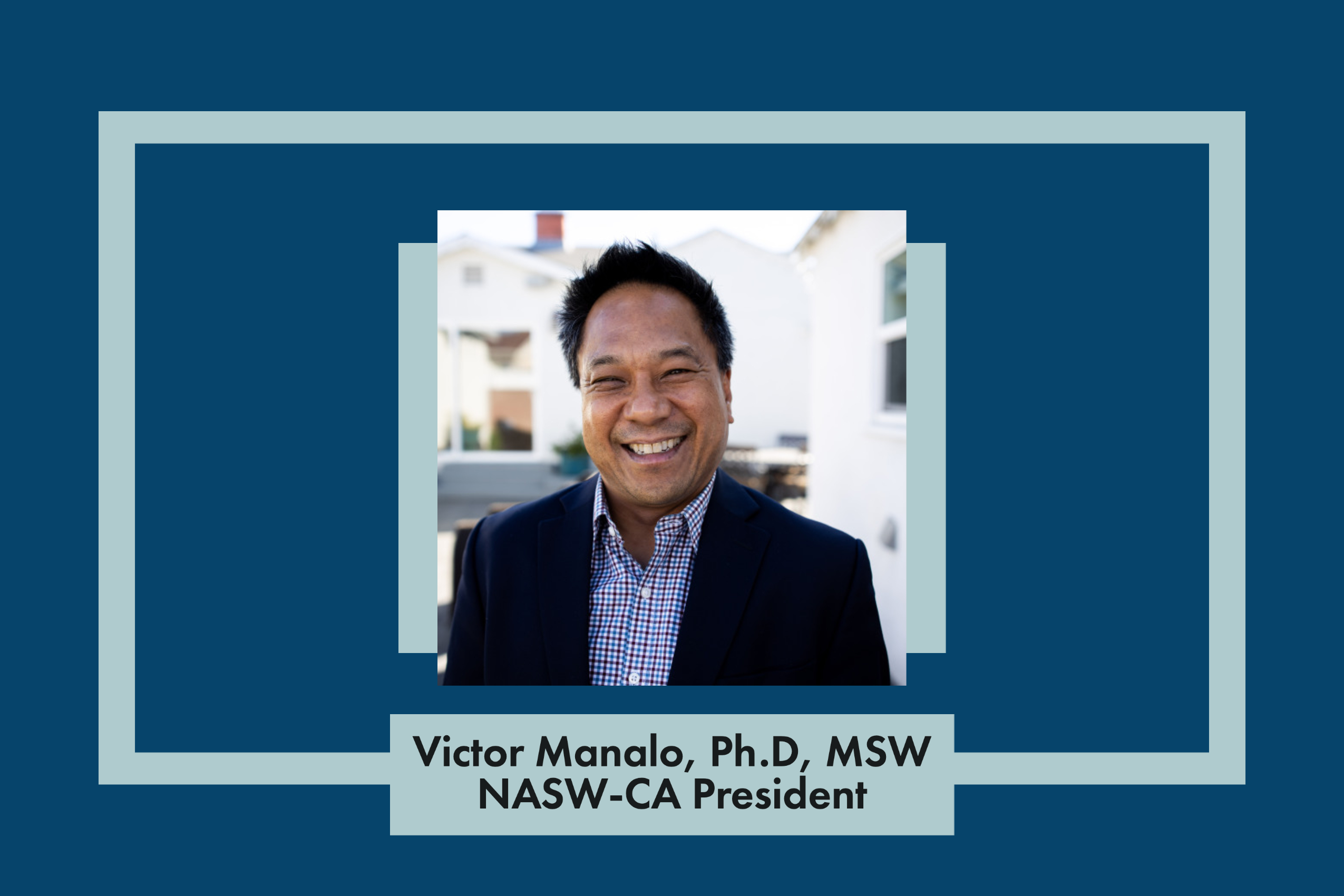 By Victor Manalo, Ph.D, MSW
NASW-CA President
I am honored to serve as President of the Board of Directors of NASW, California Chapter and to serve you, my fellow members, for the next three years. My journey to this position started over 30 years ago, when I became a member of NASW as an MSW student at California State University, Long Beach. I could not be writing this if not for the social workers who were my role models and mentors over the years.
Royal "Uncle Roy" Morales provided me with my formative experience as an NASW member. In the Spring of 1992, after the uprising following the Rodney King verdicts, Uncle Roy wrote a piece for the NASW-CA news urging social workers to become engaged and get involved in fighting against the social injustice represented by the initial verdicts in the case. I called Uncle Roy right away and asked him how I could get involved. He invited me to accompany him to deliver campaign checks to elected officials that had been endorsed by CalPACE, NASW-CA's Political Action Committee. Needless to say, I was hooked! Uncle Roy included me in all of the projects and issues that he was involved in with the Filipino community, and he showed me the value of working with others, of organizing, and of education. 
At the time I had the fortune to meet James Kelly. He was the Director of the Department of Social Work at California State University, Long Beach. When Jim was elected to be the Regional Director for Region I, I decided that this was my opportunity to work with and to learn from a veteran social worker. Little did I know how much Jim would contribute to my professional development and career. He offered me my first teaching gig in the MSW program. We lobbied together for NASW on Capitol Hill and planned regional events. When he was appointed as Dean of the College of Health and Human Services at California State University, Los Angeles, he brought me into the social work program as a field faculty member while I completed my dissertation. Jim is a Past-President of the NASW-CA Chapter, and I am so humbled to follow in his footsteps!
Janlee Wong, former Executive Director of the NASW California Chapter, and his wife Mariko Yamada, have been my cheerleaders, my supporters, my confidants, and my comrades in the fight for social justice. Whenever I would visit Sacramento, Janlee would always be available to have a coffee with me or share a meal with me. When we were lucky, Mariko would join us. Together, in the span of a couple of hours, we would save the world! Those sessions always reminded me that I am not alone in this fight! When Janlee retired last year, I realized how much Janlee had been a pivotal part of my growth as a member of NASW, and, for his and Mariko's support, I will always be grateful.
I can tell you about many more influential social workers from my life, but I have to thank the most important social worker in my life, my wife, Monica. We decided to get our MSWs together, we got married, we raised three awesome children together, and I could not have done any of this without her love, support, and understanding that only a social worker can give.
I look forward to getting to know you over the next three years. You, the members of NASW, are my priority, and I am at your service. Until next month. . .  In Solidarity, Victor Manalo