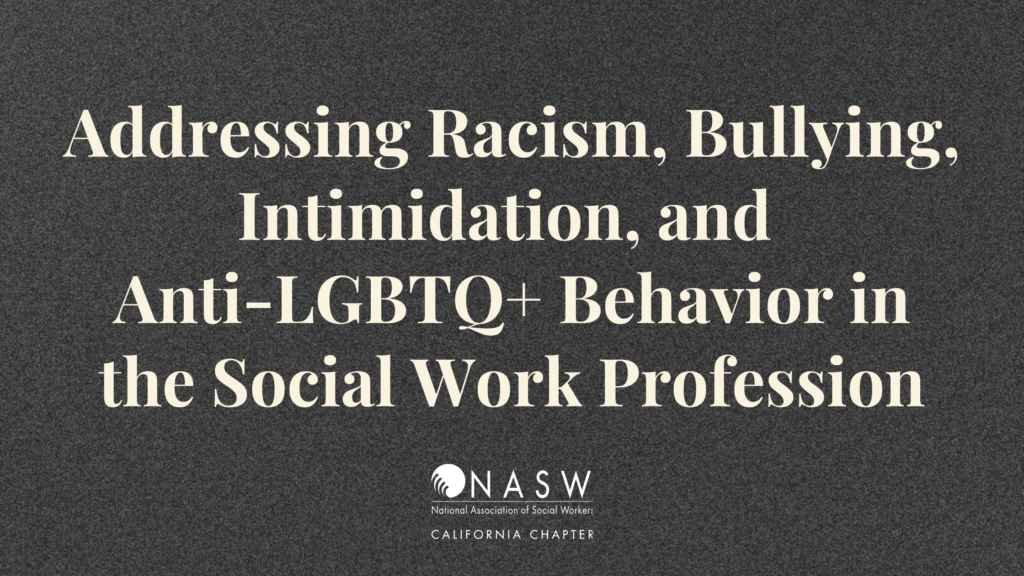 Dear Social Workers,
I hope this message finds you well. I would like to draw your attention to a matter of great importance that has come to our attention following the recent NASW-CA conference, "Re-Emergence: A New Path for Social Work."
It has come to our notice that there were instances of racism, bullying, intimidation, harassment, and anti-LGBTQ+ behavior displayed towards staff, presenters, volunteers, and partners during the conference. I want to emphasize that these behaviors are not only harmful to individuals but also deeply damaging to the entire social work profession. The chapter is working in collaboration with our colleagues across the nation and in D.C., to address all the issues that collectively evolved during the conference. If you were directly impacted by harm during the event, please email the chapter at naswca@socialworkers.org.
As social workers, our commitment to social justice, equity, and respect for all is at the core of our work. Bullying, intimidation, racism, and discrimination in any form undermine these principles and contradict the values we should be expected to uphold. It is crucial for us to address these issues head-on and work towards creating more inclusive and equitable environments –both within our profession and within broader society.
We understand that instances of bullying, intimidation, and discrimination can be deeply distressing and impact the emotional well-being of those targeted. We encourage anyone who has experienced or witnessed such behavior to come forward and share their concerns. NASW-CA further encourages anyone with information on any social worker or event participant who engaged in this type of behavior to please reach out to us. It is unacceptable, and it is a direct violation of the NASW Code of Ethics.
In response to these incidents, we are taking actions to address and hopefully prevent these issues, and to create safer and more respectful spaces for everyone.
Zero tolerance policy: We will not tolerate any form of bullying, intimidation, racism, or discrimination within our organization or at any events we host or attend. This includes using racially charged, demeaning, derogatory, racist, oppressive, and hurtful language even in regardless of where or if the content of race may be discussed. We expect all attendees, staff, presenters, volunteers, and partners to adhere to this policy, and we will take immediate action to address violations, up to and including the removal from current and future NASW-CA engagements, activities, and/or events. Refunds will not be issued to anyone who violates the zero-tolerance policy.

Education and awareness: We will continue our commitment to building capacity within the social work profession by organizing and hosting training sessions, workshops, and conversations about cultural humility, implicit bias, addressing and undoing racism, promoting inclusivity for LGBTQ+ individuals, and other critical topic areas related to anti-oppressive and anti-racist social work practice. These initiatives will help enhance our understanding and equip us with the knowledge and tools to confront issues of inequity and injustice more effectively.

Open dialogue and support: We encourage open and honest conversations about bullying, intimidation, racism, and anti-LGBTQ+ behavior within our organization. We will establish virtual/in person wellness spaces for individuals to voice their concerns. We also encourage those impacted to seek support, by contacting their health insurance panels, calling 2-1-1 or accessing community-based organizations to seek support if necessary.

Partnerships and collaborations: We will actively seek partnerships with organizations and individuals who are committed to addressing these issues and dismantling systemic oppression at its core within the social work profession. By working together, we can amplify our efforts and drive meaningful change.
Each one of us has a role to play in challenging and dismantling harmful and oppressive behaviors and promoting equity. By doing so, we can ensure that social work remains a force for positive change and social justice.
If you have any questions, suggestions, or concerns, please do not hesitate to reach out to me or the NASW-CA Board of Director President, Dr. Victor Manalo, as soon as possible. You may also email the chapter directly at naswca@socialworkers.org. We want to hear from you directly.
Together, we can cultivate a new vision for our profession which seeks to repair past harm and prevent future harm in our work and in our world.
Thank you for your attention to this matter and for your ongoing commitment to advancing social justice.
Sincerely,
Kimberly Warmsley, MSW, LCSW
Executive Director