The National Association of Social Workers, California Chapter is dedicated to advancing the profession of social work, advocating for you and the communities you serve, and ensuring that our field can thrive.
This year, we reflect on our work in 2021. We thank you all for being our partners who drive the chapter's work. A special thanks to our nearly 9,000 members who fuel our chapter and allow us to continue this important work. With each and all of you, we were able to accomplish so much, and there is much more opportunity for us on the horizon. If you are not yet a member, please consider joining us if you are able – your participation provides us with the resources to continue to thrive in our work to advance social justice.
We thank you for being essential this year. NASW-CA's advocacy program has continued to be active in these unprecedented times. During the Covid-19 pandemic, we were able to quickly pivot to virtual lobby visits and virtual testimony during legislative committee hearings. The pandemic created an urgency around mental health and economic issues that we all care about. After the murder of George Floyd, we collectively focused on reimagining public safety with a greater role for social work. Although no dispute, social workers have been in the anti-racism and systems change movement for many years. Check out Legislative Round-up for 2021 to learn more about our advocacy efforts and successes.
Here are some of our major highlights from 2021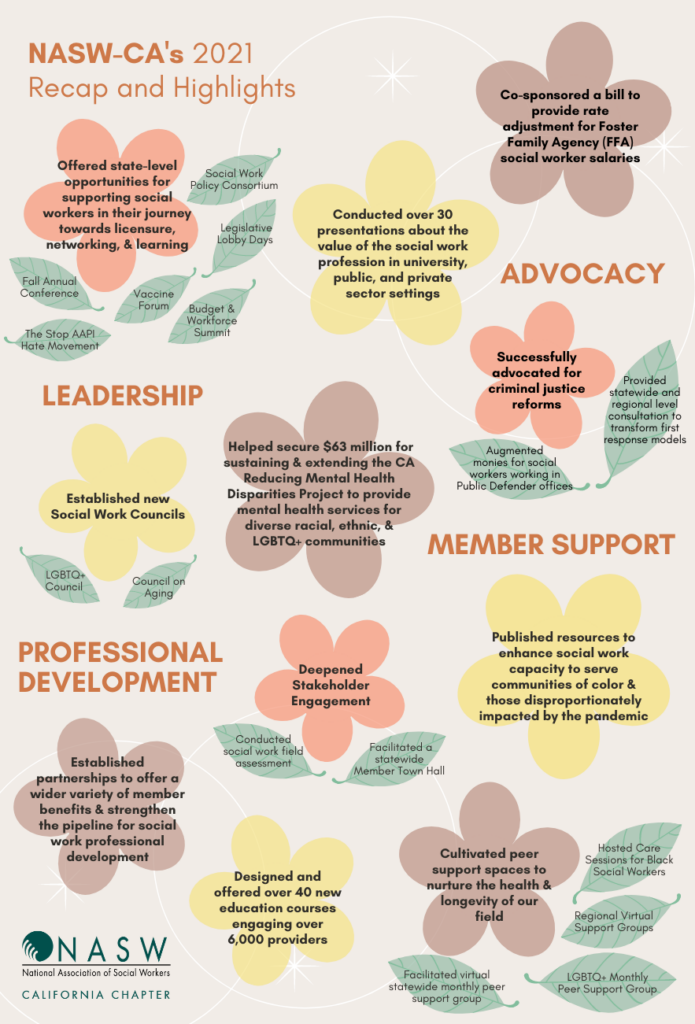 What's next with NASW-CA?
Stay tuned to learn more about our advocacy agenda for 2022, driven by our members and the field of social work in California! Join us at

State of the Association

event.
Save the dates for our

Macro Social Work Symposium

,

Legislative Lobby Days

for students and professionals, and a transformative statewide conference!
More trainings and exciting events will be announced to ensure we reflect and respond to the needs of all fields of social work including advocacy, private practice, nonprofit management, children, youth and families, healthcare, aging, and many more.
Stay tuned for our new career listings page, special member benefits, and new website.
Have any questions or want to join our mission? Email contact@naswca.org.