A message from the NASW-CA Membership & Communications Director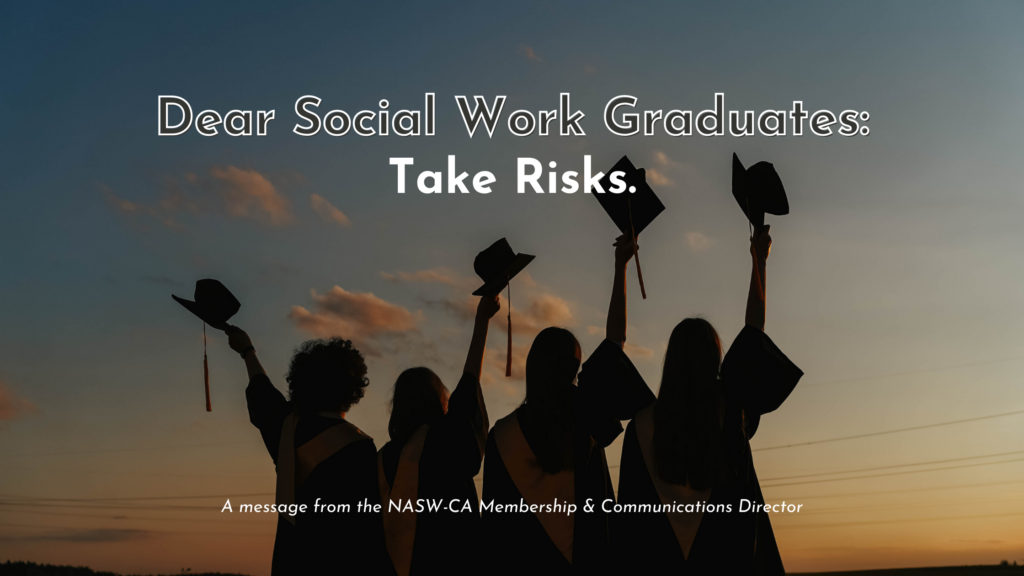 By Alex Brown, MSW
As was the case at many universities across our state, last weekend was graduation weekend in Chico, California. This year, I had the pleasure of sending off our Lavender Graduate students as their keynote speaker. It was an honor to speak at the event, because it was such a significant part of my history and development as a student, and it felt like coming back home.
I came out as gay in 2008, my first year at CSU, Chico. I became an activist on that campus, grew into a leader, and ultimately decided to become a social worker because of my passion for mental health and social justice. When I graduated with my MSW in 2015, I attended Lavender Graduation as a proud LGBTQ+ social worker, ready to start my career journey and to see where it would take me.
Today, I'd like to share the same message I shared with this year's Lavender Grad Class of 2022, with you.
As I was thinking about what to share in my short time with you all this afternoon, a phrase kept jumping into my mind, it's something that's followed me over the past 7 years since my graduation. The phrase is both short and simple and extraordinarily complicated. Here it is: Take risks.
Now, I want to share a little story about what this phrase means to me…
I am a proud Lavender Grad and Chico State Alum. This is where I came out and was deeply held and supported by my community of friends and chosen family. This is where I found my most influential mentors. Chico State is, quite frankly, where I grew up. And when I think about those last weeks of my graduate education and the weeks following graduation, I remember feeling excited but unsure of what to do with that excitement, hopeful but unclear about what the future had in store for me, eager to get out into the world and make my mark, but afraid of change and most certainly, afraid of failure. It was 2015, I had recently graduated with my MSW and got offered a new job, I was leaving a position I'd worked in for three years – which is, to this day, the longest I've ever stayed at a single job – and I asked my supervisor and mentor at that time if she had any advice for me.
She said – you may have guessed it – "Take risks." It's quite a profound piece of advice, but let me tell you, when you get out into the world and into newness and into being a young professional and a beginner, it doesn't feel so easy to apply.
So I jumped into this new job, and lo and behold, it was hard. It was so hard, and I was tested every day, because I was reminded of everything I still had to learn to be the person, the professional, and the leader I wanted to be. I kept making mistakes, and slowly learning how I didn't want to do things, and it turned out my development was much more a process of elimination and a lesson in humility than it was the string of repeated successes I had hoped it would be.
All the while, that advice to "take risks" followed me – haunted me, more like it – because I knew, deep down, that I was still playing it just a little safe. We're human, we're wired to do what's comfortable over what's risky, and I wasn't ready. But thinking back on every unexpected twist that's happened so far in my life, I realize that I was always getting ready for things I didn't know were coming.
A lot has happened since that first job after graduation in 2015. First of all, I quit that job because it wasn't good for my well-being, and even though I felt ashamed that I had failed, I can see now that it was both brave and risky. I changed careers entirely and became a social worker turned marketer with no formal training or education. I ran for elected office here in Chico and won. I was a beginner over and over and over again, and even though it was always uncomfortable and still is, it became clear to me that the goal was never to make risk easy – it was to make it inevitable. It was to make it foundational.
Here's some good news. Graduates, you are celebrating years of accomplishments, and you are also celebrating identity and community. I don't know your story, but I do know that many of you have already taken the ultimate risk: the risk of being who you are in a world that may not accept you. The risk of staying true to yourself when you don't know how it will be received. The risk of standing up for what's right as an ally and a friend to communities who need you now more than ever. You know what risk feels like, and so you know that it isn't for the faint of heart. And you also know it's worth it.
And with that in mind, I want to share just a few hopes for all of us as we enter the next chapter in our stories: 
May you say yes to new opportunities, even if you don't feel worthy of them yet. 
May you be willing to change course if where you're going doesn't fit for you. 
May you find your people, and turn to them when you need kindness and courage. 
May you never forget those who helped you take your next step. 
May you soften in a world that tries to teach you to harden. 
May you live into your values when it is the most difficult choice in front of you.
And finally, because the world needs more brave people, and it probably always will:
May you find them. May you be them. And may you teach them to take risks.
Congratulations, Class of 2022.
–
Alex Brown is the Membership & Communications Director for the National Association of Social Workers, California Chapter.