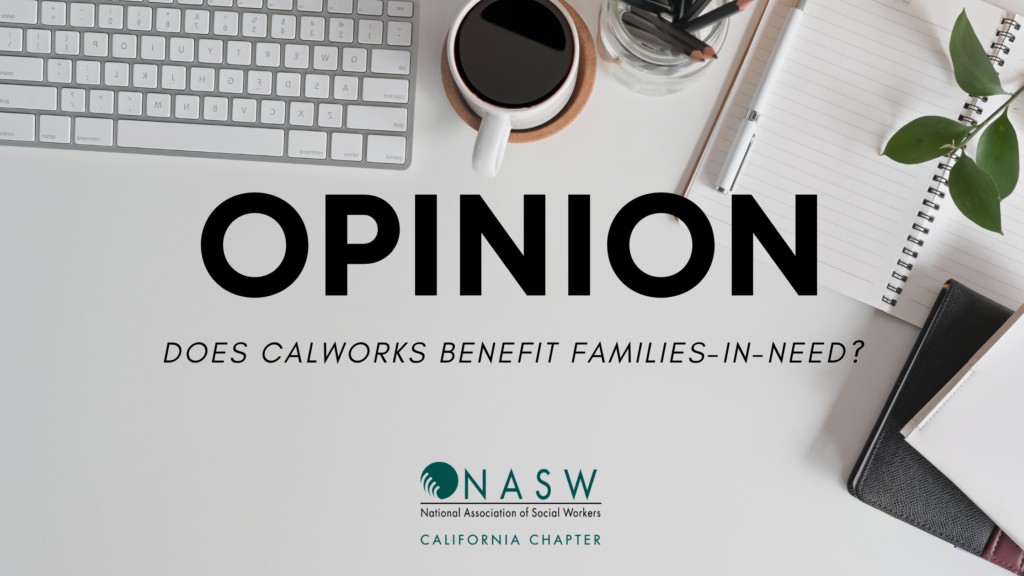 While we are proud to feature opinion pieces from our members and colleagues in the field, be advised that opinions and advertisements shared by NASW-CA do not necessarily reflect the views of the National Association of Social Workers, CA Chapter. This article was written by Advanced Policy students from Cal State Long Beach.
Montserrat Antonio
Mercedes Greer
Aniela Lopez
Suani Lopez
Major: Master of Social Work (MSW)
Social Work 605: Advanced Policy at California State University, Long Beach
Social justice is one of the values that drive the profession of Social Work to consider people who are oppressed, unemployed, or facing poverty. California Work Opportunity and Responsibility to Kids (CalWORKs) childcare subsidies specifically support families who struggle with the high cost of childcare. Childcare subsidies provided to working families help remove barriers that prohibit families from participating in welfare-to-work activities, reaching financial stability, and breaking the cycle of poverty. For example, low-income families spend 33% of their income on childcare costs compared to the working class, who spend 13%, and the middle-class pay 6% (Ahn, 2012).
CalWORKs benefits families in need by providing financial stability and opportunities for employment and job searching. CalWORKs has also partnered with social workers and community colleges by offering internships within social services. Through Greater Avenues for Independence (GAIN), they provide clothing vouchers, book vouchers, and stipends for gas and childcare.
Providing childcare assistance supports parents to reserve the parental choice and decide the best quality childcare possible. Case managers educate families on various childcare options, such as licensed providers or non-licensed providers. Furthermore, they assist families with referrals for licensed care and help them secure placement in the facility. The service helps remove some of the administrative burdens and empowers families through education.
CalWORKs allows parents to make decisions about their children's care while pursuing employment, education and other services, which encourages self-determination and provides an opportunity to break the cycle of poverty. The childcare subsidies provided by CalWORKs align with the NASW Code of Ethics, specifically the ethical responsibility of self-determination to "respect and promote the right of clients to self-determination and assist clients to identify and clarify their goals." While CalWORKs does assist many families, it is our responsibility as social workers to urge legislation to ensure that these benefits are available to all Californians. We must continue to speak out for those who are marginalized.