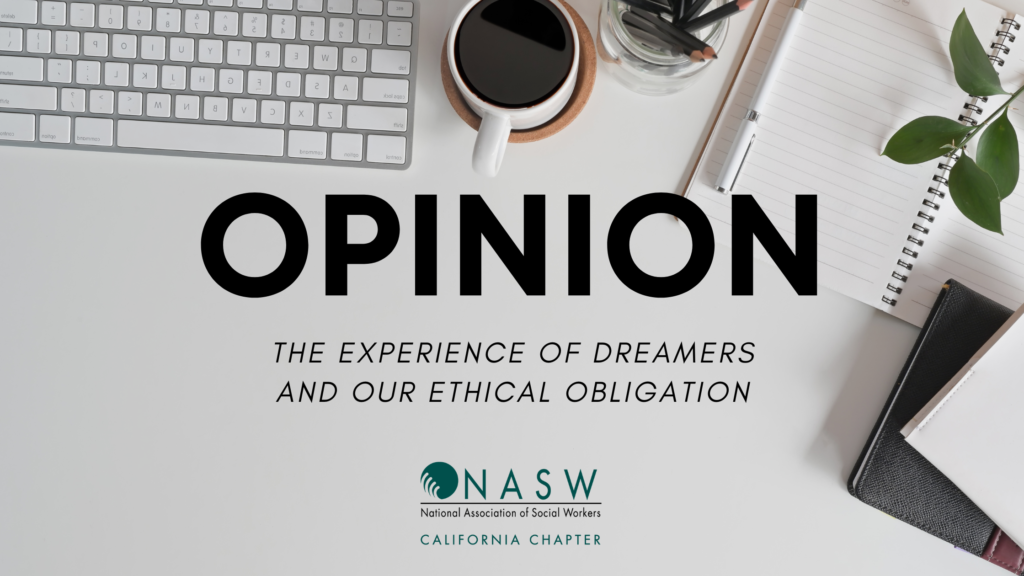 While we are proud to feature opinion pieces from our members and colleagues in the field, be advised that opinions and advertisements shared by NASW-CA do not necessarily reflect the views of the National Association of Social Workers, CA Chapter. This article was written by Advanced Policy students from Cal State Long Beach.
Chinasia Enagbare
Christine Gonzalez
Clanetta Kline
Major: Master of Social Work (MSW)
Social Work 605: Advanced Policy at California State University, Long Beach
The Experience of Dreamers and Our Ethical Obligation
Nearly 12 million undocumented immigrants live in the United States, accounting for almost one-third of the foreign-born population. The Dream Act (The Development, Relief, and Education for Alien Minors Act) is a United States legislative policy to grant temporary conditional residency, with the right to work, to undocumented immigrants who entered the United States as minors—and, if they later satisfy further qualifications, they would attain permanent residency.  Is the Dream Act a solution? Is there harm in the implementation of the Act? 
According to the NASW Code of Ethics, "Social workers pursue social change, particularly with and on behalf of vulnerable and oppressed individuals and groups of people. Social workers' social change efforts are focused primarily on issues of poverty, unemployment, discrimination, and other forms of social injustice."
Dreamers' advocacy is consistent with social justice and equality values since it involves the rights and well-being of minority and vulnerable groups. Advocating for legislative solutions that give a road to permanent legal status, promoting access to education and healthcare, addressing social and economic imbalances, and raising awareness about Dreamers' contributions to society are all ways to support Dreamers. In addition, social workers uphold the value of dignity and worth of a person as they strive to create an environment where all individuals are treated with dignity, respect, and a sense of worth.
We leave our fellow Social Workers with these questions. What are the experiences of the Dreamers? Are there barriers? Dive into their lives and hear their stories. If there are hindrances, it is our duty to advocate and uplift their voices.