Region H, in the West LA area, hosted a networking and CEU event at the Back on the Beach Café in Santa Monica .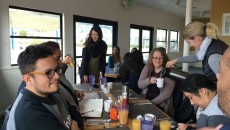 Jami Winkel, the Director of Community Engagement from the Relational Center (TRC), led the group through a process called Relational Public Narrative, to share stories of challenge, supports, values, choice, and outcome, in an effort to help participants re-invigorate their passion for social work in the New Year.
Relational Public Narrative was developed out of the belief that many of the challenges that marginalized communities face come from the experience of social isolation, which correlates with the values of individualism and consumerism present in our culture. We know that we are neurologically wired for resonance and community, but often the structures and technology that are present in our lives prevent this authentic connection. If we can deconstruct suffering, and even mental health issues, from being rooted in personal deficit to include a broader view of cultural conditions, we can develop a coherent narrative on our own experiences and create a "Culture of Radical Engagement" in connection with each other as community.
Participants engaged in storytelling and offering of resonance with each other in small groups, with the idea that those interested in digging deeper could attend the three-day training through TRC in spring. Although it was a brief taste of a more in-depth experience, the concept proved very valuable; attendees expressed that the process of Relational Public Narrative could easily be used in the social work field to prevent the breakdown of potentially successful programs and projects, since the knowledge of each other's stories and vulnerabilities can help us see across difference to each other's shared humanity.
For more information about The Relational Center, see http://www.relationalcenter.org/
For more information about Region H, see our Facebook page at https://www.facebook.com/groups/regionhnasw/