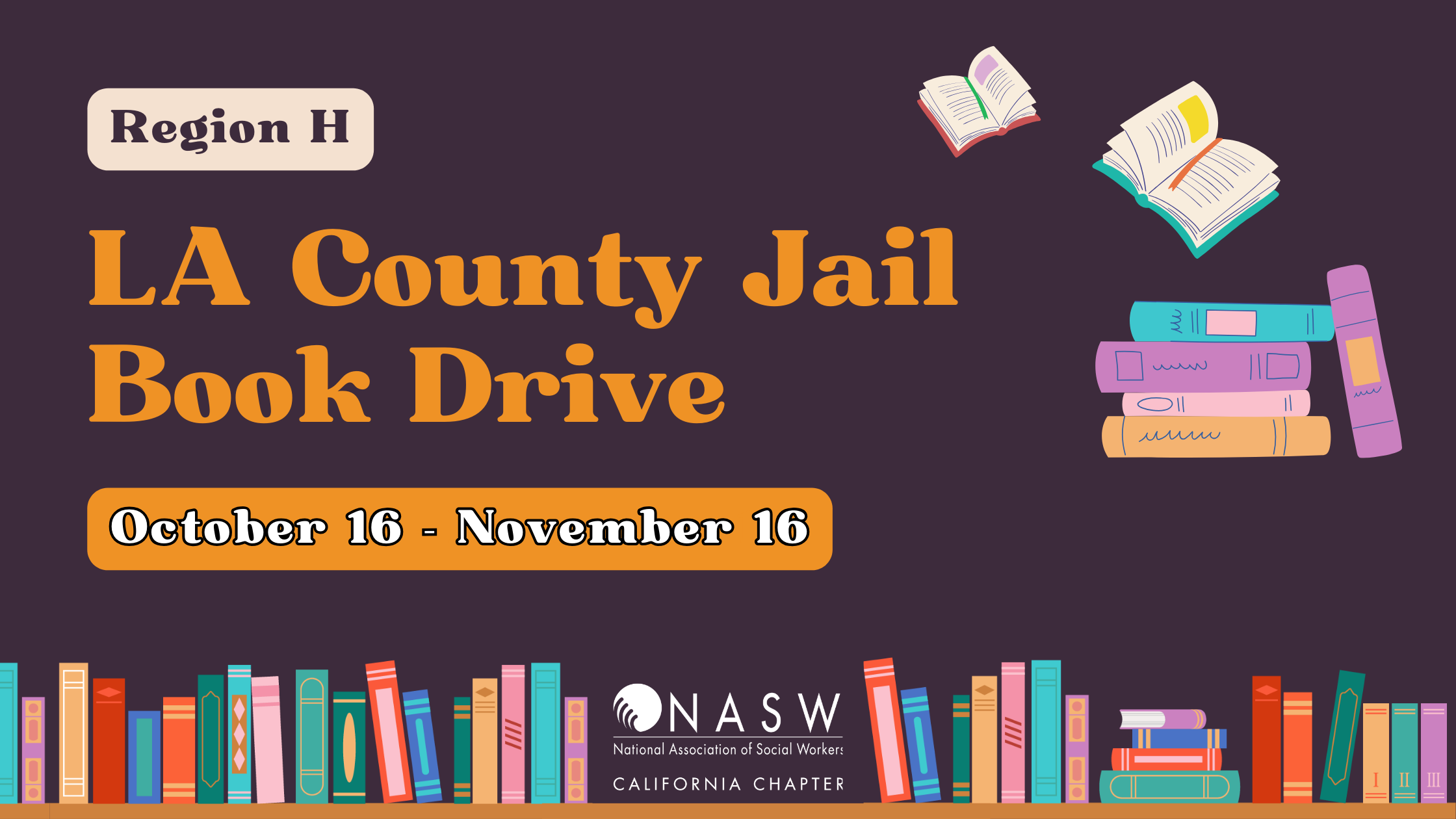 NASW-CA and Region H are proud to launch the Fall book drive for the Books4Jails initiative. Thanks to the advocacy of Region H Director and fellow licensed clinical social worker, M. Ahmanise Sanati, the Los Angeles Board of County Supervisors approved a resolution that would strengthen previous efforts to establish libraries in local county jails.
From October 16 through November 16, please consider donating books to your local county library that meet the guidelines outlined below. Ensuring the donations meet the guidelines will guarantee that books will be accepted at a county library so they can be processed to county jails where folks are in dire need of reading materials.
Consider the following facts about literacy rates of people who are incarcerated:
14,000+ people are housed in LA County's jails, but there is no official library system in any facility
50% of incarcerated individuals are functionally illiterate
There is a 43% reduction in recidivism rates for folks who utilize a library and participate in education programs
Book Drive Donation Guidelines:
NO hardcovers, ONLY paperback books
NO textbooks
NO pornography
NO depictions or descriptions on how to create weapons or defeat jail security
NO depictions or descriptions on how to commit crimes
NO depictions or descriptions on illegal gambling or unlawful lottery
MUST be in good condition / shape
What kinds of books should I donate?
Fantasy novels
Adventure novels
Crime novels
Spiritual books
Poetry
Self-help books
Books in Spanish
NASW-CA is proud to support Region H's efforts in expanding the accessible reading materials in LA county jails. We encourage you to read our FAQ, locate your nearest LA County library, and label your donations as 'Books4Jails.'
If you have any questions, please contact Raquel Ibarra, MSW at ribarra.naswca@socialworkers.org.
Please share this book drive with your friends and colleagues! Download or print the Region H Books4Jails Fall Drive flyer to help spread the word about this incredible, inspiring, and meaningful work.
LA County Jail is the biggest jail in the nation, also home to the biggest mental health facility. However, they do not have a permanent library system. Access to reliable books plays a huge role in rehabilitation, improves mental health, offers a sense of outside connection, helps pass the time, and leads to lower recidivism rates.

See the impact of this transformative LA County Jail Book Drive below. These are a few, out of hundreds, of letters that share their compassion, appreciation, and gratitude.