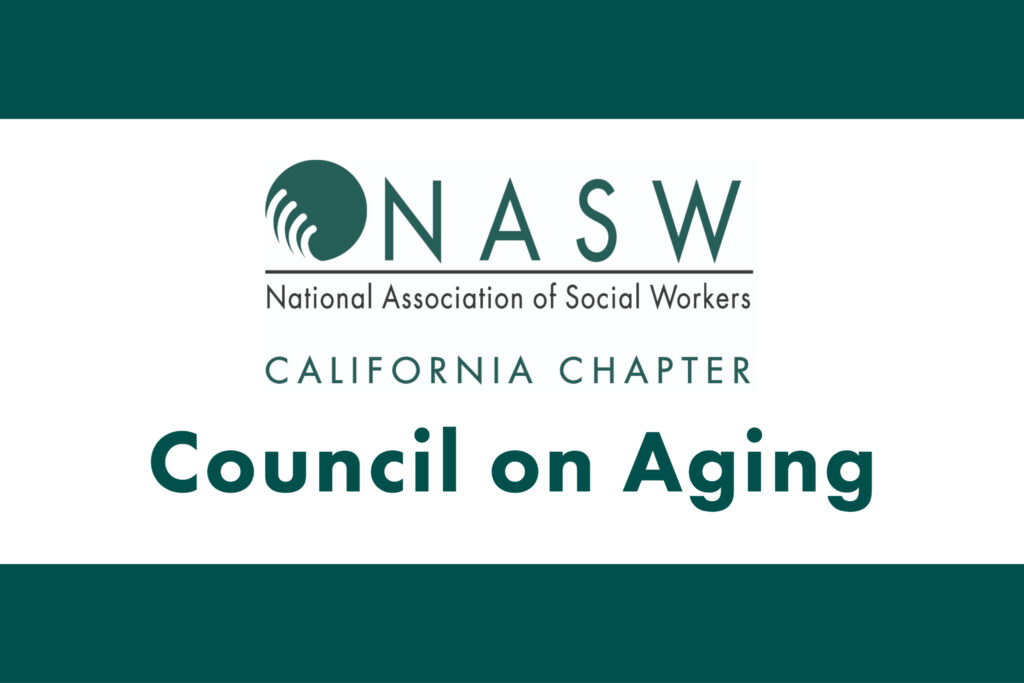 Submitted by Adria Navarro, Ph.D., LCSW
The Council on Aging drilled down to learn about two important statewide needs at its inaugural May 2021 meeting: 1) Building capacity for social workers to bill Medicare, and 2) Learning the ropes when referring clients to our state's Assisted Living Waiver Program (ALWP). These are two issues with the promise for social workers to improve the quality of life for older and/or disabled Californians.
Join us at noon on July 13th to hear about an upcoming Medicare Billing workshop and the launch of member-to-member Medicare billing mentorship. The agenda also includes a Roundtable Discussion, Working the Assisted Living Waiver Program, aimed at educating and highlighting how best to advocate for client success, ultimately making that move into a subsidized assisted living community.
The Council strives to aid members in upholding our ethical and competent practice standards within gerontological social work. We look to highlight this population's needs and issues at the annual NASW-CA conference and throughout NASW opportunities, including Lobby Days. Wherever you find yourself along your career journey in social work, come join our community on Zoom!
The Council on Aging's Google doc includes the agenda and Zoom link: https://docs.google.com/document/d/1S-ITPk8Pz7Dm3JDg35 FM2GK37sfQgCAwNXDjsJ_fPL4/edit
---
Spotlight Conversation: Career Insights of Edward Davila, MSW, U.S. Army Veteran
1) What led you to a career in gerontological social work, serving older adults?
My social work education started with my AA from the University of Phoenix in 1995, then my BA in Sociology from Cal Poly Pomona in 1997, to finally earning an MSW from ULCA in 1999. Deep down I think I always knew I wanted to work with older adults, so soon after graduation, I started in a social work position at St. Barnabas Senior Services in Los Angeles. This is where I really grew as a social worker, by providing case management and other services to the older adult participants of the St. Barnabas programs.
2) What did you take away from that early position in your career?
The St. Barnabas Senior Services experience richly blessed me, the seniors provided me with an invaluable education just by how they have lived their lives, both with fortunes and with struggles. Mark my words…seniors have a wealth of life experience and the key to learning from them is to "listen" to their life stories and afford seniors the dignity they so richly deserve. Among the many experiences, one of the pearls of wisdom that I will never forget was the importance of securing one's financial future for retirement. I met seniors that planned well for retirement and others forced to rely on Medi-Cal. This was compelling for my own participation in a retirement plan to build financial security. Thank you very much!
3) What are you doing these days as a practicing gerontological social worker?
For the past 19 years I have been employed at SCAN Health Plan in Long Beach. I am a medical social worker, specifically referred to as a Complex Care Manager. This health plan was founded in 1977 by 12 older persons, as a not-for-profit Medicare Advantage health maintenance organization (HMO). SCAN now serves nearly 200,000 members in California. Our social work profession offers so many diverse fields and populations, and at SCAN, I have honed my medical and clinical social work practice. These skills are needed to provide coaching, education, interventions, and advocacy to our senior population. Presently, I serve on the Clinical Resource Triage Team, within the Complex Care Management Department. Our team's goal is to bring resolution for seniors experiencing issues such as access to care, behavioral concerns, inpatient concerns, and/or continuity of care issues. I am pleased that SCAN addresses racism and inequality by striving to be a diverse, inclusive organization and is a champion for equity among its members wherever issue may come up.
4) What do you want social workers to know about your career path?
I encourage social workers to pursue a career in gerontological social work if they have the passion and commitment. The NASW Code of Ethics reminds us of our commitment to clients (1.01), "Social workers' primary responsibility is to promote the well-being of clients." Social work is undoubtedly rewarding, even though challenging at times, nothing gives me such satisfaction as helping older persons at the end of the day, by improving their lives socially, economically, and by positively impacting their health. I thank the many marvelous people that have impacted my career in social work: college professors, clients, mentors (managers/supervisors/colleagues), NASW staff (especially Janlee Wong and Lora Pierce), nurses, and physicians.
My career has included ongoing and continuous education and training to be able to address the needs of seniors. Luckily, both my employer and NASW offer these opportunities. I suggest both new and tenured social workers attend the NASW CA Annual Conference to participate and stay abreast of both micro and macro social work advances, these usually include continuous education units (CEU's) as well. I encourage social workers to get involved in their NASW CA Chapter units, councils, or committees to network and enhance their skills. I have no regrets for my involvement. I joined NASW in 1998 and since then have volunteered in the capacity V.P. of Professional Development, Delegate Assembly, Region F Local Unit Chair, several committees, and I am the current CNLI Chair. NASW has a been a beacon for me and I look forward to staying involved to network with new and polished social workers that help me continue to grow and refine my social work skills in the field of gerontology.
5) What advice would you share with social workers interested in the field of aging?
Pursue your dreams in gerontological social work if it is your calling. It's imperative to network and build relationships with colleagues to reach your goals. Your goals may include striving for an LCSW, and/or serving in military social work, in academia, or in a health care setting. Gerontological social workers are needed in California, now is the time to get involved. The latest U.S. Census concludes that California is home to the largest total population of senior citizens (over 5.4 million). Our NASW Code of Ethics values provide a guidepost to serving older persons: social justice, dignity and worth of the person, importance of human relationships, integrity, and competence. I assert older adults are worthy of this, we can be the vanguard of professional social work practice! Albert Einstein advised, "Strive not to be a success, but rather to be of value." Good wishes in your social work career.