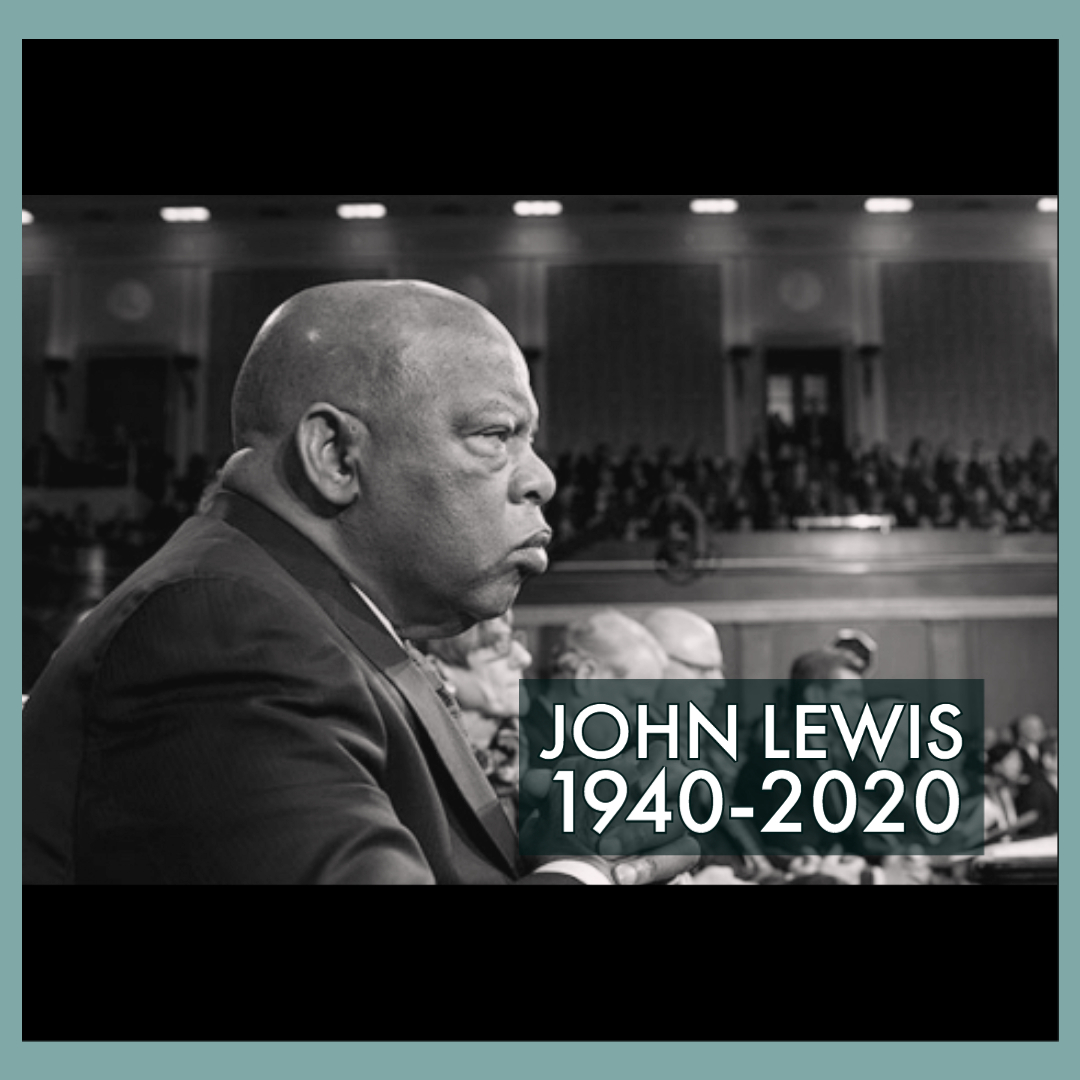 By Janlee Wong
NASW-CA Executive Director
John Lewis great Civil Rights icon and the last of the big six leaders who organized the 1963 March on Washington (King, Wilkins, Young, Farmer, Randolph) leaves behind an incredible legacy of bravery and courage, organizing acumen and principled ethical stands that are universally admired.
During my family's 2015 Civil Rights trip to the south, I felt Mr. Lewis' presence wherever we went. Our trip started in Atlanta where Mr. Lewis represented the 5th congressional district for 33 years and was on the Atlanta City Council for 5 years before that. During Mr. Lewis' term, the National Center for Civil and Human Rights opened and the Martin Luther King, Jr. National Historical Site was greatly expanded. Later Mr. Lewis would be instrumental in creating the National Museum of African American History and Culture in Washington, DC. These important sites are essential for anyone to learn about African American history, culture, and the struggle.
From Atlanta we rode the bus to Montgomery, Alabama filled with poignant moments in history including the Southern Poverty Law Center, the bus stop where Rosa Parks got on a bus and changed the world, and Dr. Martin Luther King, Jr.'s house where bullets were shot at him and his precious young family. Mr. Lewis experienced violence in Montgomery, too, beaten for sitting in a whites-only waiting room of the bus station.
In Selma, starting point of the Selma to Montgomery marches, Mr. Lewis suffered a skull fracture at the hands of the state police and fled to the Brown Chapel. We retraced these very same steps from the Edmund Pettus Bridge. It was difficult imagining how human beings could be so violently assaulted for demanding their rights by police and still survive. Throughout the south, churches were the refuges and places to organize. Mr. Lewis, "the boy from Troy" as Dr. King called him, was in the heart of it.
From Alabama we rode the bus to Jackson, Mississippi. Mr. Lewis had been arrested in Jackson and sent to the infamous Parchman Farm state penitentiary for 40 days. Mr. Lewis, as chair of the Student Nonviolent Coordinating Committee (SNCC), launched the Freedom Schools/Summer Campaign to provide education to African American children and to register as many voters as possible. Michael Schwerner, a social worker, along with Andrew Goodman, and James Chaney were murdered while working on the Freedom Summer campaign.
Mississippi has a particularly violent anti-black history with the torture and murder of 14 year old Emmett Till in 1955, the assassinations of Herbert Lee, 1961, Medgar Evers in 1963 and the attempted assassination of James Meredith in 1966. Mr. Lewis dared to face this murderous period, and he survived, a testament to his courage and his philosophy to follow it to the end, reminding us all to continue to make "good trouble, necessary trouble" to bring change to our society.
"We were determined not to let any act of violence keep us from our goal. We knew our lives could be threatened, but we had made up our minds not to turn back," —John Lewis, 2012.
The early years of federal inaction while racist whites and police forces beat and murdered people for demanding their civil rights taught Mr. Lewis that the federal government had to do something. While important civil rights legislation in 1964, 1965, and 1968 was made possible by Mr. Lewis and others' sacrifices, the struggle was not over. At the Lorraine Hotel National Civil Rights Museum in Memphis Tennessee, the site of the 1968 assassination of Dr. Martin Luther King, Jr., it must have felt like hope for a better America was extinguished. But Mr. Lewis did not give up. He knew the struggle would never be over. As proud as he and many of us felt with the election of Barack Obama, he knew that just as when he rode the Freedom Rides bus, it would always be the journey not the destination.
"If you ask me whether the election [of Barack Obama] is the fulfillment of Dr. King's dream, I say, "No, it's just a down payment. There's still too many people 50 years later, there's still too many people that are being left out and left behind." –John Lewis, 2016.
We returned to Alabama travelling along the old Freedom Riders route. Mr. Lewis was one of the original Freedom Riders, 7 whites and 6 blacks. At the time it was illegal for whites and blacks to sit together on public transit. We were particularly shocked when we stopped by the roadside where a Freedom Rider bus was stopped, burned and its riders beaten. In Anniston, Alabama we heard from Dr. Art Bacon who was beaten severely for sitting in the whites only section of the bus station. His courage later inspired the Freedom Riders including Mr. Lewis who decided to sit down in the whites only waiting room of the bus station in Montgomery, Alabama and suffer the consequences.
Our final stop before returning to Atlanta was Birmingham, site of the horrific 1963 church bombing and killing of 4 young girls, Addie Mae Collins (14), Cynthia Wesley (14), Carole Robertson (14), and Carol Denise McNair (11). They are remembered there at the 16th St. Baptist Church and by the Four Spirits statue in Kelly Ingram Park. Then U.S. Attorney and now U.S. Senator Doug Jones successfully prosecuted two of the bombers 39 years later. Kelly Ingram Park also has a jail cell art installation symbolizing the jailing of many civil rights protesters including children as young as five. Mr. Lewis was there, beaten, and jailed, one of 45 times in his civil rights "good trouble" struggle.
There is but one John Lewis in history. We can be inspired by his courage in the face of violence. We can learn from his example and all that he has helped create. We can honor him by taking action to fight racism and striving for a more equal and just world.