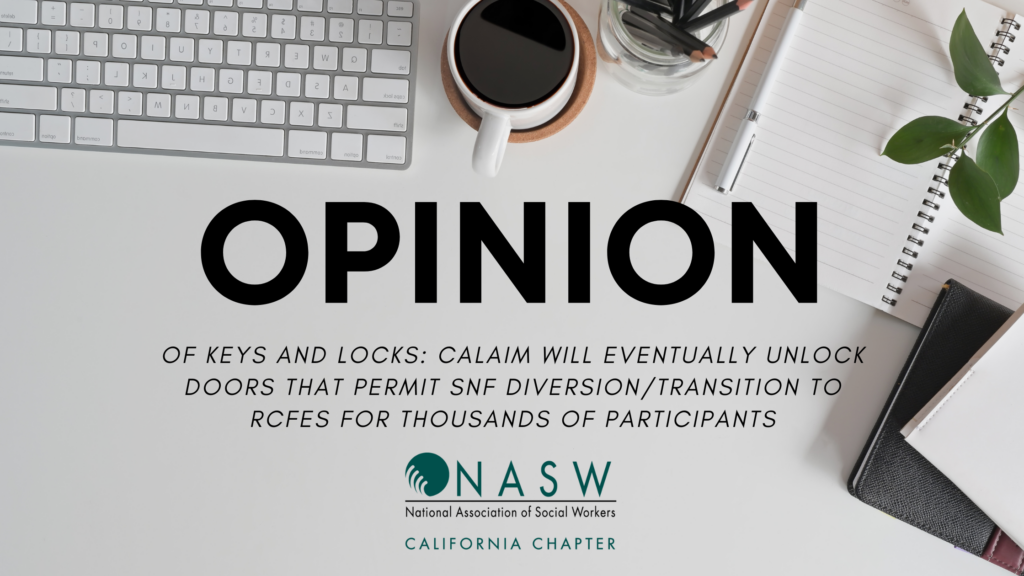 While we are proud to feature opinion pieces from our members and colleagues in the field, be advised that opinions and advertisements shared by NASW-CA do not necessarily reflect the views of the National Association of Social Workers, CA Chapter.
By Jason Bloome
In 2021 more than 375,000 patients were cared for in California skilled nursing facilities (SNFs): an aggregate of new patients admitted for the year (299,247) and the patient census in December 2020 (76,813). There were 292,547 patients discharged: 35% (98,305) after a stay of less than 2 weeks, 32% (87,971), after a stay of 2-4 weeks and 22% (61,037) after a stay of 1-3 months.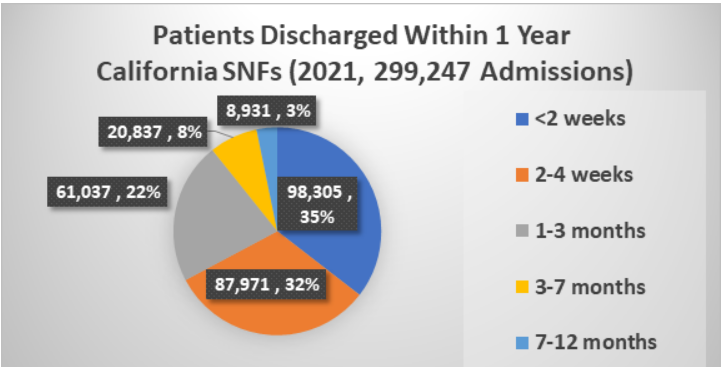 Most patients, 48% (139,418), were discharged home, 30% (87,282) returned to the hospital and 7% (21,000) were discharged due to death.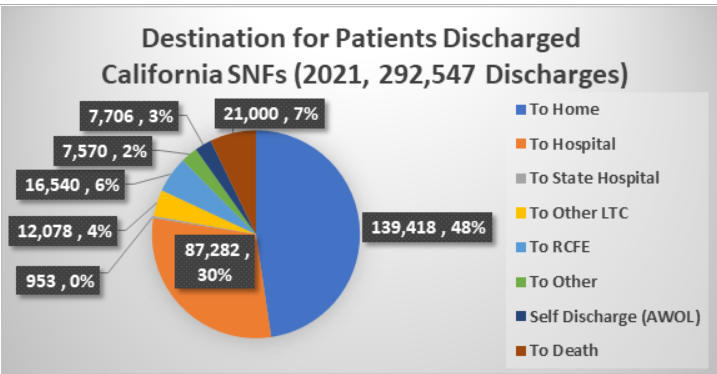 91% (272,394) of SNF patient admissions were from hospitals.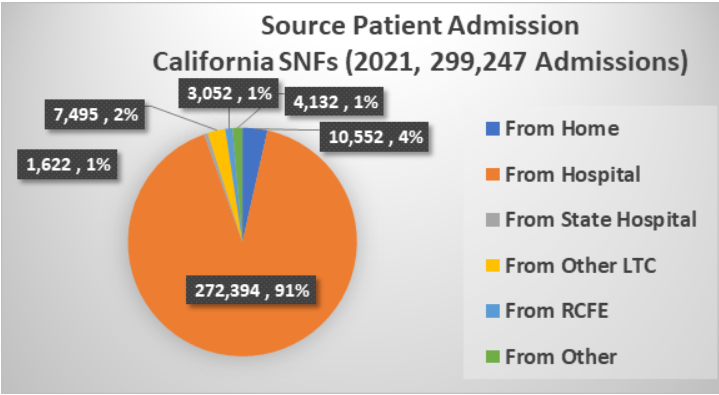 Elderly patients (65+) admitted to the SNF from hospitals frequently rely on Medicare to pay for rehabilitation services (after a hospital stay of at least 3 days). Medicare is authorized to pay for up to 100 days for each "spell of illness". A "spell of illness" begins when a patient begins inpatient hospital or SNF care and ends when the patient has been outside those institutions for more than 60 days or has been in the institution but has not received Medicare coverable services for more than 60 consecutive days. Although Medicare can pay for up to 100 days, most Medicare stays are for less than 1 month.
When the Medicare day limit is reached (or the resident "plateaus" and no longer benefits from rehabilitation services) patients return home or continue at the SNF as private-pay (oftentimes covered by private insurance) or, when low-income, publicly financed by long term support and services (LTSS) Medi-Cal.   
According to the California 2nd Quarter SNF 2022 MDS 3.0 survey most LTSS residents in SNFs have custodial care needs: require help with dressing, bathing, incontinence, ambulation, etc.) and not skilled nursing needs: e.g., have g-tubes (9%), IV (1%), or ventilators (2%).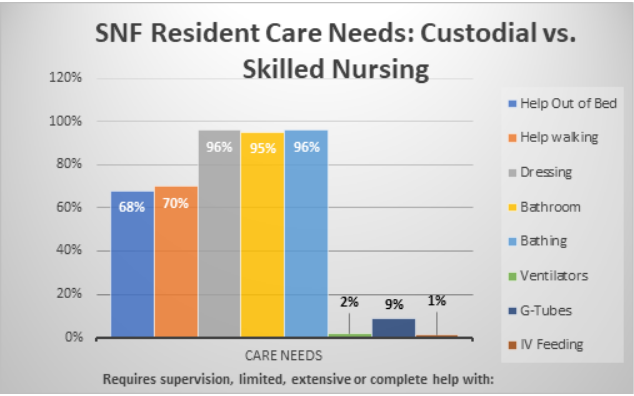 Federal law, enforced at the state level by California's Department of Public Health, mandates that SNF staff ask LTSS residents four times a year if they would prefer to transition to community-based care settings. Given the choice, many SNF LTSS residents with only custodial care needs, would prefer to receive care at home or, if this option is not possible, in an assisted living home (also referred to in California as residential care facilities for the elderly or RCFEs) which are usually large 100+ bed retirement homes or small 4-6 bed residential care homes.
California currently has one program, the California Assisted Living Waiver (ALW), which allows Medi-Cal to pay for RCFEs but the program has limited waiver slots, a waitlist of 5,866 people and does not allow participation by Medi-Cal recipients who have a share of cost (SOC).
In January 2022 California began a new 5-year program, called California Advancing and Innovating Medi-Cal (CalAIM), which will open new pathways for SNF diversion/transition to RCFEs. The goal of CalAIM is to streamline Medi-Cal care delivery by enrolling Medi-Cal recipients with Managed Care Plans (MCPs) to lower Medi-Cal costs while providing cost-efficient, high-quality care. By 2027, the state expects to use CalAIM to transition all Medi-Cal recipients into a statewide Managed LTSS (MLTSS) model.
CalAIM components include the use of Enhanced Care Management (ECM) and Community Supports (CS)—known nationally as In Lieu of Services or ILOS)—which MCPs can offer their members. The CS allows participation by members with a Medi-Cal SOC, does not have limited waiver slots and, once a robust RCFE network is established, should not generate waitlists. For eligible participants the CS is an essential key that will unlock doors for SNF transition and SNF diversion (e.g., IHSS recipients with only custodial care needs who exit the program to move to SNFs) to RCFEs.
Developing successful SNF diversion/transition to RCFE programs is good business for MCPs through CalAIM Medi-Cal shared cost savings incentives. Private paid RCFEs are approximately $3,500/month and cost, on average, ½ the cost of SNFs reimbursed by Medi-Cal at $246/day or $7,380/month. Medi-Cal cost savings for SNF diversion/transition to RCFEs can also be derived from ALW: every SNF diversion/transition to RCFE saves Medi-Cal approximately $26,000.

In 2018, 5,112 IHSS recipients exited IHSS to become SNF LTSS residents.  Diverting 10% (500) of IHSS recipients (with only custodial care needs) who exit the program in 2022 from SNFs to RCFEs will generate annual Medi-Cal cost savings of $13 million (26,000 x 500).  
2/3 of SNF residents (June 2022 census: 79,009) rely on LTSS Medi-Cal for payment and many require only custodial care.  SNF transition to RCFE for every 100 eligible SNF LTSS residents (100 x 26000) will generate $2.6 million in annual Medi-Cal cost savings. 
Jason Bloome, is owner of Connections – Care Home Consultants, an information and referral agency for care homes in California.
---
Sources:
https://www.macpac.gov/subtopic/nursing-facilities/
https://www.cahf.org/About/Consumer-Help/Facts-and-Statistics
https://www.cms.gov/Research-Statistics-Data-and-Systems/Computer-Data-and-Systems/Minimum-Data-Set-3-0-Public-Reports/Minimum-Data-Set-3-0-Frequency-Report
https://www.dhcs.ca.gov/services/ltc/Documents/ALW-Renewal-2019-2024-Approved.pdf
https://data.chhs.ca.gov/dataset/long-term-care-facilities-annual-utilization-data