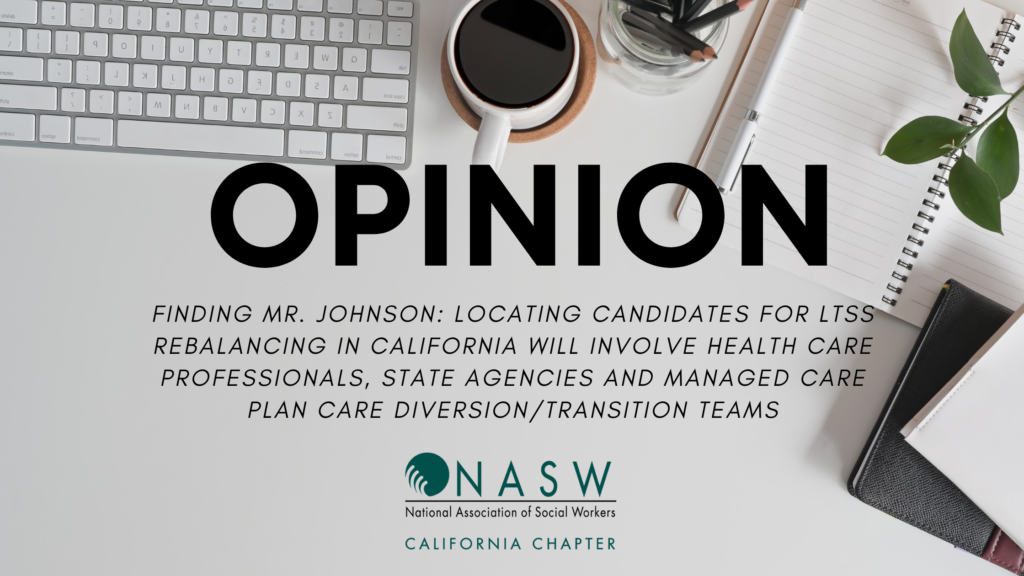 While we are proud to feature opinion pieces from our members and colleagues in the field, be advised that opinions and advertisements shared by NASW-CA do not necessarily reflect the views of the National Association of Social Workers, CA Chapter.
By Jason Bloome
Over the past year the push and pull of pistons has been driving the acceleration of California's Advancing and Innovating Medi-Cal (CalAIM) program to rebalance Long Term Support and Service (LTSS) from expensive Medi-Cal reimbursed skilled nursing facilities (SNFs) to more affordable home and community-based services (HCBS).  This ambitious five-year, $6.8 billion initiative will streamline Medi-Cal service delivery, improve care coordination and access to care by enrolling Medi-Cal recipients with state contracted Managed Care Plans (MCPs).  The state expects to transition all LTSS recipients into statewide Managed LTSS (MLTSS) by 2027.   
Enhanced Care Management (ECM) and Community Supports (CS)
CalAIM consists of two components which include optional benefits MCPs can choose to offer their members. ECM are care management services which will address the clinical and non-clinical needs of the highest-need enrollees through intensive coordination of health and health-related services. CS are medically appropriate, cost-efficient substitutes "in lieu of" traditional Medi-Cal State Plan Covered Services (e.g., Medi-Cal payments to SNFs). Nationally, CS are known as In Lieu of Services (ILOS).
Using ECM and CS to avoid or delay costly emergency room, hospital and SNF stays offers the potential of saving millions of Medi-Cal dollars annually.  CS and ECM are incurred expenses reimbursed to MCPs through annual capitated rate calculations. Incentives for MCPs to develop CS components and increase authorizations for member uptake include up-front balanced incentive payments and future Medi-Cal shared cost savings.   
CS for SNF Diversion/Transition to Assisted Living
One CS, which 11 MCPs currently offer their eligible members, is for SNF Diversion/Transition to Assisted Living (aka residential care facilities for the elderly or RCFEs) which are usually large 100+ bed retirement homes or small 4-6 bed board and care homes. RCFEs provide 24-hour custodial care and small board and care homes with high staff to resident ratios (1:3), are especially ideal for CS participants who require help with multiple activities of daily living: e.g., dressing, bathing, incontinence and/or are non-ambulatory, have dementia, etc.
To be eligible for the CS MCP members must be willing and safely able to reside in a RCFE and 1) currently reside in a SNF and be on LTSS for at least 60 days (SNF transition) or 2) reside in the community and be at the SNF level of care or at risk of pre-mature institutionalization (SNF diversion).
The RCFE cost is covered by "room and board" and "assisted living" payments.  The member is responsible for "room and board"— oftentimes paid from their social security supplemental income (SSI) which in 2023 is $1492.82 (the RCFE receives $1,392.82 and the member retains $162 as a personal need allowance).  The "assisted living" portion is paid by the MCP which is reimbursed as an incurred ILOS expense.    
Potential Medi-Cal Cost Savings
There are approximately 93,000 current SNF residents with 2/3 of them relying on Medi-Cal LTSS.  The California 2023 3rd quarter SNF Minimum Data Set 3.0 survey indicates most LTSS SNF residents require only custodial care (i.e., only a very small percentage of SNF residents require skilled nurse supervision for g-tubes, tracheostomies, ventilators, etc.).   Once MCPs develop robust CS SNF Diversion/Transition to RCFE systems (e.g., outreach to members, care transition teams, RCFE provider networks, etc.) the monthly volume of CS participants will steadily grow.  Program data from the ALW program indicate every SNF-RCFE diversion/transition saves the state annually $22,000.  For every 10% of current LTSS SNF residents who participate the CS generates $135,036,000 in annual Medi_Cal cost savings. For example, 
93,000 (number of SNF residents) x 2/3 (on Medi-Cal LTSS) x 22,000 (annual cost savings) x 10% (percent of transitions) = 135,036,000 
CS and the Assisted Living Waiver (ALW)
The CS has many advantages to the existing ALW, the only other program in California which allows Medi-Cal to pay for RCFEs.  Unlike ALW, the CS does not require RCFEs be Medi-Cal certified (a lengthy 1–2-year process) allowing for rapid CS RCFE network development.  ALW is a 1915(c) waiver with limited capacity and a long waitlist (4,200 people, as of October 2022) while the CS uses a 1115 state-wide waiver which does not limit the number of participants and, with sufficient RCFE provider participation, should not engender waitlists.   
Since ALW is "carved-out" from the CS, MCPs will only realize future Medi-Cal shared cost savings for members placed into RCFEs through the CS not ALW (e.g., "assisted living" ALW costs are from a distinct funding stream not factored into CS annual capitated rate calculations).  Even though the two programs are distinct, DHCS does allow MCPs to copy ALW components for the CS (e.g., the ALW tiered rate "assisted living" payments).  
Finding CS Eligible Candidates
Hospital social workers, case managers and physicians will be critical to the success of the CS as they work in collaboration with MCPs to pre-flag CS candidates: SNF diversion for patients who require long-term care and no longer can remain safely at home (e.g., require more help than the maximum allowable IHSS hours) and SNF transition for members eligible for the CS after they receive short-term SNF rehabilitation services.
MCPs can also work in conjunction with the Department of Social Services to receive the names of IHSS recipients who exit the program each month to become LTSS in SNFs and to offer the CS to eligible members. Outreach and collaboration with local Ombudsman, Departments of Aging and Adult Protective Service programs should also yield members who are eligible and interested in the CS.
Jason Bloome, is owner of Connections – Care Home Consultants, an information and referral agency for care homes in California.
---
Sources:
https://www.kff.org/other/state-indicator/number-of-nursing-facility-residents/?currentTimeframe=0&selectedRows=%7B%22states%22:%7B%22california%22:%7B%7D%7D%7D&sortModel=%7B%22colId%22:%22Location%22,%22sort%22:%22asc%22%7D
https://www.cahf.org/About/Consumer-Help/Facts-and-Statistics
https://www.cms.gov/Research-Statistics-Data-and-Systems/Computer-Data-and-Systems/Minimum-Data-Set-3-0-Public-Reports/Minimum-Data-Set-3-0-Frequency-Report
https://www.dhcs.ca.gov/services/ltc/Documents/ALW-Renewal-2019-2024-Approved.pdf#page=138
https://www.dhcs.ca.gov/services/ltc/Documents/ALW-YTD-Dashboard-Oct2022.pdf