The Meet and Greet Summer Mixer for the Fresno Unit was the perfect example of networking in action!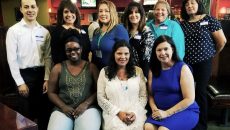 NASW members and friends met in downtown Fresno on July 8, 2016 for the first NASW gathering the area has seen in a long while. The attendees proved to be dedicated social workers who wish to see the Fresno Unit active once again.  Along with appetizers and a relaxed atmosphere, attendees networked and provided employment leads, discussed the needs of the local social work community, and what unit leadership could look like.
The Fresno Unit, which is located in the southern part of Region D, is actively seeking leadership in the area to meet the needs of the surrounding social work community. We hope to see greater participation from the Fresno social work community, including social work students from the surrounding Universities, at the next event tentatively scheduled for Friday, September 9, 2016.
More information about the September event will be released soon.  We invite you to stay up-to-date about happenings in the Fresno Unit at https://www.facebook.com/groups/naswcafresno/