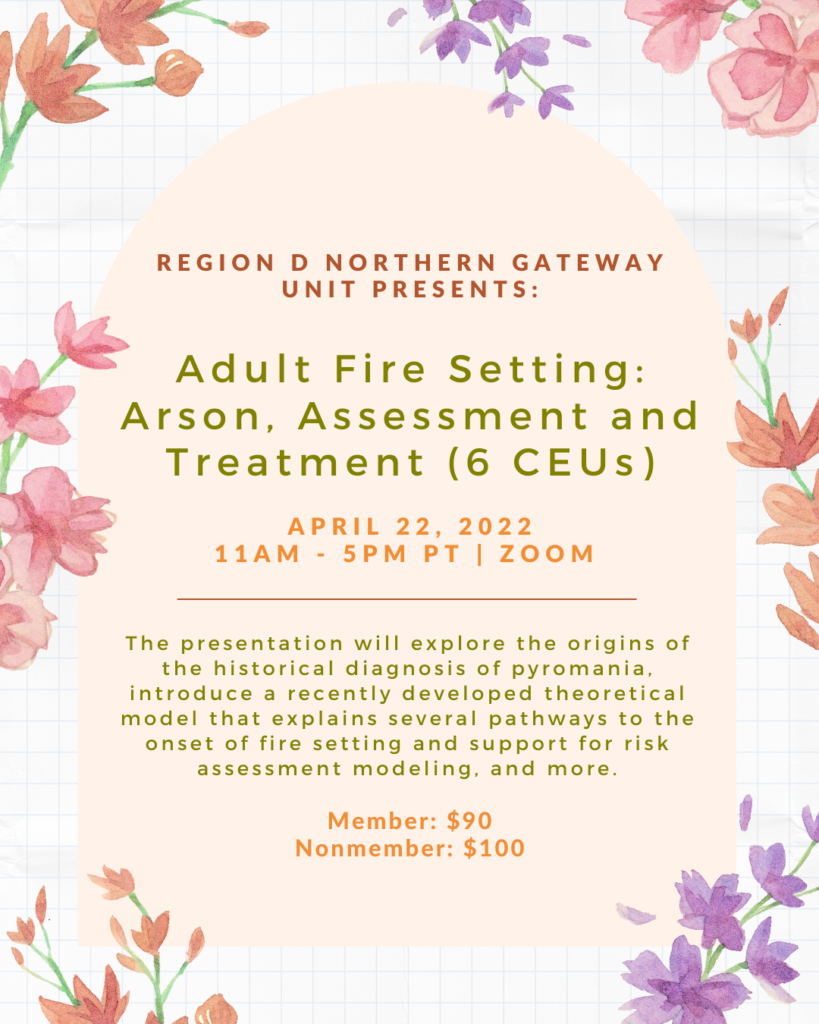 Adult Fire Setting & Arson: Emerging Best Practice in Assessment and Treatment Problem
Fire setting and arson by adults often has significant and negative impacts including injury and fatalities, property damage, and individual/community trauma. Court dispositions and mental health treatment planning for fire setting is often the result of the influence of limited professional knowledge or mythological beliefs about fire setting that remain influential. Region D invites you to a virtual workshop (in-person meeting available) on April 22 from 11am – 5pm PT! This workshop will be presented by Robert Stadolnik.
The presentation will explore the origins and utility of the historical diagnosis of pyromania, provide incidence and prevalence data, introduce participants to a recently developed theoretical model that explains several pathways to the onset of fire setting and support for risk assessment modeling, and describe promising treatment frameworks.
*Registrants who live near Redding have the option meet in person at the McConnell Foundation (see address below). This is an opportunity to network and connect with fellow Region D social workers, and to watch the workshop live and virtually together.
Fees:
Member: $90
Nonmember: $100
McConnell Foundation
800 Shasta View Dr
Redding, CA 96003
Please contact Pat Lind at lind_57@yahoo.com or (530) 356 – 6620 for any questions.