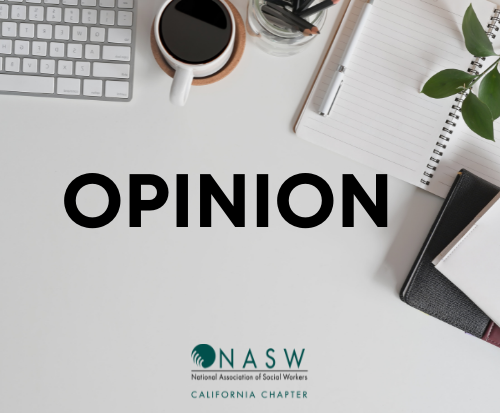 "The title 'social worker' invokes the shared history, training, ethics and practices of a 115-year-old profession… We need to ensure that anyone who uses the title meets those well-established standards. This is about truth in advertising." – Senator Susan Eggman1
There is an assumption that when someone calls themselves a "social worker," they have completed either a MSW or BSW program. Just like going to see a doctor, you assume that they may only legally call themselves a doctor because they have completed rigorous training that qualifies them to hold that title. However, in California, the majority of social workers do not have Title Protection (ACSW & LCSW have title protection), meaning that employers may label and advertise their employees as "social workers" even if those employees have no social work training.
Currently, there are 38 states with some form of title protection.234 Title protection varies from state to state so even in states with some form of title protection, in certain circumstances, those not holding a MSW or BSW can be labeled a social worker.5 Still, some protection is better than none, and currently California only has title protection for LCSWs and ACSWs. Of note, Title Protection is not an effort to dictate or restrict those who are permitted to do the work; it is not a form of practice protection. It is a form of statutory protection to ensure the accuracy of consumer perception that certain professionals receive specific training at a level of rigor to which providers can be held accountable. Accountability measures are not possible when professionals have titles that are not tied to core competencies and a standard of education.
Bills to protect the title of Social Worker in California have been attempted as far back as 1996, AB 949 (Ducheney).6 The most recent attempt AB 252 (Yamada/Eggman) in 2013 would have required anyone using the title of "social worker" to possess a social work degree from a school accredited by the Commission on Accreditation of the Council on Social Work Education.7 Sadly, this bill was defeated in large part by opposition from Service Employees Internation Union (SEIU) 721 who claimed that "AB-252 didn't address the problems that social workers have," and that "AB-252 would have downgraded the professional status of current social workers, even if it only applied to future social workers."8
These criticisms are ill informed and do not prioritize the populations served by social workers. Title Protection for social workers is not some vanity plate for those that completed the rigors of an accredited social work program. It is an assurance to the people that a social worker is trained, qualified, and held to account for their actions or inactions. Title Protection is consumer protection and rights.
5 ways Title Protection for all Social Workers would protect social work clients:
To ensure Social Workers are trained, educated, and experienced to work with a diversity of people.
A BSW & MSW degree requires rigorous curriculum and field work in ethical practice, human behavior, cultural differences, and therapeutic treatments. Accredited social work programs are required to adhere to national standards which hold them accountable to the highest level of ethics and responsibility in educational practice. Those without these degrees are more likely to be underqualified or qualified in different ways than expected to deliver certain types of care or services.
To ensure Social Workers are bound by NASW Code of Ethics.
NASW code of ethics provides ethical standards that social workers must hold themselves to. The code also allows the public to hold the Social Worker accountable for their professional behavior. However, the code of ethics does not apply to people without a social work degree.
The BSW and MSW process acts as another layer of protection.
Title protection adds another layer of protection for both social work clients and employers by ensuring that every social worker has been rigorously screened and tested through the MSW or BSW process. Consumers have a right to have social workers that have been vigorously tested.
To cover all social workers, not just the highest levels of social work.
Currently LCSW and ACSW have a form of title protection, but this does not cover the majority of social workers who only have a BSW or MSW, and who are more likely to serve vulnerable populations. Ensuring title protection for all social workers will increase the quality of services to client populations.
Title Protection helps ensure that vulnerable populations receive exceptional social work services.
Title protection would not dictate who employers hire, but it would prevent them from advertising their employees as social workers if they do not hold an MSW or BSW. As former Assemblymember Mariko Yamada once said:
"The title 'social worker' presumes a high standard of education, a solid grounding in professional ethics, and rigorous real-world training. A consumer has the right to assume that a person with the title meets a high standard of competency and integrity, which cannot be guaranteed when services are provided without a social work degree."9
While these are just 5 reasons California needs Title Protection for all social workers, there are many more. It is up to current and future social workers, in all states with inadequate or no Title Protection, to fight for meaningful Title Protection in order to better serve and protect our communities.
-Jonathan Goh
NASW-CA Policy and Advocacy Intern
Jonathan Goh (he/him) is currently an MSW student at California State University, Sacramento. Jonathan's focus is on Guaranteed Income and its implementation in California.
---
1 https://www.lakeconews.com/news/education/29531-new-bill-protects-public-by-ensuring-those-classified-as-social-workers-meet-educational-standards
2 http://naswct.org/advocacy/title-protection/states-with-title-protection/
3 https://app.leg.wa.gov/rcw/default.aspx?cite=18.320&full=true
4 https://www.cga.ct.gov/2019/act/pa/pdf/2019PA-00164-R00HB-07198-PA.pdf
5 https://www.cga.ct.gov/2019/act/pa/pdf/2019PA-00164-R00HB-07198-PA.pdf
6file:///C:/Users/ggiga/Downloads/201320140AB252_Assembly%20Business,%20Professions%20And%20Consumer%20Protection.pdf
7 https://leginfo.legislature.ca.gov/faces/billNavClient.xhtml?bill_id=201320140AB252
8 https://www.seiu721.org/2013/07/seiu-721-csws-fought-ab-252-and-won.php
9 https://www.lakeconews.com/news/education/29531-new-bill-protects-public-by-ensuring-those-classified-as-social-workers-meet-educational-standards