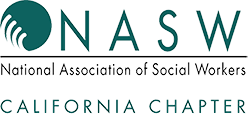 For the last week, we have all worried and watched helplessly as our communities are under attack. There are no words to express the sorrow we all collectively feel for those who have been so devastatingly impacted. I sense the immense grief in knowing our communities will never be the same. There will always be pre- and post-fire paradigms.
As social workers, we are more valuable than ever to our communities. Many of us continue to work while dealing with our own grief, loss and uncertainty. I know so many of you jumped at the chance to help, to be of service, to be useful. We will all be getting more versed in grief, loss and PTSD than we likely ever anticipated. We are becoming experts on available community resources and how to access services for ourselves or our clients or both. We are networking in ways our work silos may have never allowed us to do. We may even be tasked with rebuilding a new vision for all of us. This is the honorable work we signed up for. This is the living color of our code of ethics.
Please keep in mind the long haul of this tragedy. Take care of yourselves and let others take care of you. You. Are. So. Very. Important. Our communities, our state, and our profession need you. Remember the principals of compassion fatigue, secondary trauma, and burnout. Gently remind your colleagues when they seem to be displaying symptoms associated. Give yourself a needed break when you feel it coming on. Soak in the good in the world. Bathe in gratitude. Allow yourself to soften your gaze and hearts to the beauty that reveals itself when we remember how interconnected we all are.
Within the NASW California Chapter, we are Region D. Region D spans from the grapevine to the Oregon border and the expansive valley in between. We are of the communities that have been the hardest hit this year. The NASW Chapter and Region D are dedicated to supporting social workers in our communities. If you have an idea of how to help or be helped, in your own unique way, please reach out to us at naswregiond@hotmail.com.
All the best in all you do,
Tracy Harrison, LCSW
NASW-CA, Region D, Director, Chico, CA