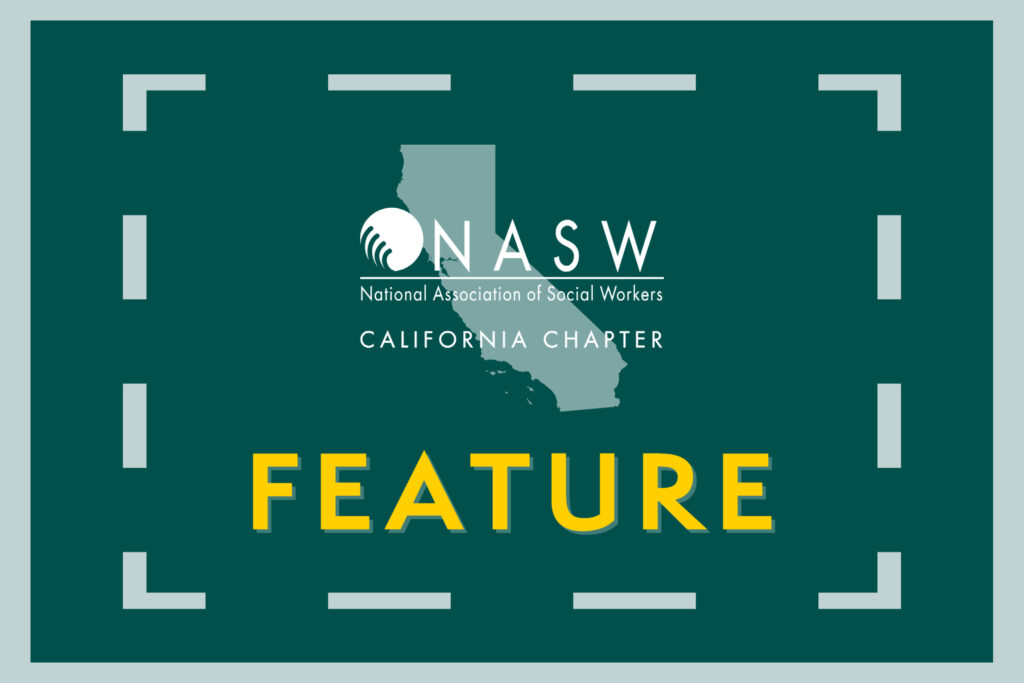 By Kristin Williams, MSW Candidate,
NASW-CA Membership Intern
As I reflect on the last year and ways that the pandemic has affected my life, I keep coming back to thoughts around collective grief. I say to colleagues, "we are all grief counselors now." The shared experience of a global pandemic has shaped us as people and as social workers in ways that we could have never anticipated or been prepared for.
So, what do we do with this?
I can recall so many times this year when I was delivering services and my first instinct was to normalize and validate things being shared with me. I remember one time in particular where a person shared they were struggling to identify self-care ideas that they could do in the pandemic. It felt right in that moment to say "That makes sense, I have had to overhaul my self-care regimen too. Let's brainstorm some ideas together." It wasn't the normal work I am used to. It was happening to me too and I was on the emotional rollercoaster daily.
After naming the disruption in my own life for the first time, I felt very out of sorts. So, I did what seemed normal– I Googled it. An article popped up and the title said it for me: "that discomfort you are feeling is grief." I did not want to read that. Instead, I wanted to pretend that my clinical toolkit is intact and that I am fine. But, I am not fine. I am grieving. I found myself going back to our tried and true stages of grief and trying to find meaning in all of this. As I went down the rabbit hole of pandemic grief and trying to figure out ways to emerge a stronger social worker, I decided that stronger isn't the right goal for me to strive for. I think that as a social work profession, which I am about to officially join, we need to step into more authenticity with our collective grief resulting from the pandemic. No, I don't mean messy boundaries, or giving out your cell phone number; I mean feeling something to our core and resonating with it deeply and creating space where we hold in those moments when someone shares what or how they are grieving. We can step into these spaces with a different use of our body language and posture, our facial expressions, and letting out that painful sigh we might have held in before.
I am someone who loves the "next steps" part of learning. As I sat with these swirling thoughts and feelings I kept coming back to my own wellness and self-care. The main takeaway that we can lean into as we all find our way back to pre-pandemic life is to extend the same kindness and grace we do with our clients, to ourselves. But, not just say we will do it, actually do it. It is going to be muddled and clunky for a while. There is meaning in that. We will have new triggers and we will be blindsided by someone sharing about the grief they have felt in the pandemic and we will not always be able to hold back the tears. We are going to be forced to be more human and I want to run head first into this.
So, how do we keep our minds clear and present for the people we support while we are also going through the same grief? Everyone's lives were uprooted, some literally, and if you are like me, the intense isolation from my extroverted life was something so difficult that I did not know how to process. We have to fight the "but it wasn't as bad as…" trap and sit with the last year, process it, find the spaces that have changed us and embrace the new people we are. I want to stay in that positive mind frame for a minute, but then the immediate next thought goes to the details. Let's not get into the details just yet. For now, I am going to do the grief work for myself as it comes up and speak kindly to myself in the moments I fail. We are going to get through this together and our profession will be filled with many new versions of our pre-pandemic selves. I look forward to meeting them.
If you would like to read some of my late-night-rabbit-hole finds:
https://hbr.org/2020/03/that-discomfort-youre-feeling-is-grief
https://www.verywellmind.com/understanding-grief-in-the-age-of-the-covid-19-pandemic-4801931
https://www.psychologytoday.com/us/blog/stigma-addiction-and-mental-health/202101/coping-grief-during-pandemic
https://www.npr.org/2021/05/30/1001748875/how-we-can-acknowledge-and-recognize-pandemic-grief
https://www.huffpost.com/entry/best-advice-grief-covid-pandemic_l_603e75bfc5b6ff75ac3fc382
To reach Kristin you can email her at KWilliams.naswca@socialworkers.org.