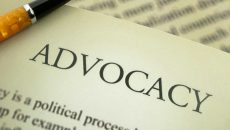 Now that the election is over and we have a new President, many NASW members want to know how they can advocate for marginalized communities. As social workers, we know that our Code of Ethics states:
 "The social worker should advocate changes in policy and legislation to improve social conditions and improve social justice."
One of the first steps you can take is to sign up for our Advocacy Listserv that is operated out of our National office. If you sign up you will be sent periodic messages with instructions on how to write a letter or how to make a phone call to your U.S. Senator, Member of Congress or State Legislator on issues such as immigration and protecting the Affordable Care Act.
Please follow this link and sign up today!
http://cqrcengage.com/socialworkers/home
We will be sending out more emails in the near future because unfortunately, now more than ever, some of our most basic freedoms are threatened. We are developing an organized, systematic approach to fight the Administration's agenda — such as the President's threat to deport millions, to repeal the Affordable Care Act, and to defund Planned Parenthood. These are fights that we as social workers should and must take on. We are calling upon you to take action on these and other issues.
Please stay tuned!