Submitted by L. Jeannette Davis, DSW. Secretary, SLO Unit, CA Chapter, NASW
The San Luis Obispo unit met on March 26th to celebrate the 60th Anniversary of NASW and Social Work Month with its annual dinner and recognition of the Unit's Social Worker of the Year, Ray Ford, LCSW.
Mr. Ford moved to the San Luis Obispo County in 1999 where he continued his broad-based commitment to clients and families. He has worked for SLO County Mental Health as a therapist in the forensic outpatient program, as a mental health therapist and site leader for S.A.F.E., providing crisis evaluations for the mobile crisis service, clinical supervision for master level counseling trainees and interns, and a mentor for the Grizzly Academy.
Prior to coming to our community Mr. Ford resided in San Diego County where he graduated in 1984 with a Masters degree in social work from San Diego State University and worked as a psychiatric social worker for the State of California.
With his wife, Diane (also a social worker who is employed at Tri-Counties Regional Center) another most fulfilling role for Mr. Ford has been as father to three wonderful kids.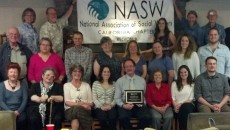 Thirty social workers attended the Mexican dinner some of whom are shown in this first photo.
The second photo is of Sara Tindula, chair, of the SLO Unit, and Ray Ford, LCSW, with his award. His family were also there to share in his recognition.



In his own words, Mr. Ford, talked about his 40 years as a social worker, the many roles he filled during that time, what he learned from his clients and their families, and the support of the social work community. He clearly exemplifies that "Social Work Paves the Way for Change." His remarks about his life's work and being a father were inspiring.
SAVE THE DATES
Thursday, April 23: Dorothy Pitkin, LCSW, will present on her work with embodied imagination. Dr. Pitkin received her MSW from the University of Washington, School of Social Work, in 1983. She earned a PhD in clinical psychology at Pacifica Graduate Institute in 2009. In 2012 she completed three years of training in embodied imagination. She retired from working for the State of California in 2012 and is currently doing psychotherapy as a volunteer with the SLO Community Counseling Center. The meeting begins at 5:30pm, the presentation at 6:00. 1 CEU is available. To get directions to the meeting, please contact the unit at NASWSLO@gmail.com
Thursday, May 28: Star Graber, PhD, LMFT, will give a presentation on the impact of the Affordable Care Act on services for behavioral health clients. 1.5 CEUs
Thursday, June 25: Catherine Manning, LCSW, will present on People's Self-Help Housing. 1 CEU