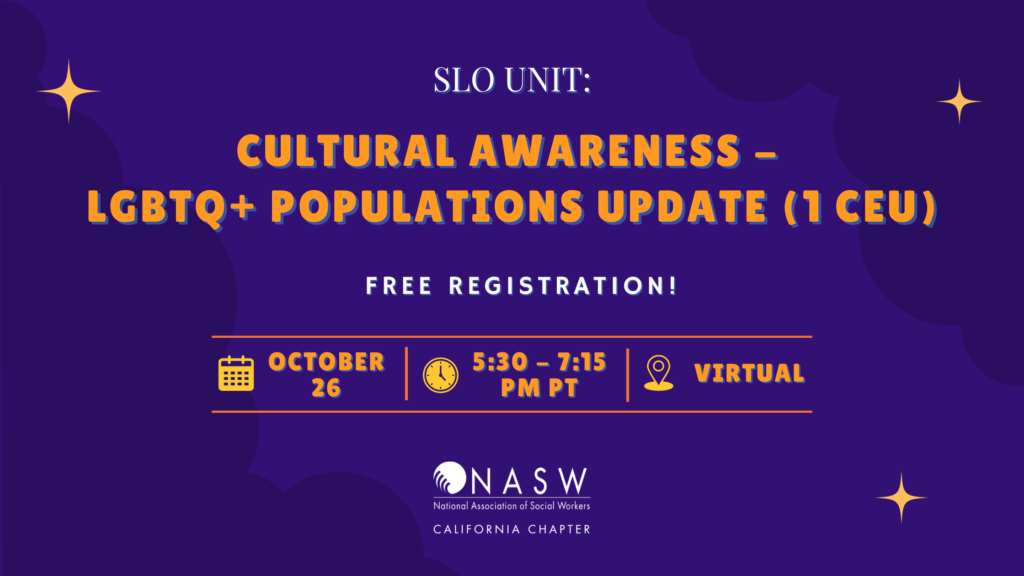 The SLO Unit is excited to present a free continuing education webinar on October 16! Presented by Stephen L. Sisk-Provencio, MSW, LCSW, this presentation will provide an overview of the general cultural considerations to use when assessing & providing services to clients that identify in one (or more) of the LGBTQ+ minority groups in the San Luis Obispo county. The acronym, LGBTQ+ will be introduced & defined as well as the impact of current societal changes on LGBTQ+ services & the political impacts on delivering services to LGBTQ+ persons. Key psychosocial considerations needed for therapists when working with local LGBTQ+ identities will be explored. What the future holds for services to LGBTQ+ individuals & families will be discussed. This event is reserved for 20 registrants. 
Learning objectives:
Verbalize understanding of the elements of the acronym LGBTQ+
Describe 3 challenges LGBTQ+ people face related to their identity(ies)
Provide 3 ways therapist can work to support LGBTQ+ clients.
About the Speaker:
Stephen L. Sisk-Provencio, MSW, LCSW received his Master of Social Work (MSW) in 2008 and has been employed from 2008 at DSH-Atascadero. He is currently the Chief of Social Work at DSH-Atascadero. Has presented to NASW SLO Unit; CalPoly's Social Sciences diversity classes, DSH-Atascadero. Licensed Clinical Social Work (LCSW) & has been a NASW member since 2007.
Please contact L. Jeannette Davis at ljdavis@thegrid.net with any questions.
CEU Provider Statement: Course meets the qualifications for 1 hour of continuing education credit for MFTs, LPCCs, LEPs and/or LCSWs as required by the California Board of Behavioral Sciences, provided by NASW-CA.

Chapter Event Policy: NASW-CA is dedicated to providing a harassment-free experience for everyone, regardless of gender, gender identity and expression, age, sexual orientation, disability, physical appearance, body size, race, ethnicity, religion (or lack thereof), nationality, evel of experience or technology choices. We do not tolerate harassment of program participants in any form, nor do we tolerate behavior that would reasonably lead to another participant being made to feel unsafe, insecure, or frightened for their physical or emotional well-being. All communication should be appropriate for a professional audience. Program participants, vendors, and stakeholders, violating these rules may be expelled from the program without a refund at the discretion of the conference organizers. By registering, you are agreeing to follow the code of conduct at NASW-CA virtual events.
NASW-CA Refund Policy: To receive a refund, requests must be emailed to naswca@socialworkers.org at least one (1) week prior to the event date. No refunds granted after the event, no exceptions. This policy also applies to group registrants. The refund for group registrations will go directly to the original payer of the registration fee. Refunds may take up to 10 days to process. If attendees pay with a credit card, the refund will be made to the same card. If attendees pay with a check, the refund will be made by check to the person or organization that originally paid for the registration.