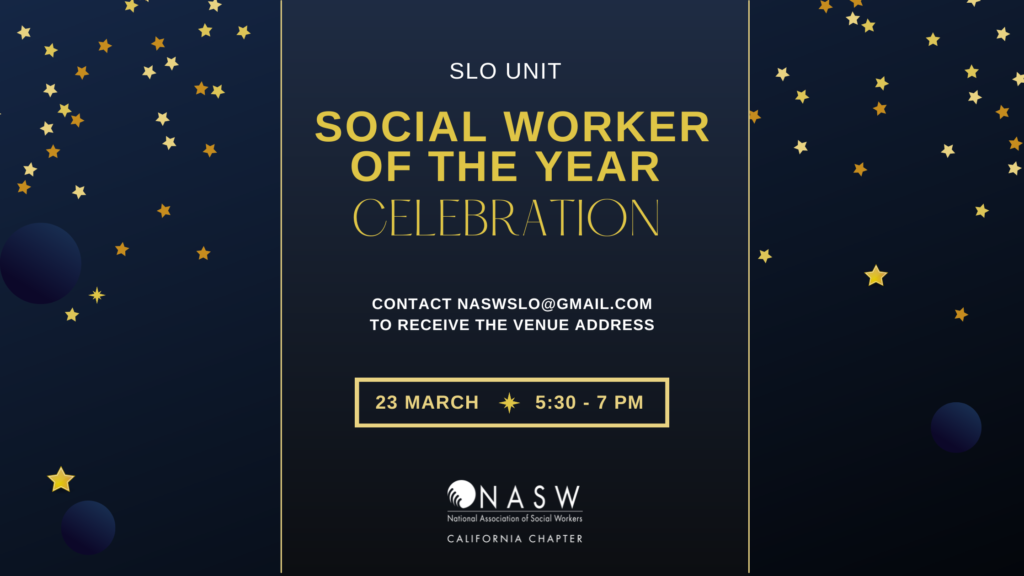 Please join the San Luis Obispo Unit for a night of celebration on March 23 at 5:30 pm! We are thrilled to host an in-person celebration in honor of Sara Bartlett, SLO County Social Worker of the Year! We will be celebrating Sara's achievements and significant contributions to the social work field. Please contact mmohapp@sbcglobal.net to receive the event venue address.
Please contact naswslo@gmail.com to receive the event venue address. This event is free to attend, and registration is required. Space is reserved for 20 people, so register today! Please note that NASW-CA requires all attendees to fill out the COVID-19 Waiver form during event registration.
About Sara Bartlett:
Sara Bartlett obtained her Bachelor of Psychology/Minor in Adult Aging and Development from UC Davis in 2000. While at Davis, she interned at the Department of Social Services and worked at a respite program for family caregivers of special needs older adults. Between these experiences, her love for gerontological social work was born. She went on to obtain her MSW from UC Berkeley in 2002 with an emphasis in Aging. After moving to SLO County, Sarah worked at the Alzheimer's Association, starting as a Family Care Consultant and promoting to Area Director. In 2012, Sara began teaching as an adjunct lecturer at Cal Poly. Sara now works nearly full-time teaching in both the Sociology and Psychology departments. She teaches Sociology of the Life Cycle, Social Problems, Psychology of Aging, Psychology of Death, and supervises senior projects and internships. She also teaches through the online Columbia MSW program. Sara received her DSW from the University of Pennsylvania in 2020. She stays connected to the local social work community through serving on the board of directors for the Long-Term Care Ombudsman of San Luis Obispo County and of Hospice of San Luis Obispo County.
Please contact Marie Mohapp at naswslo@gmail.com with any questions.