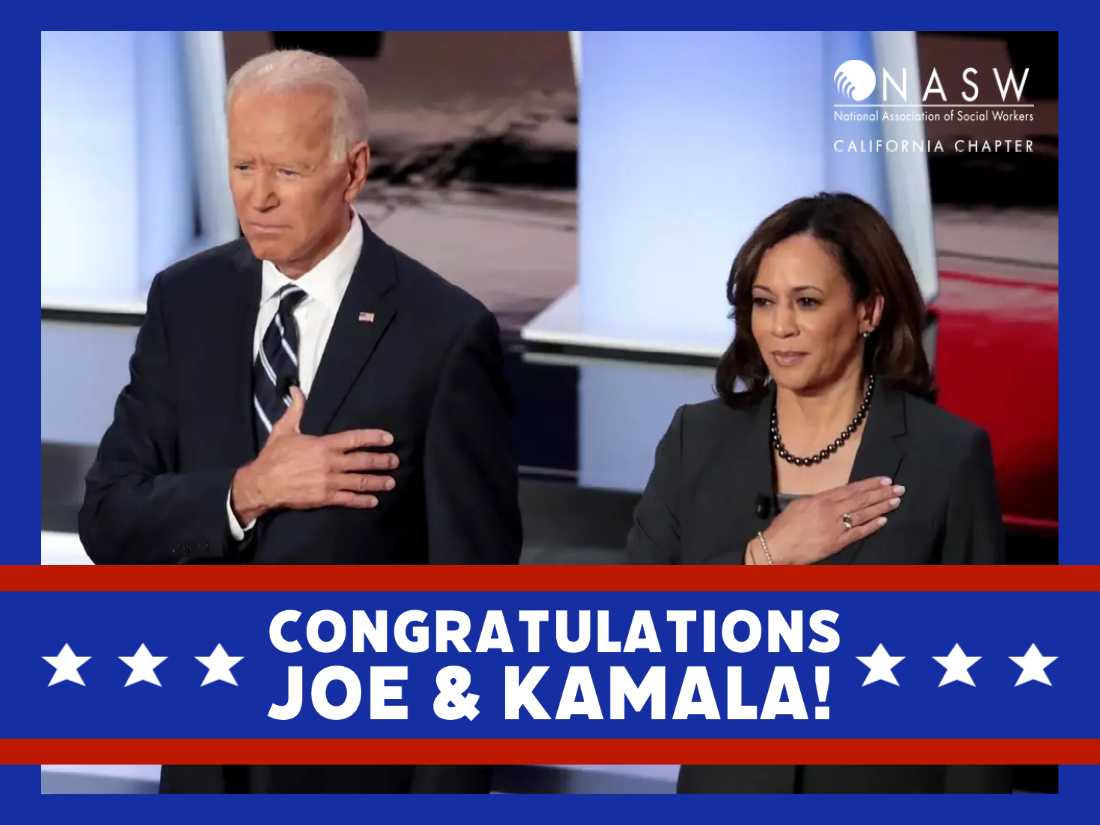 by Deborah Son,
NASW-CA Executive Director
NASW-CA celebrates the election of Joe Biden as the 46th President of the United States and Kamala Harris as the first ever woman, first ever Black, first ever Indian Vice President of United States. Our hearts are filled with hope as our nation experiences the dawn of new leadership who holds the principles of equity, healing, and unity in their hearts.
It would be an understatement to say that our communities are weary this year. With 237,000 souls lost as a result of the novel coronavirus, countless suffering from economic losses, and entire communities who are facing mental health crises, there is vast pain. Further, our President-elect Biden walks into the long overdue call to action that our nation overhauls and innovates our systems of public health, safety, and justice that are riddled with corruption, racism, and failure.
NASW-CA was and is a proud supporter of Biden-Harris, and we will hold them accountable to their promises of significant and meaningful investments to our education systems, particularly low-income schools, increasing capacity for social workers and other mental health supports to address the socioemotional needs of our young people. We will hold them accountable to their promises to reverse the family separation policy and public charge rule. We will hold them accountable to their promises to invest in affordable housing and equitable health care for all. We will hold them accountable to protecting our reproductive health rights. While the work for us social workers continues, what is different now is opportunity. We now have the opportunity for critical dialogue with national leaders who are open to change based on need, impact, and science.
We are grateful for all that you have done, our colleagues and friends. Without social workers and allies as yourselves, we would not have been able to engage in supportive conversation with others with unlike views to find commonalities in our pursuit for integrity and justice. We held our families and loved ones so tightly these past four years, unaware of what our futures would be. Today, not only does that future shine, but it radiantly lights the pathways for our sisters, our daughters, and our women and girls of color. While the work is never done, today be celebrate and be joyous. We are proud of each of you, we are grateful for each of you, and we need you to continue the work together.