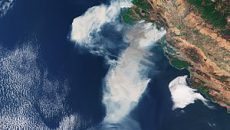 The recent California wild fires have been a disaster of the greatest proportions for California and the thousands that have been affected.  Social workers and mental health are what's called the "second responders" after the public safety personnel and the emergency evaluation shelters.
California has frequent wild fires every year and certainly many in populated areas, and our systems are set up and do respond when called upon.  The shocking thing about this fire is the rapid speed which it descended upon heavily populated areas (literally overnight). While the number of dead could go up into the hundreds (so far more than 50), we hope and pray this isn't the case and that most people got out in time (which is a testament to not only our first responders but also neighbors helping neighbors. Now the wrap up and clean up begins as well as the rebuilding.  Insurance companies, local, state and federal government agencies, charitable organizations and communities are all involved in the recovery.
NASW is keeping in touch with our wonderful local leadership in the affected areas and providing moral support.
For those who are in need of a referral for mental health services, we direct them to the Substance Abuse and Mental Health Services Administration (SAMHSA) 24/7 hot line at:  https://www.samhsa.gov/find-help/disaster-distress-helpline
For those social workers who want to volunteer mental health services we're directing them to the American Red Cross Mental Health Disaster Services.
http://www.redcross.org/become-a-disaster-mental-health-volunteer
NASW is directing those who want to contribute funds to helping social workers to the NASW Foundation's Social Work Disaster Assistance Fund athttp://www.naswfoundation.org/911.asp
The California Chapter will be offering a specific number of online CEU courses at no cost to impacted members who need them for licensure. We also plan on discussing with the CA BBS relaxing some licensure rules, such as renewal, until people have a chance to recover.
One of our student directors, Therese Gonzales (CSUEB) is collecting personal care items at the NASW CA Conference and will be driving the donations up to Sonoma on Sunday.  We're also going to pass the hat for cash donations for the Social Work Disaster Fund at the Annual Conference.