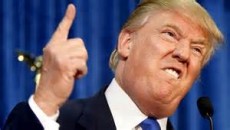 "You're living in your poverty, your schools are no good, you have no jobs, 58 percent of your youth is unemployed—what the hell do you have to lose?"
—Donald J. Trump on the presidential campaign trail, August 2016
By Tina Sacks
As of January 2017 it appears that, we, indeed, have everything to lose. Donald J. Trump's rhetorical exhortation to urban—i.e., Black—voters during the 2016 presidential campaign seems all too real now that he has ascended to the US presidency.
Much has been made of the looming threats Trump poses to the safety net, including the Affordable Care Act, Obama's flawed but remarkable piece of legislation that has expanded health insurance to 22 million Americans, protected people with preexisting conditions, and allowed young adults to remain on their parents' insurance until age 26.
Although the dismantling of the ACA is a horrifying prospect, particularly for people who have benefited from the Medicaid expansion, Trump's deadliest actions may be felt by our fellow Americans living in poverty.
CLICK HERE TO READ MORE
http://www.socialjusticejournal.org/death-by-a-thousand-budget-cuts-the-need-for-a-new-fight-for-poor-peoples-rights/
This article was originally published on the blog of Social Justice: A Journal of Crime, Conflict and World Order. Please visit the our series' homepage:
http://www.socialjusticejournal.org/the-possible-futures-of-trumps-america/