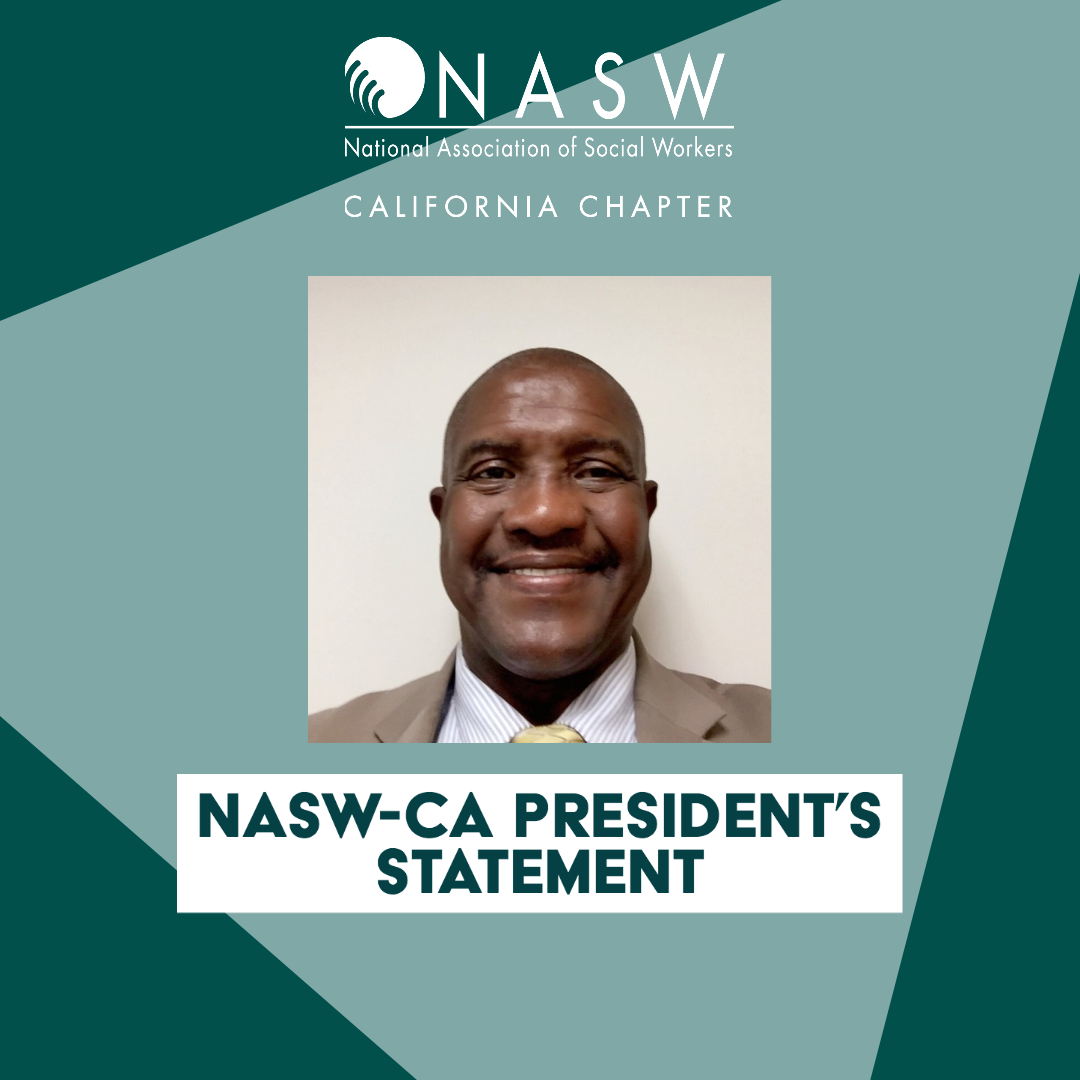 By Dr. Sylvester Bowie, Ed.D., MSW; Faculty at California State University, Sacramento; and the NASW-CA Chapter President (2018–2021)
Broken hearts and sadness seem to be the refrain after the murder of George Floyd. Many celebrities, politicians, athletes, and regular citizens have joined in the chorus of condemnation and the call for justice for George Floyd and others who have been killed by police in what could at best be described as suspicious circumstances and at worst as brutal murder. As the protests, rebellions, marches, demonstrations, and some even say riots have broken out, the despair, anger, and indignation have increased. The protest first started in Minneapolis, the city where Mr. Floyd was murdered, and later spread to include all 50 states and especially Washington, DC, where the use of federal law enforcement, including the US military, created a flashpoint for these activities.
As organizations and individuals scramble to figure out how to respond to these epic events, I am forced to examine the two main professional institutions to which I belong. As a professor of social work and president of the National Association of Social Work (NASW) California Chapter, I am filled with pride that both academia and the NASW have a long tradition of fighting for social justice, and that both have, as a fundamental operating principle, the belief in the dignity of the individual. Sometimes pejoratively called the "ivory tower," academia continues its long tradition of playing an important role and being a critical voice in calling for social justice as well as promoting individual dignity. The two critical issues occupying our time and energy in the past few weeks are intersectional policy issues affecting communities of color in a disproportional way: police brutality and the COVID-19 pandemic. Both events have significantly altered black lives, and that matters.
I am proud of my membership in academia because of the way members have responded to the hurt and pain caused by the brutal murder of George Floyd. Even before the video showing a police officer (Derek Chauvin) kneeling on Floyd's neck, there was an incident in Sacramento, California, of a university professor and his wife (https://nypost.com/2020/05/11/college-professor-wife-caught-on-video-using-racist-slurs/) caught on video verbally abusing an African American neighbor. The Department of Social Work was the first to write a letter condemning the racist rant and abusive behavior. Excerpts from the letter are included here:
This event and this professor have disgraced us all, and he poses a threat to our students and campus community. His actions have caused harm to our students, their families, our community, our faculty, our campus, and our collective profession as educators and scholars. As a result of his actions, many parents of color will question the university and all of us faculty—and, rightfully, will not consent to trusting their children to our care. These families do matter … We as social workers hold a code of ethics that does not limit our conduct to our office or the classroom; our code directs us to engage in ethical behavior in all parts of our lives—primarily driven by social justice. This professor's behavior is unbecoming to the profession of educators everywhere and cannot be condoned. His and his wife's racist rant is antithetical to the university's mission, values, and Hornet Honor Code.
Substance misuse is not a precipitating factor to racist action and implicit biases, rather they fuel them. Alcoholism and drug addiction do not excuse harmful acts of verbal abuse, intimidation, and violence against people of color … The social work faculty stands in solidarity with our students and campus community—committed to diversity and inclusion. We ask you to use your privileges to repair relationships by personifying our mission and values … We encourage our colleagues to show up for our students and community by supporting the leadership, policies, and practices of our Division of Inclusive Excellence as well as our Centers for Diversity & Inclusion. We implore that all faculty listen to, rely on the wisdom of, and support the advocacy of our affinity clubs and communities on campus. We ask that our faculty and staff engage or reengage with competency education and trainings that promote diversity, inclusion, and social justice—but moreover specifically address ways to challenge and
dismantle white supremacy and interpersonal and structural oppression, evidenced by racism.
My pride in belonging to academia was further bolstered when Sir Hilary Beckles, the vice chancellor of the University of the West Indies (UWI) and an eminent scholar, wrote a piece in response to the murder of Floyd in which he concludes, "what we have seen is a special breed of evil from the depth of hell. We must exorcise it and return it from whence it came." I encourage the reading of this piece for perspective from the academy outside of the USA (https://workersworldtoday.com/statement-from-professor-sir-hilary-beckles- marcus-martin-and-minneapolis/).
Sacramento State University President Robert Nelsen is committed to social justice and respect for the dignity of individuals, and his response and challenge to his cabinet is worthy of our attention (https://www.csus.edu/president/presidential-communications/#a-commitment-to-combat-racism-and- bias). In his message, President Nelsen said and promised that his administration would do the following, among other things:
Develop an anti-racism campus plan
Strategically invest in centers, programs, the Division of Inclusive Excellence, and other areas that already are doing this work on our campus—the budget cuts must not stop their work
Identify funding and hire an ombudsperson for people experiencing racism and bias on our campus
Support faculty and departments in building anti-racist curriculum and anti-bias pedagogy
Provide training, development, and learning opportunities for white community members to learn about actions they can take to fight racism
Increase advocacy and partnership with law enforcement and the City of Sacramento Previously, I mentioned the intersectionality between the murder of George Floyd and the COVID-19
pandemic. In both cases we see that black lives and black bodies are severely affected, and one could get
that impression that they do not matter, because they are not given the agency over their survival as they deserve. The knee of oppression is firmly fixed on the neck of black bodies and black lives. By mid-June, more than 130,000 people will have died from the novel coronavirus. According to the Guardian (https://www.theguardian.com/world/2020/may/20/black-americans-death-rate-covid-19-coronavirus):
Across the country, African Americans have died at a rate of 50.3 per 100,000 people, compared with
20.7 for whites, 22.9 for Latinos and 22.7 for Asian Americans.
More than 20,000 African Americans—about one in 2,000 of the entire black population in the US—have died from the disease.
At the level of individual states, the statistics are all the more shocking. Bottom of the league table in terms of racial disparities is Kansas, where black residents are dying at seven times the rate of whites.
Black lives are being lost at a disproportionately high rates. While there are no uprisings in the streets about the deaths due to COVID-19, we in academia must raise our voices both about the murder of George Floyd and Breonna Taylor, and all of the others, and the untimely and in some cases unnecessary deaths of black people due to coronavirus.
The murder of George Floyd made it necessary for people to be in the street marching even though the risk of infection and death by COVID-19 can be significantly increased. If we believe that black lives matter (and they do), then it is incumbent on us to take the kind of actions that demonstrate our belief that they matter. The time has come for us to take seriously and give agency to the metonymic adage so aptly echoed by the English author Edward Bulwer-Lytton when he said, "The pen is mightier than the sword." Those who occupy the space in the academy and who might not be satisfied with just marching, protesting, and demonstrating must find creative ways to express ideas that can be translated into policies to bring about some of the changes we desire.
Social workers and academics must be clear-eyed and definitive in their declaration that black lives do matter. We must seek justice for George Floyd and others, and we must ask for police reform that will include an examining the use of funding in communities of color.
We must ask that more resources be directed to mental health workers and counselors, nurses, and social workers, and that fewer resources be directed to police who too often are first responders to situations where they are not needed or best suited.
We must be clear in asking for changes in policing tactics.
We must be clear that there is a greater need for civilian oversight boards to investigate complaints against police officers.
We must be clear in articulating the need for more community policing and the need for more officers to live in the communities that they are policing.
We must be clear that "serve and protect" should be the reality, not "abuse and kill."
We must encourage the demilitarization of police departments to reduce the need for police officers to think that they are at war with the communities they are sworn to serve and protect.
We must examine and deploy restorative justice approaches when possible and appropriate.
We must be clear that Black Lives Matter, and nothing less is acceptable.