Central Valley Unit Report
By Fred Risard
 The NASW California C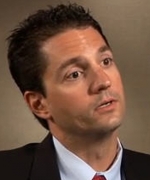 entral Valley unit had a special guest speaker in November — Derek McGinnis, a veteran of multiple tours of the Iraq war.  He is also the author of "Exit Wounds: A Survival Guide to Pain Management for Returning Veterans and Their Families," based on his own experience with wounds and pain received from
his last tour.                                                                                      

In his book, McGinnis tells us of his effort in his recovery of his injuries, the loss of a leg, and traumatic brain injury (TBI), and the associated pain, both acute and chronic. McGinnis speaks of the treatment options that the injured individual and family have that they may face in their recovery. The pain not only affects the injured person, but it also affects the family, as they all cope in the process.
McGinnis is not only a veteran, but he is also a social worker, a master of social work graduate of California State University Stanislaus, in Turlock, and is currently employed with the Veterans Administration in Modesto. Much of his work is reaching out to veterans who, like himself, continue to suffer in pain. In that outreach, as noted in his book, he gives the reader strategies for self advocating, and advocating for resources inside and outside the VA system. 
In McGinnis' typically unselfish way, he notes that it is important that all veterans, including those without apparent injury, be considered resources that the community ought to turn too. In particular, he would remind us that the skills and knowledge that the veteran acquired while in service can be translated into jobs in both the private and public sectors.
The meeting was well attended with practitioners from many social work disciplines. CEU's were given for attendance of those who are LCSWs and ASWs.  A survey of the attendees noted that many appreciated the personal narrative that McGinnis utilized in presenting the subject.  Many also noted that the information they received would apply to their own work in practice.