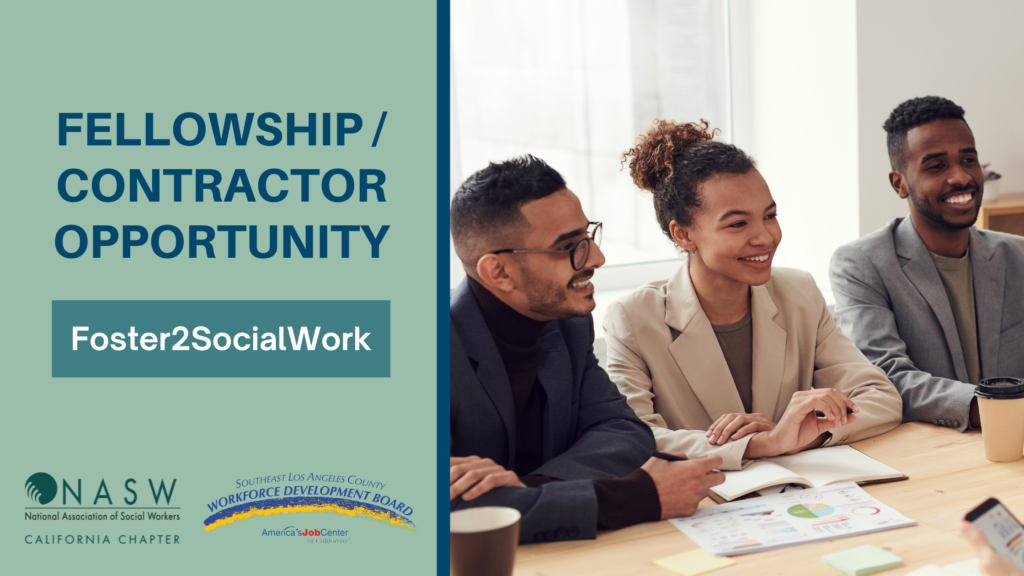 Support the foster youth career pathway into social work! Join our team.
As part of a collaboration between the National Association of Social Workers, California Chapter (NASW-CA) and the Southeast Los Angeles County Workforce Development Board (SELACO), Foster2SocialWork (F2SW) was initiated to assist foster youth in exploring the career path of becoming a social worker. Through Foster2SocialWork, young individuals will have the opportunity to consider applying their firsthand knowledge and lived experience toward a career in social work or social services.
Due to the success of the Foster2SocialWork pilot that launched in January 2022, NASW-CA and SELACO are planning to expand this program across the state of California. NASW-CA is seeking a social work graduate/doctoral student or social work professional to join this movement as a limited-term Contractor. The Contractor will strengthen this special program by developing a strategic plan to scale and replicate the F2SW program across the state of California.
We strongly encourage individuals of color and other diverse backgrounds to apply. The contract will be a limited term 4-month project beginning in January 2023, at $45/hour at approximately 10 hours/week.
Applications will be reviewed on a rolling basis, with preference given to those received by December 17, 2022. The NASW-CA is an EOE dedicated to advocating for the social work workforce and the capacity for all individuals and communities throughout California to thrive.