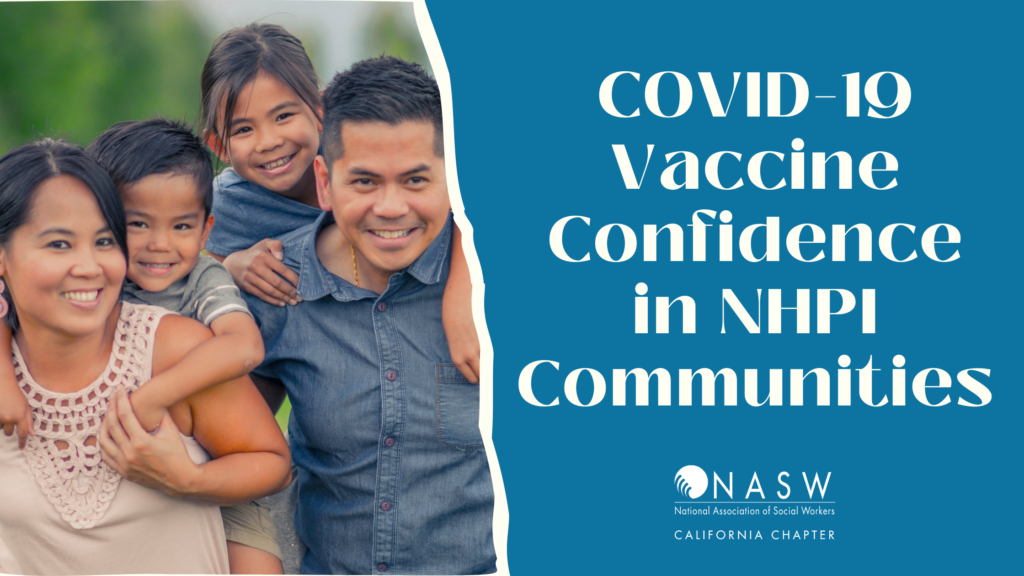 The NASW Connect to End COVID-19 Initiative is a nationwide initiative to educate and build capacity of the social workers to promote COVID-19 vaccine uptake as means to end the COVID-19 pandemic. The NASW-CA Asian Pacific Islander (API) Social Work Councils of Northern and Southern California have undertaken a collaborative effort as part of Connect to End COVID-19 initiative to focus the on providing relevant information and education to social workers who work with clients and consumers who identify as AANHPI (Asian American, Native Hawaiian and Pacific Islanders). In this article, we focus on COVID-19 vaccine confidence in the Native Hawaiian and Pacific Islander communities.
Impact of COVID-19 on the NHPI Communities
COVID-19 has significantly impacted NHPI communities as the rate of infection and death have been one of the highest when compared to other ethnicities (NHPI Policy Lab UCLA, 2023). The term "Native Hawaiian and Other Pacific Islander" refers to people having origins in any of the original peoples of Hawaii, Guam, Samoa, or other Pacific Islands. Pacific Islanders include diverse populations that differ in language and culture. They are of Polynesian, Micronesian, and Melanesian cultural backgrounds (United States Census, 2000). Despite the disproportionate impact of COVID-19 on NHPI communities, inconsistent data collection has made the true impact difficult to measure accurately. For instance, in 14 of the 27 states with available data, NHPIs have the highest death rates from COVID-19 compared with any other racial or ethnic groups, but other states did not have data on NHPIs as they were often grouped together with Asians or labeled as "Other" (PBS Newshour, 2022).
Vaccine Hesitancy Among NHPI Communities
The Pacific Alliance Against Covid-19 (PAAC), a community-academic partnership between the University of Hawaii and Accountable Healthcare Alliance of Rural Oahu (AHARO) Community Health Centers, works with schools and other community institutions to expand linkages to public health educational resources and services, including testing. In an article on vaccine uptake, researchers within PAAC analyzed survey results from 1,124 adult Hawaii residents, 61.7% of whom self-identified as Native Hawaiian and Pacific Islander. According to the study, respondents with a higher degree of trust in Covid-19 information from "official sources" (such as the government, healthcare providers, TV, radio, and print news) were 20.68% more likely to obtain vaccination, while respondents with a higher degree of trust in "unofficial sources" (such as friends, family members, and social media contacts, which potentially spread disinformation that discourages vaccination) were 12.49% less likely to obtain vaccination, suggesting that health-related decision making highly depended on levels of trust in these information sources. These findings may be contextualized within historical and current structural discrimination against NHPIs and suggest that strategies to foster health literacy and trust in "official information sources" may increase vaccination uptake and health equity.
In addition, a study conducted by Samoa et al (2022) found that among their survey participants, COVID-19 vaccine hesitancy ranged from 23.0% among Other PI to 56.3% among Tongan adults. Vaccine-hesitant respondents on average were younger, with 39.1% of adults 18–24 years and 42.4% of adults 25–44 years old who were vaccine hesitant. In relation to socio-economic position (SEP) and vaccine hesitancy, Native Hawaiians, Samoans, and Multiethnic NHs/PIs are more likely to show a pattern consistent where lower SEP respondents had higher levels of vaccine hesitancy. Tongan, Marshallese, and Other PIs did not have consistent or statistical associations between the SEP measures and vaccine hesitancy. This finding highlights the diversity that exists within the NHPI communities. As a result, the study authors called for deeper inquiry into inter-ethnic differences as there cannot be a "one-size fits all" approach.
A report by the Hawaii State Department of Health and academic and community researchers further considers COVID-19 health inequity within the colonization of NHPI communities, including negative impacts stemming from consumerist urbanization, environmental degradation, and foreign diseases. Health disparities are also attributed to generational traumas, such as "continued structural racism, inadequate health services, and broken promises from the federal and state governments, undermining the trust that is taken for granted by many other communities." The researchers recommend strategies for meeting the public health needs of NHPIs:
"Acknowledge the historical trauma and the lived experiences of marginalized communities to understand their effects on an individual's mental and physical health.
Foster collaborative partnerships with trusted community messengers and organizations to promote community wellness.
Ensure transparency and diverse representation in decision-making processes and execution of resource allocation.
Utilize multidimensional approaches that promote holistic healthcare by prioritizing in-language services, cultural values, and traditional practices.
Document processes and protocols to create streamlined clinical responses that are replicable for future health emergencies."
With considerations of the available data and research, below are our Councils' recommendations for social workers:
1. Understand the historical context of medical mistrust in many of the NHPI communities as a barrier to improving confidence in vaccine safety and effectiveness
2. Look for the NHPI-specific data separate from Asian American groups to better understand the unique challenges that the NHPI communities face when developing an intervention to promote COVID-19 vaccine series
3. Consider culturally responsive strategies for addressing the multitude of factors that contribute to vaccine hesitancy and promoting health literacy across contexts for NHPIs
Conclusion
Social workers are uniquely positioned to raise awareness and promote COVID-19 vaccines in the communities in which we work, as we are equipped to have a deeper understanding of sociocultural factors that act as barriers to the community members getting vaccinated. The NASW-CA API Councils will be hosting two recorded webinars to further our understanding of community outreach efforts and engagement strategies for COVID-19 vaccine series in the AANHPI communities in July and August. We encourage all social workers to join and improve skills in promoting COVID-19 vaccine series in diverse communities.
Connect to End COVID-19: What Social Workers Can Learn From AANHPI Community Leaders (1.5 CEU) Webinar
Learn how you can raise awareness and promote COVID-19 vaccine series among the AANHPI communities! Hear from community-based organizations and their efforts in promoting vaccine series, and how social workers can apply those strategies to their respective practice settings. The recording of the webinar is now available on our YouTube Channel.
Resources mentioned in the webinar:
Sources
Census 2000 Brief: The Native Hawaiian and Other Pacific Islander Population: 2000:

https://www.census.gov/library/publications/2001/dec/c2kbr01-14.html#:~:text=The%20term%20%E2%80%9CNative%20Hawaiian%20and,differ%20in%20language%20and%20culture

Hawaii State Department of Health. (2022). COVID-19 vaccination experiences and perceptions among communities of Hawaiʻi.
Juarez, R., Phankitnirundorn, K., Okihiro, M., & Maunakea, A. K. (2022). Opposing role of trust as a modifier of COVID-19 vaccine uptake in an indigenous population. Vaccines 10(6).

https://doi.org/10.3390/vaccines10060968

National Association of Social Workers (NASW)

https://www.socialworkers.org/Practice/Health/Vaccine-Confidence/About-the-Vaccine-Confidence-Project

Pacific Alliance Against COVID-19 Website

https://www.paac.info/

PBS Newshour: "Inconsistent Data Masks the Pandemic's Tall on Native Hawaiians and Pacific Islanders"

https://www.pbs.org/newshour/show/inconsistent-data-masks-the-pandemics-toll-on-native-hawaiians-and-pacific-islanders

Samoa, R. A, Ðoàn, L. N., Saw, A., Aitaoto, A., & Takeuchi, D. T. (2022). Socioeconomic inequities in vaccine hesitancy among Native Hawaiians and Pacific Islanders. Health Equity 6(1). doi: 10.1089/heq.2022.0033
UCLA Fielding School of Public Health NHPI Data Policy Lab Website

https://healthpolicy.ucla.edu/programs/nhpi/Pages/default.aspx
Other Helpful Resources
The Connect to End COVID-19 initiative is supported by the Centers for Disease Control and Prevention of the U.S. Department of Health and Human Services as part of a financial assistance award totaling $3.3 million with 100 percent funded by CDC/HHS. The contents are those of the author(s) and do not necessarily represent the official views of, nor an endorsement by, CDC/HHS, or the U.S. Government.