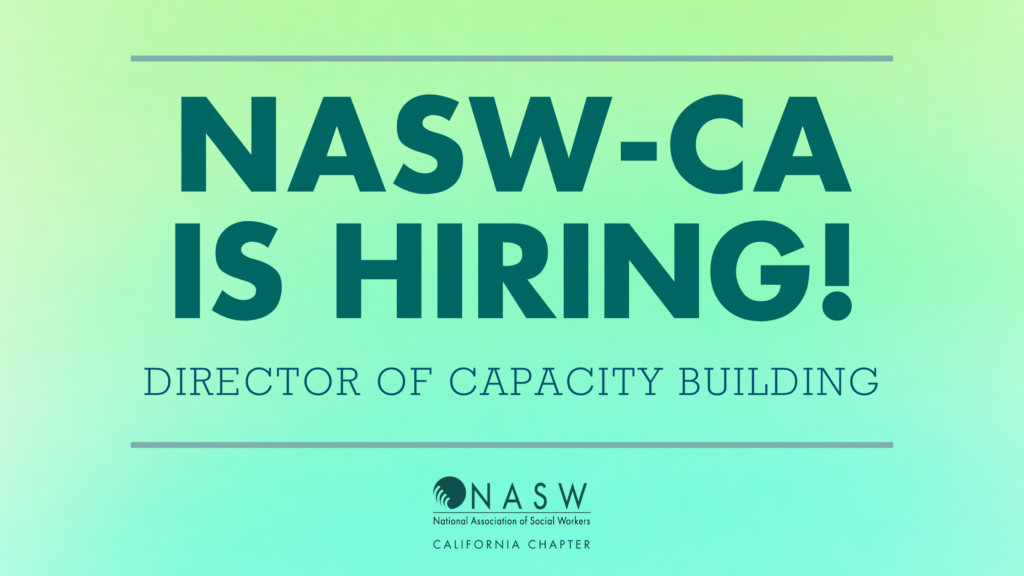 NASW-CA is hiring, and we want to hear from you!
The National Association of Social Workers, California Chapter (NASW-CA) is currently hiring a Director of Capacity Building to lead the professional development and continuing education program. NASW-CA works to enhance the professional growth and development of social workers, to create and maintain professional standards, and to advance sound social policies. 
This position is responsible for building the capacity of the chapter's online CEU program, EmpowerEd. The EmpowerED Program is NASW-CA's online continuing education program for social work practitioners and other mental health professionals. The Director of Capacity Building will develop and coordinate live virtual continuing education events, review and organize online continuing education courses, ensure quality customer service related to the EmpowerEd Program, and actively participate on Chapter Committees. Additionally, the Director of Capacity Building will oversee the Program Coordinator, who supports the successful implementation of the EmpowerEd Program. This position is remote, but the ability to travel within California is required. 
We invite you to apply for this dynamic role if you are passionate about elevating the professional development of social workers, have a deep knowledge on social work licensing and continuing education requirements, and hold a strong commitment to social work values. Please help us expand our reach by sharing this opportunity widely with your social work networks! 
Please contact naswca@socialworkers.org with any questions. 
NASW is an equal opportunity employer. As such, NASW is committed to promoting and providing equal employment opportunities to all applicants and employees. The selection of personnel, including new hires and promotions, will be on the basis of qualifications designed to ensure appointments of persons able to effectively discharge the duties and responsibilities of their position. The Association will not discriminate on the basis of race, color, creed, religion, national origin, ancestry, citizenship status, age, sex, sexual orientation, gender, gender identity or expression (including transgender status), marital status, veteran status, physical or mental disability, genetic information, or any other characteristic protected by applicable federal, state, or local laws. The Association will also abide by applicable Affirmative Action requirements mandated by any federal contracts.