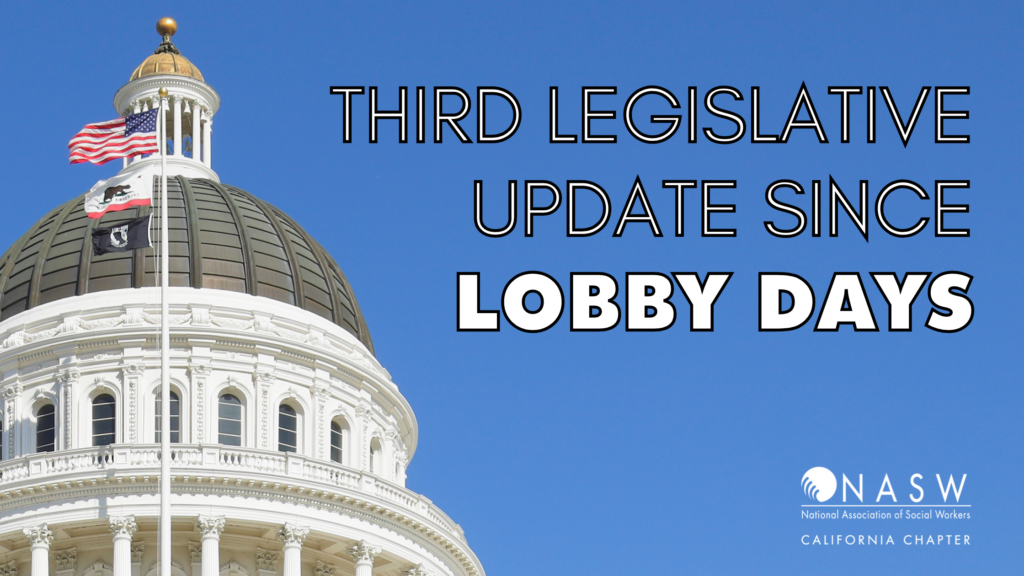 The California Legislature is now in the last month of the legislative session for the year. August 31st is the last day for bills to be passed and sent to the Governor who will have until September 30th to sign or veto all bills that reach his desk. All bills that are moving are in the opposite house, either in the fiscal committee (Senate or Assembly Appropriations) or on the Senate or Assembly Floor. At NASW-CA we are still advocating for 150 bills that are in the end stages of the legislative process.  
Two of our April Lobby Day bills were funded in the recently enacted state budget. Because of this funding, both AB 1900 (Arambula) and AB 2222 (Reyes) are no longer needed since both issues were won in the State Budget. Unfortunately, AB 1816 was not funded in the budget, but the bill is in the Senate Appropriations Committee where we hope to secure funding. Updates on all bills we have reported on previously are outlined below.
2022 Lobby Day Bills
AB 1816 (Bryan)

– Provides grants for innovative or evidence-based housing, housing-based services, and employment interventions to allow people with recent histories of incarceration to exit homelessness and remain housed. Status: In the Senate Appropriations Committee.

AB 1900 (Arambula)

– Helps low-income older adults and people with disabilities by raising the amount people can retain for basic needs from $600 to 138% of the poverty level in Medi-Cal. Status: Bill is no longer needed because the state budget funded this proposal.

AB 2222 ( Reyes

) – Provides up to $20,000 annually to social work students who commit to working for at least two years at a California based nonprofit upon completion of their graduate school program. The program prioritizes students with lived experiences as former foster and homeless youth to pursue licensure as an LCSW. Status: Bill may no longer be needed because the state budget funded this proposal.
Other Support Bills