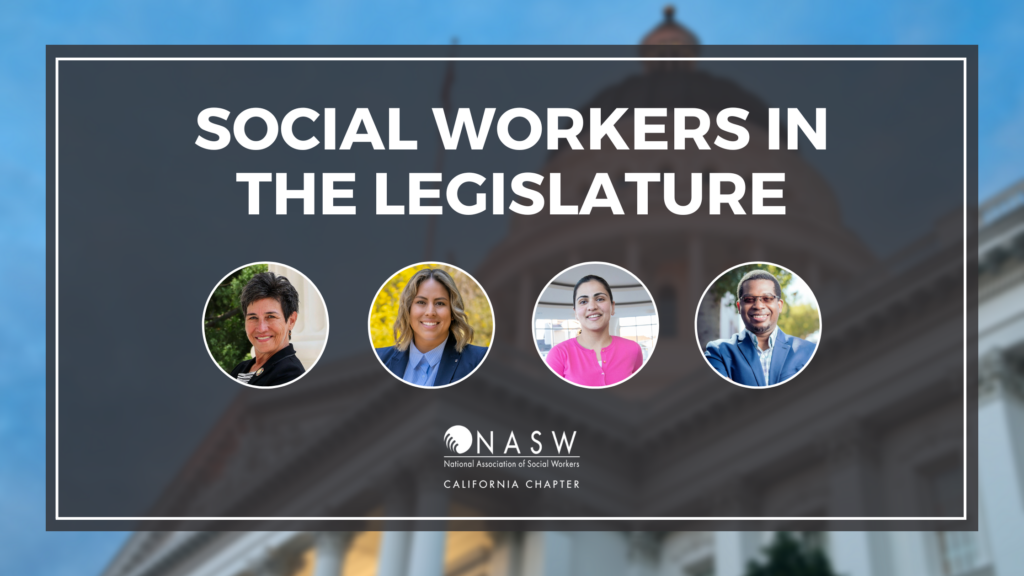 Happy New Year from NASW-CA and the CalPACE committee! We had a very exciting election cycle because we now have four Social Workers in the State Legislature! This was made possible by funding received from our members which helped in various campaigns. We also know of social workers who knocked on doors and made phone calls to ensure that we have social workers and like-minded candidates elected to our State Legislature.
The 2023-24 legislative session will see the return of State Senator Susan Talamantes Eggman, MSW, LCSW, PhD. Senator Eggman was first elected to the State Assembly in 2012 where she served until her election to the State Senate in 2020. The Senate President pro Tempore of the State Senate, Toni Atkins, just appointed Ms. Eggman to be the Chair of the powerful Senate Health Committee. This committee oversees health and mental health issues and is a key committee for many of NASW-CA's legislative priorities. Senator Eggman was previously on the Stockton City Council and had been a professor of social work at Sacramento State. She received her MSW from CSUS Stanislaus and her PhD from Portland State University. Ms. Eggman is also a member of the Legislative Latino Caucus and she is the chair of the Legislative LGBTQ Caucus.
In the State Senate, the voters also elected Caroline Menjivar, MSW, to represent Senate District 20 which includes the Cities of Burbank and San Fernando and surrounding communities. CalPACE sponsored a meet and greet with then candidate Menjivar in 2022 which also doubled as a fundraiser for her campaign. Senator Menjivar has been appointed as the Chair of Senate Budget Subcommittee #3 on Health and Human Services. This subcommittee is a key committee, previously chaired by Senator Eggman, which determines spending levels for health and human services program and an area of the budget of deep concern to social workers. Senator Menjivar has also been appointed to the Senate Health Committee, Labor, Public Employment and Retirement, and the Human Services committee to name a few. Ms. Menjivar received her MSW at UCLA.
Senator Aisha Wahab (D-Hayward) is currently in school to receive her PhD in social work. So while not currently a social worker, we at NASW-CA include her in our unofficial Social Work Caucus. Ms. Wahab has been appointed as Chair of the Senate Public Safety Committee, a critical committee for criminal justice reform issues. She is also on the powerful Senate Appropriations Committee, Senate Business, Professions and Economic Development Committee (along with Senator Eggman) Health, Housing and the Human Services Committee. All important program areas for social work issues. Senator Wahab represents Senate District 10 which is centered in Hayward, Fremont and Milpitas.
In the Assembly, we now have Assemblymember Corey Jackson, DSW, MSW. Assemblymember Jackson has been appointed as Chair of the Assembly Human Services Committee. Besides the positions of Chair and Vice-Chair, the other committee appointments have not been released in the Assembly. Mr. Jackson received his DSW and MSW from California Baptist University. He represents Assembly District 60 which is the area just east of Riverside in Moreno Valley and the city of Perris.
We at NASW-CA would like to extend a hearty congratulations to our Social Work members of the California State Legislature!