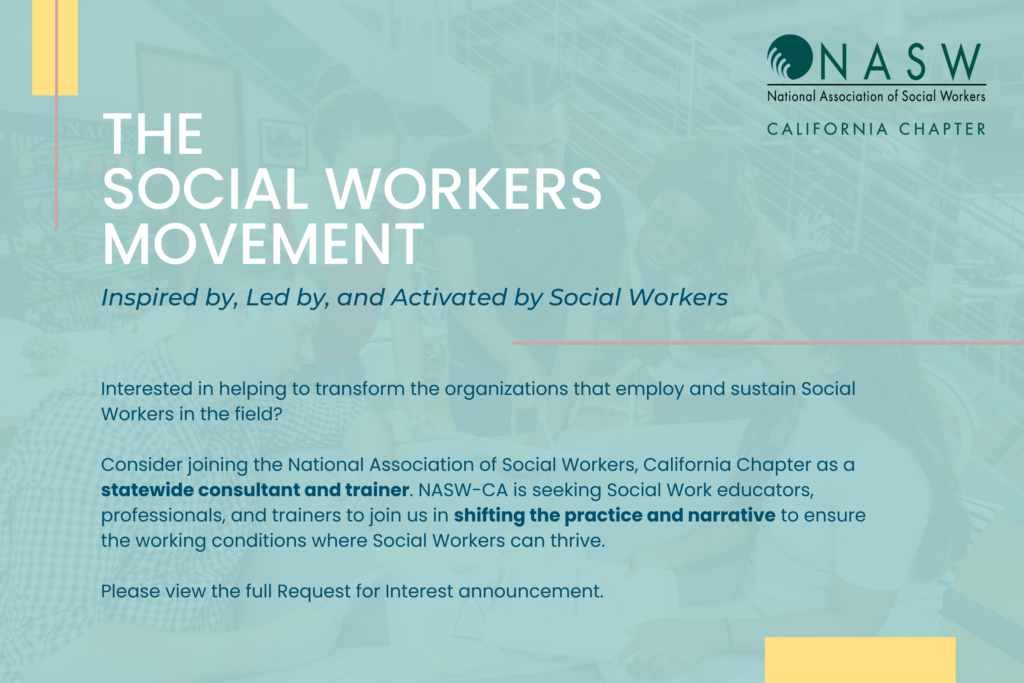 One of the most invigorating things about the social work profession is the versatility of our field, and the many paths social workers can take in their careers. Whether it's health and aging-related services or program development, social workers across the state and country are involved in diverse roles, building expertise and inspiring positive change at the micro, mezzo, and macro levels. With a great deal of versatility in our practice, social workers have a unique and wide range of skills. We encourage any social worker who is interested in sharing their skills, knowledge, and expertise to consider applying for NASW-CA's statewide consultant/trainer!
NASW-CA has officially launched its project "The Social Workers Movement," an initiative to provide a broad-reaching impact in organizations seeking to hire and employ Social Workers, particularly in nontraditional social service settings such as libraries, security firms, technology companies, and others.
If you are interested in transforming organizations that employ and sustain Social Workers in the field, consider joining the National Association of Social Workers, California Chapter as a statewide consultant and trainer! We are seeking Social Work educators, professionals, and trainers to join us in shifting the practice and narrative to ensure working conditions where Social Workers can thrive in new and exciting environments.

Interested folks can visit the full Request for Interest to learn more and to apply, and we are thrilled to work with you to advance the social work profession.