By L. Jeannette Davis, DSW, Secretary, San Luis Obispo Unit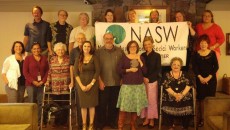 On Thursday, March 24th, the SLO unit celebrated Social Work Month, recognizing all social workers throughout our county as well as 2016 Social Worker of the Year Lisa Huet, LCSW. As you can see from the photo, those who attended had a wonderful time listening to Lisa, her friends, and co-workers share their experiences as social workers in our SLO community. And, we partook in a delicious Chinese meal.   (Top photo: some of the social workers at the event. Bottom photo: Lisa Huet, LCSW)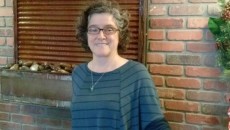 On Thursday, April 28, Rebecca Turner, B.A., will give a presentation, "Responding to Human Trafficking on the Central Coast" to the SLO Unit. She will cover an introduction to human trafficking and the commercial sexual exploitation of children; highlight the types occurring on the Central Coast; recognizing the signs of trafficking; examples of what survivors experience and     resources that are needed; and options for response and current community resources that are available.
Turner grew up on the Central Coast and completed her BA in interpersonal and organizational communication from Azusa Pacific University in 2008. She then spent a year with AmeriCorps in Guatemala, followed by an internship with Mountainbrook Community Church where she participated in founding the Mountainbrook Abolitionists in 2012.
After three years of expanding awareness of human trafficking through community education and an annual conference, they incorporated and became the Central Coast Freedom Network, a 501c3 which focuses on community education and developing support services for survivors of trafficking. Turner is the president and CEO/co-founder.
Come hear this interesting and informative presenter. We begin at 5:30 p.m. with networking, snacks, and a brief business meeting, followed by the presentation. If directions are needed, please contact us at NASWSLO@gmail.com
For the SLO Unit's Spotlights, please take a moment to visit at   http://www.facebook.com/pages/NASW-San-Luis-Obispo-County-CA/210534319026378 
Save these 2016 dates:
Thursday, May 26: John Elf on anti-bullying [1 CEU]
Thursday, June 23: Rebecca McGarigle on TIC & ACE [1 CEU]
No meetings are scheduled during the summer months—July and August