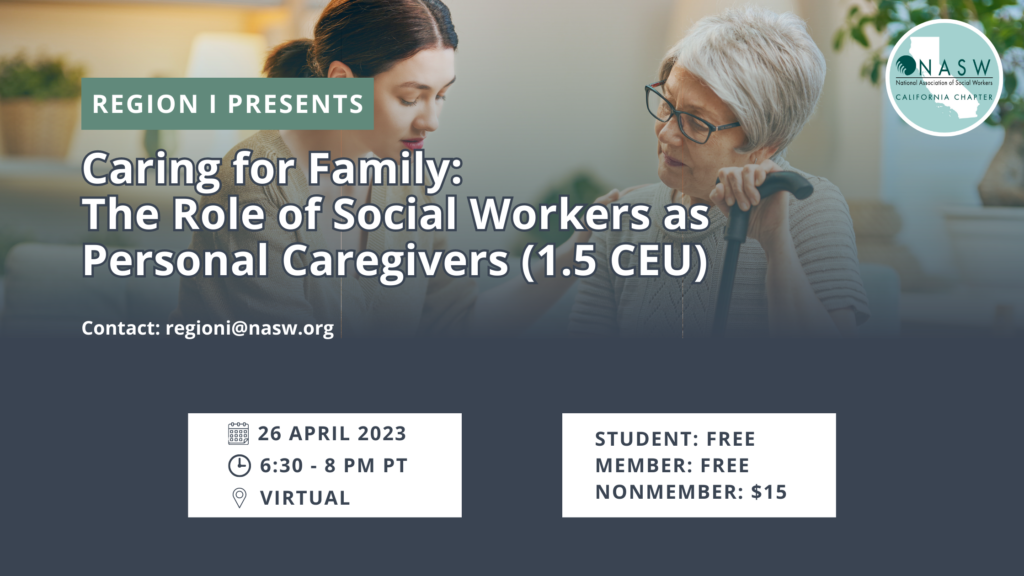 Social workers and caregivers play a critical role in end-of-life care by providing emotional, social, and practical support to patients, families, and caregivers. Social workers are caregivers who may tend to their own loved ones and may need support on their caregiver journey. Join us on April 26 for a CEU workshop on social workers as personal caregivers.
This workshop will enhance their understanding of the different stages of Alzheimer's disease, barriers to effective care and treatment, and access and utilization of palliative and end-of-life care. Participants will learn about the significant increase in families providing care to an adult with chronic, disabling, or serious health conditions.
Caregiving results in a high level of emotional and financial strain. It is critical that social workers providing care for their own loved ones have skills in providing culturally appropriate resources to help caregivers manage financial and emotional strain. This workshop will also describe two programs for providing services to family caregivers offered by the Los Angeles County Aging & Disabilities Department.
Space is reserved for 25 registrants.
Fees:
Member: Free
Student: Free
Nonmember: $15
Course objectives:
Identify the roles of social workers in providing compassionate and comprehensive care to patients and their loved ones at the last stage of Alzheimer's
Understand demographics of family caregivers, use of assessment and screening in clinical practice & identify and describe family caregivers in social service and healthcare setting
Identify various support programs offered by the Los Angeles County Aging & Disabilities Department, for caregivers and care recipients, to help relieve the daily pressures associated with caregiving
Panelists
Lisa Gaytan Harper, MSW and DIrector of Latino Services for Alzheimer's LA
Dr. Donna Benton, Director; USC Family Caregiver Support Center/LACRC
Agueda Covarrubias, MPA, Los Angeles County Aging & Disabilities Department
Please contact Siouxsie Calderon Regioni@nasw.org at with any questions.