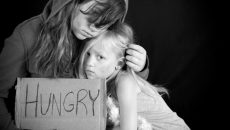 Do You Have Enough Food for Your Next Meal?
What About Food for Tomorrow?
While you may be able to answer 'yes' to both of these questions, are you aware that 25 percent of the people in the Coachella Valley would, unhappily, answer 'NO'?  Food insecurity and hunger are important issues facing many of our families, friends and neighbors.The Hunger Awareness Experience will answer your questions about this issue and you will have fun at the same time.EVERYONE AT THIS FREE EXPERIENCE WILL EAT— SOME VERY WELL AND OTHERS NOT AS WELL.This second Hunger Awareness Experience has been made possible by a grant from the Jewish Federation of the Desert and is being coordinated by Har-El, St. Margaret's Episcopal Church, National Association of Social Workers, students from the University of Southern California School of Social Work and members of the community.

This event will take place on Wednesday, November 16th in Palm Desert. Registration is required. To register, please call Congregation Har-El at (760) 779- 1691 or e-mail harelurj@gmail.com. Your full name, phone number and e-mail are required.

Directions and time of event will be confirmed at the time of registration.

The Hunger Awareness Experience is free but cash donations may be made to the FIND Food Bank and St. Margaret's Food Pantry. We encourage everyone to come. The program is appropriate for everyone 12 years of age and above. We hope you will join us.
ANNUAL HOLIDAY PARTY

This year's Holiday Party will be held in partnership with the Inland Empire Unit.  Leonie Maitland, MSW, Administrator of A Quality in Home Care will be our
host for this event and has arranged for us to meet at
The Lakes at Banning Assisted Living Facility.

When:  Monday, December 5, 2016, 6:00pm
Cost:  FREE for NASW members; Scholarships available for others 

Please RSVP to scott@scottdarrell.com.
Carpools from Coachella Valley locations will be arranged.
Also bring a wrapped gift valued at $10 if you want
to participate in the gift exchange.

CALENDAR OF EVENTS

November 16, 2016
Hunger Awareness Experience

December 5, 2016
Desert Cities and Inland Empire Annual Holiday Party

January 4, 2016
Desert Cities Unit Monthy Meeting

January 9, 2017
Inland Empire Unit Monthly Meeting