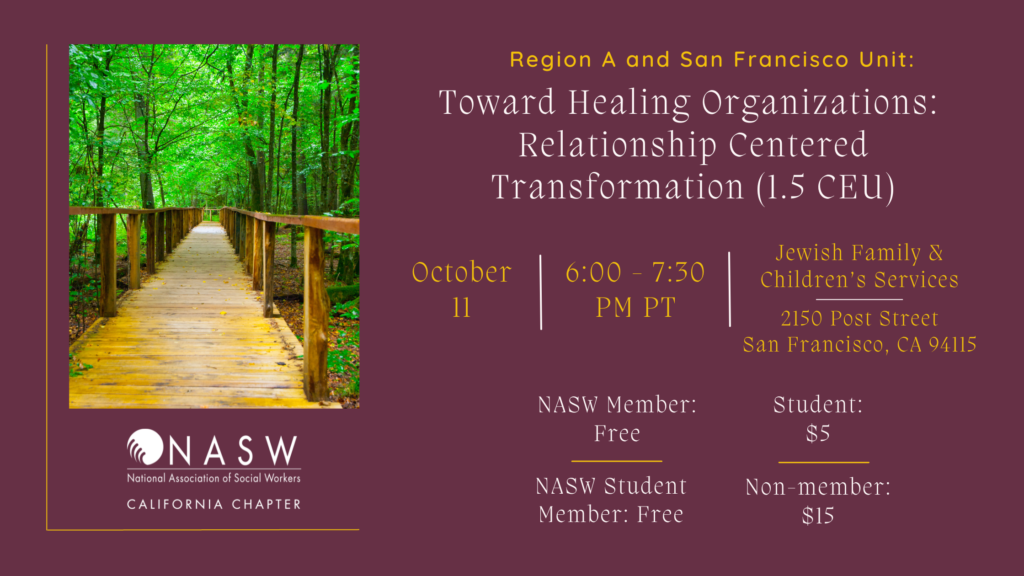 Social Work as a profession was founded on the principles of social justice. Social work centers around understanding the person in the context of the environment. At the same time, Social Work exists in a larger cultural context that privileges individuals over families, communities, and neighborhoods. The dominant ideology of whiteness, capital, maleness is embedded and embodied in our diagnosis, funding mechanisms, organizations, and educational system. This duality of experience for social work creates a moral split between the tenets of change and the construction of the health care system. Social Work faces an existential threat. We also can and should be the leaders in understanding and promoting healing organizations.
This event is reserved for 40 registrants. Please note that NASW-CA requires all attendees to provide an attestation during event registration.
5:30 pm to 6:00 pm – Light dinner and networking
6:00 pm to 7:30 pm – Presentation and discussion
The deadline to register is Friday, October 6, 2023 at 5:00 pm.
Please contact Michelle Javid, MSW, SF Unit Chair at MichelleD@jfcs.org or Bonnie Carlson, MSW, Region A Director at regiona@naswca.org with any questions.
Venue:
Jewish Family & Children's Services
2150 Post Street
San Francisco, CA 94115
Learning objectives:
Reviewing and updating our understanding of the person in the environment as it relates to social work in the public sector and in health care
Developing an understanding of Trauma Informed Systems and how this provides a framework for change
Participating in a discussion about how to promote and support organizational transformation
Fees:
NASW Member: Free
NASW Student Member: Free
Non-member Student: $5
Non-member: $15
NASW members are required to include their Membership number during registration checkout to receive the member rate. Non-members must write "n/a" in the Membership number section during registration checkout. NASW-CA will verify your membership after registration.

Not a NASW Member? Join the largest association for social workers to access more exciting opportunities and great member benefits: www.joinnasw.org.
About the Presenter:
Dr. Epstein is the principal of P.R.E.P for Change Consulting (kenepstein.org). helping individuals, couples, families, organizations, and communities repair, heal and promote collaborative culture change by improving everyday practices, organizational structures and focusing on workforce development through direct practice, planning teaching and facilitation. Dr. Epstein also serves as Clinical Professor in the Department of Psychiatry at the University of California San Francisco.
CEU Provider Statement: Course meets the qualifications for 1.5 hour of continuing education credit for MFTs, LPCCs, LEPs and/or LCSWs as required by the California Board of Behavioral Sciences, provided by NASW-CA.
​
Chapter Event Policy: NASW-CA is dedicated to providing a harassment-free experience for everyone, regardless of gender, gender identity and expression, age, sexual orientation, disability, physical appearance, body size, race, ethnicity, religion (or lack thereof), nationality, evel of experience or technology choices. We do not tolerate harassment of program participants in any form, nor do we tolerate behavior that would reasonably lead to another participant being made to feel unsafe, insecure, or frightened for their physical or emotional well-being. All communication should be appropriate for a professional audience. Program participants, vendors, and stakeholders, violating these rules may be expelled from the program without a refund at the discretion of the conference organizers. By registering, you are agreeing to follow the code of conduct at NASW-CA virtual events.

NASW-CA Refund Policy: To receive a refund, requests must be emailed to naswca@socialworkers.org at least one (1) week prior to the event date. No refunds granted after the event, no exceptions. This policy also applies to group registrants. The refund for group registrations will go directly to the original payer of the registration fee. Refunds may take up to 10 days to process. If attendees pay with a credit card, the refund will be made to the same card. If attendees pay with a check, the refund will be made by check to the person or organization that originally paid for the registration.