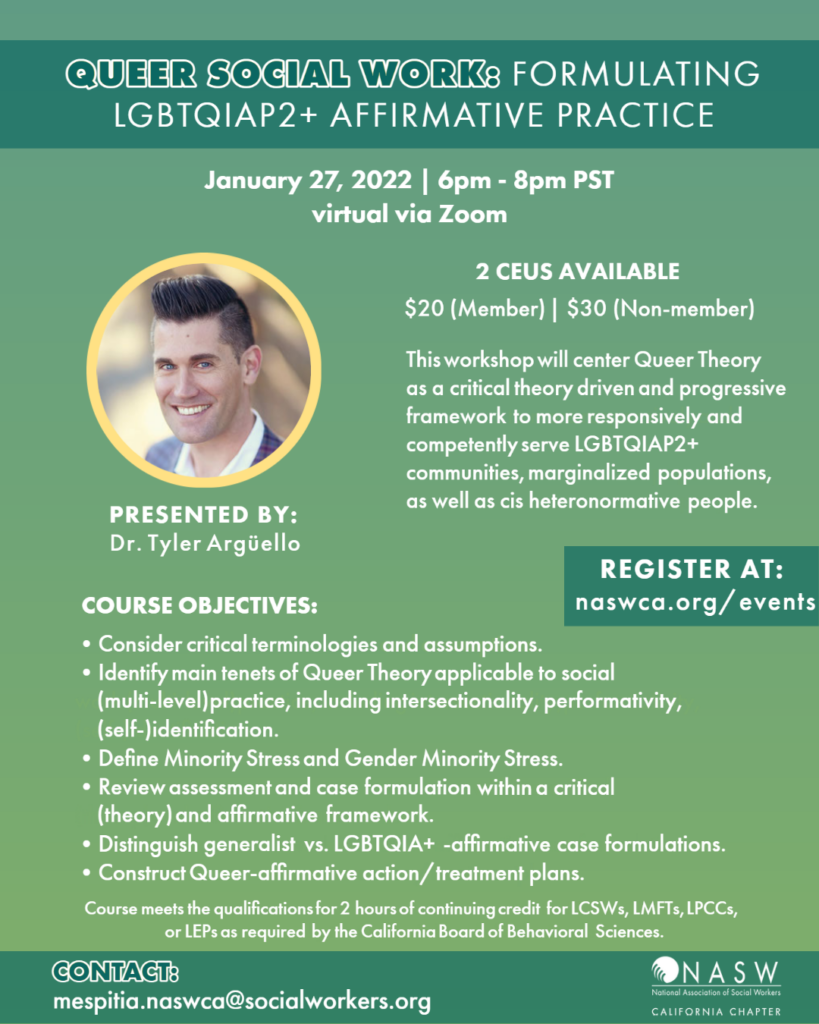 NASW-CA is hosting a virtual workshop on January 27th, 2022 from 6:00 pm – 8:00 pm PST! This workshop will be presented by Dr. Tyler Argüello. We will center Queer Theory as a critical theory driven and progressive framework to more responsively and competently serve LGBTQIAP2+ communities, marginalized populations, as well as cis heteronormative people.
Queer Theory will be applied to assessment and case formulation, and then this is married with evidenced-based practices to flesh out action and treatment plans consistent with increasing the mental/health and equity of LGBTQIA+ client systems. Two contemporary cases will be presented, about queer clients working with queer social workers, which cover a wide spectrum of sexualities, genders, and intersectional issues. 2 CEUs will be offered.
Fees:
$20 (Member)
$30 (Non-member)
Course Objectives:
Consider critical terminologies and assumptions.
Identify main tenets of Queer Theory applicable to social work (multi-level) practice, including intersectionality, performativity, (self-)identification.
Define Minority Stress and Gender Minority Stress.
Review assessment and case formulation within a critical (theory) and affirmative framework.
Distinguish generalist vs. LGBTQIA+-affirmative case formulations.
Construct Queer-affirmative action/treatment plans.
Questions? Email mespitia.naswca@socialworkers.org