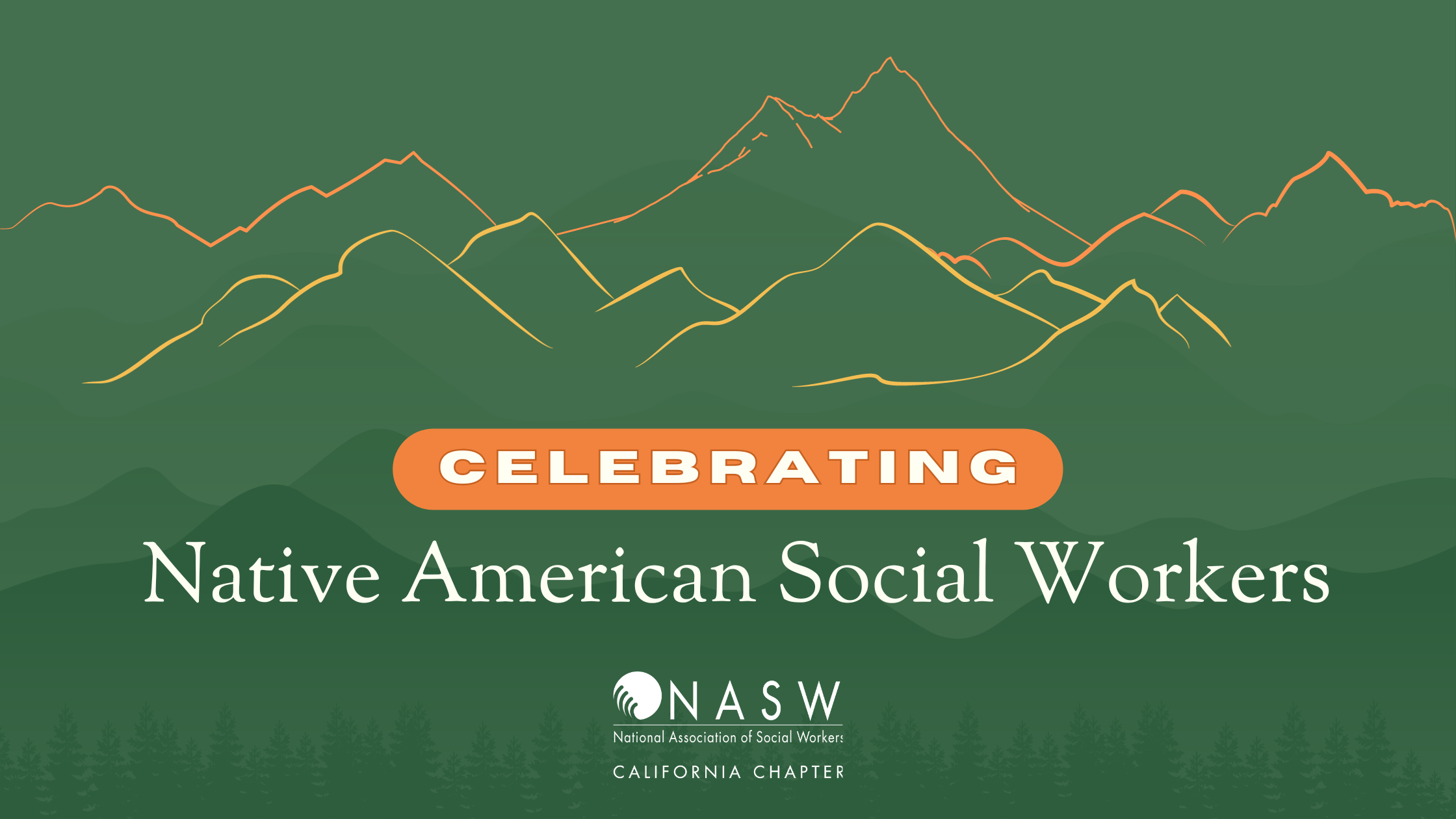 To commemorate and celebrate Native American Heritage Month, NASW-CA has compiled a list of influential Indigenous social workers who have made significant contributions to our profession and Native American communities. We thank these social workers for their advocacy and their passion for diversity, equity, inclusion, and antiracist practices and policies. Their tireless efforts in paving the way for Indigenous rights, protection, and justice will not be forgotten.
If you would like to add anyone to our Spotlight Series, please contact Jane Kim at jkim.naswca@socialworkers.org.
Evelyn Blanchard, MSW, Ph.D.
Evelyn Lance Blanchard, MSW, Ph.D. is a social work activist, practitioner, and educator. Blanchard has worked in Native children and family services for 60 years.
She was a key figure in helping launch the 1978 Indian Child Welfare Act (ICWA), the intent of which is to prevent the breakup of the Indian family. The law seeks to protect Native children by ensuring they stay connected to their families, tribes, and cultures. Throughout the '80s, Blanchard and fellow members of the National Indian Social Workers Association testified at congressional hearings to provide information about ICWA program developments and to press Congress to provide adequate program funding.
From 1980-1982, she served as a consulting editor for Social Work, the journal of the National Association of Social Work related to Indian affairs and public health. She published articles in the journal and other periodicals regarding the need for the law and its implementation. Blanchard is currently a Family and Children Advocate at Native Family Study Institute at the University of New Mexico.
Source: https://www.firstnations.org/stories/luce-fellow-spotlight-evelyn-blanchard/
Photo Source: First Nations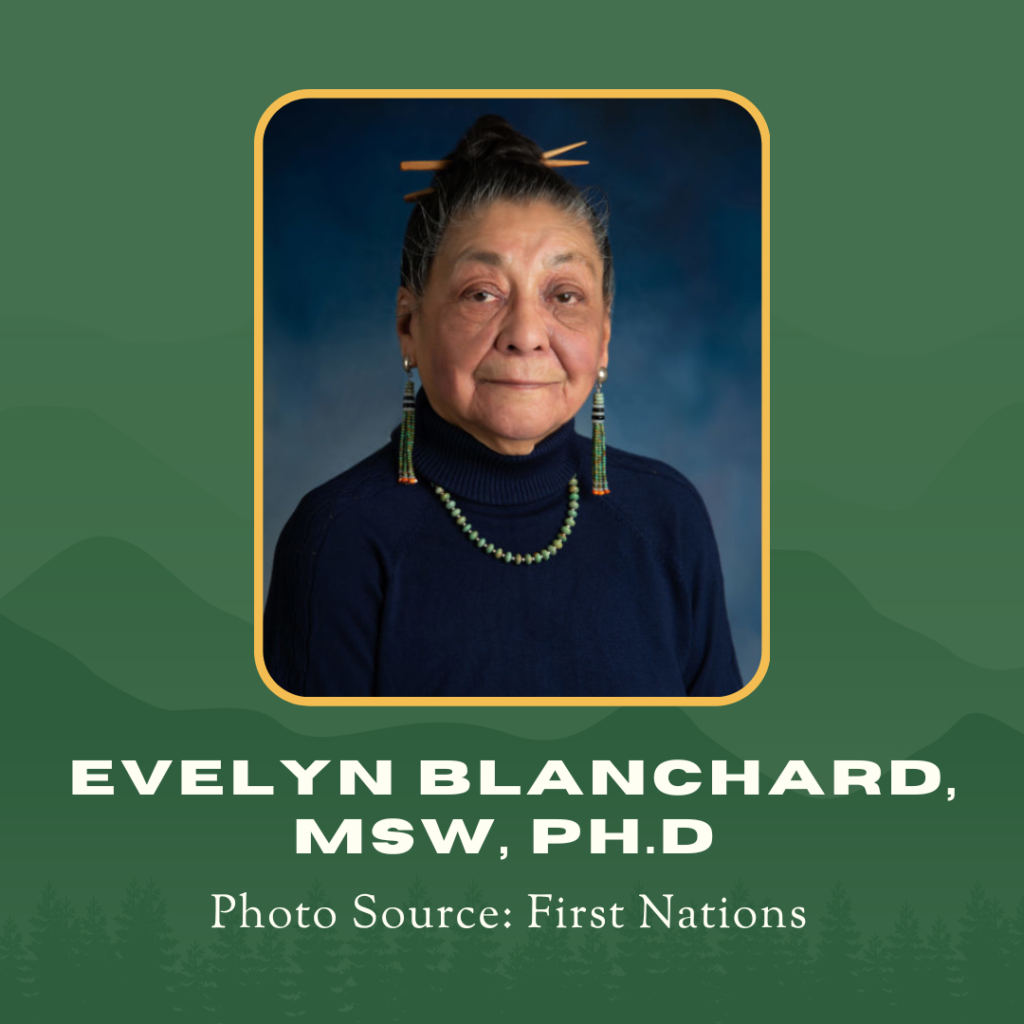 ---
Goldie Denny
Goldie Denny was one of the Indigenous grassroots activists who helped win the Indian Child Welfare Act of 1978 – a crucial legislation for tribal children and their families. Denny herself was removed from her family in the small community she lived in on the Washington peninsula. Denny's mother had died when Denny was young, and she was left as the eldest of three sisters while her single father worked as a logger.
In the 1970s, Denny oversaw child welfare on her reservation as Director of the Quinault Nation Social Services. With no support from the state, county, or the Bureau of Indian Affairs, Denny led the development of a human resource delivery system that provided 34 types of services on the reservation. She trained child welfare case workers, and in the span of five years, she was able to ensure all removed Quinault children were being placed in licensed Quinault foster homes.
Source: https://earlysuccess.org/icwa-champions-spotlight/
Photo Source: Alliance for Early Success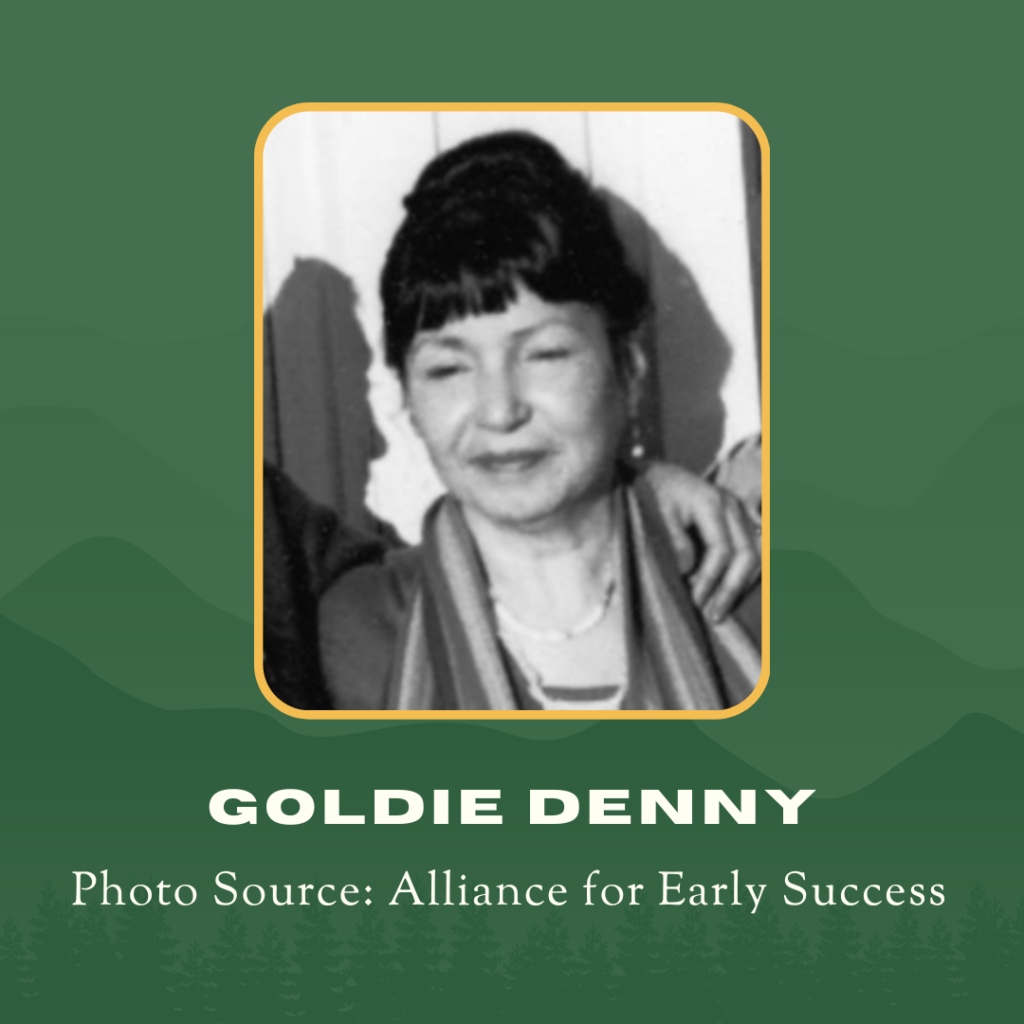 ---
Ronald G. Lewis, DSW
Born on the Cherokee community in Talequah, Oklahoma, Ronald G. Lewis, DSW was one of North America's foremost authorities in Native American Social Work and legal Indian subjects. Always a political activist, Lewis was at the Wounded Knee stand-off in 1973 and at Alcatraz. He was a Psychiatric Social Worker and developed many mental health programs for American Indians at the Talequah and Claremore Indian Hospitals in Oklahoma and later for the entire state of Oklahoma. As the Director of the Indian Liaison Office of the Fitzsimmon Army Medical Hospital in Denver, he worked with returning Viet Nam Indian Veterans.

Lewis taught social work courses at many institutions including the University of Wisconsin-Milwaukee, Arizona State University, and Saskatchewan Indian federated College in Canada, where he was the Dean of the Social Work Department. In addition, Lewis guest-lectured at many colleges across the United States and Canada. Throughout his life, he made important and frequent contributions on Indian issues at every level, from meetings with U.S. presidents, reports to congress, and the creation of curriculum at universities.
Source: https://www.naswfoundation.org/Our-Work/NASW-Social-Work-Pioneers/NASW-Social-Workers-Pioneers-Bio-Index/id/556
Photo Source: NASW Foundation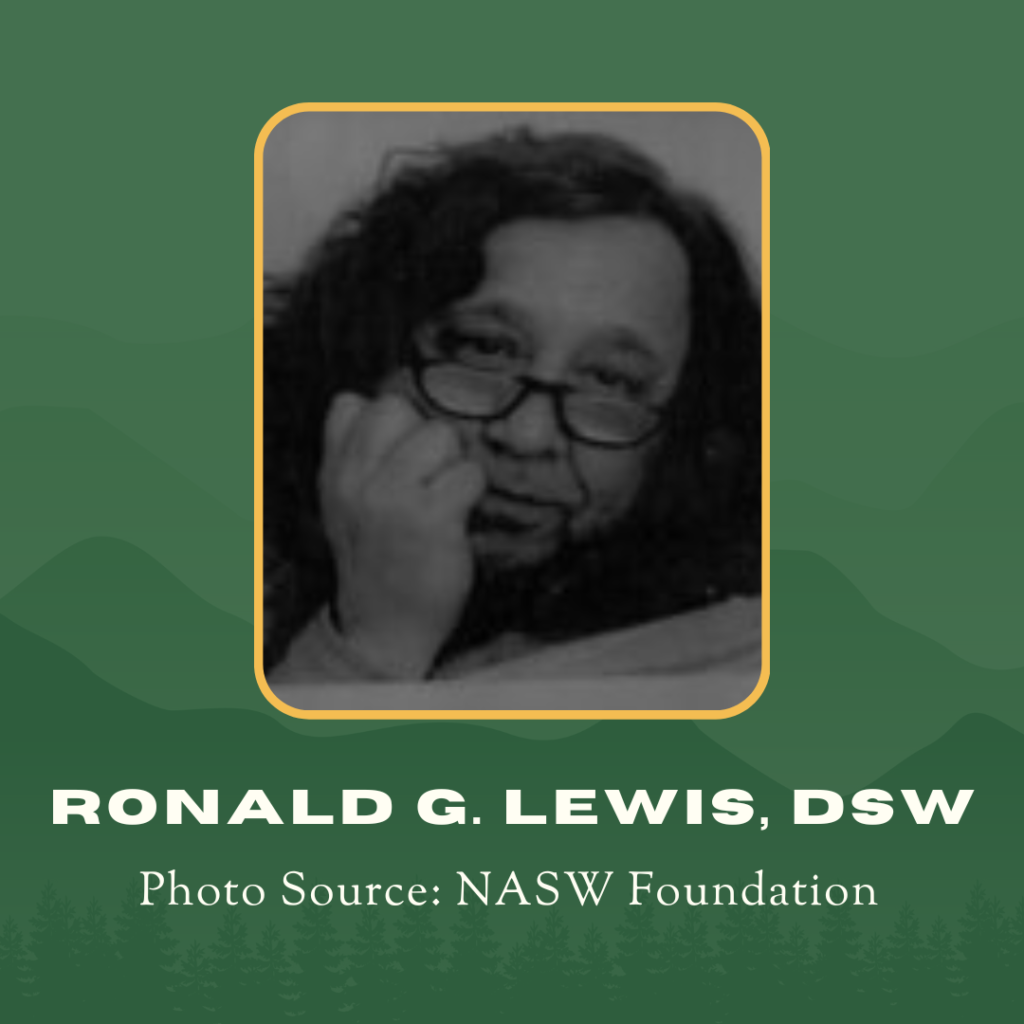 ---
Ada E. Deer, MSW
Ada E. Deer, MSW was born on the Menominee Indian Reservation, Wisconsin, in 1935. Her mother was a fierce advocate for Indigenous rights and justice. Deer followed in her mother's footsteps and became nationally recognized as an advocate and organizer on behalf of American Indians.
She became the first woman to be appointed Assistant Secretary of Indian Affairs, U.S. Department of the Interior; the first Native American woman to run for Congress in Wisconsin; the first native American to lobby Congress successfully to restore tribal rights; and the first Chairwoman of her tribe. Over the years she worked as a group worker, neighborhood house director, community coordinator for the Bureau of Indian Affairs, Peace Corps lecturer, school social worker, and lecturer for the School of Social Work American Indian Studies Program, University of Wisconsin.
She was the recipient of awards, including the Indian Council, Indian Resources Institute, Girl Scouts, National Women's History, National Women's Studies, Harvard University, Delta Gamma Foundation, and the John Jay Foundation.
Source: https://www.naswfoundation.org/Our-Work/NASW-Social-Workers-Pioneers/NASW-Social-Workers-Pioneers-Listing.aspx?id=404
Photo Source: NASW Foundation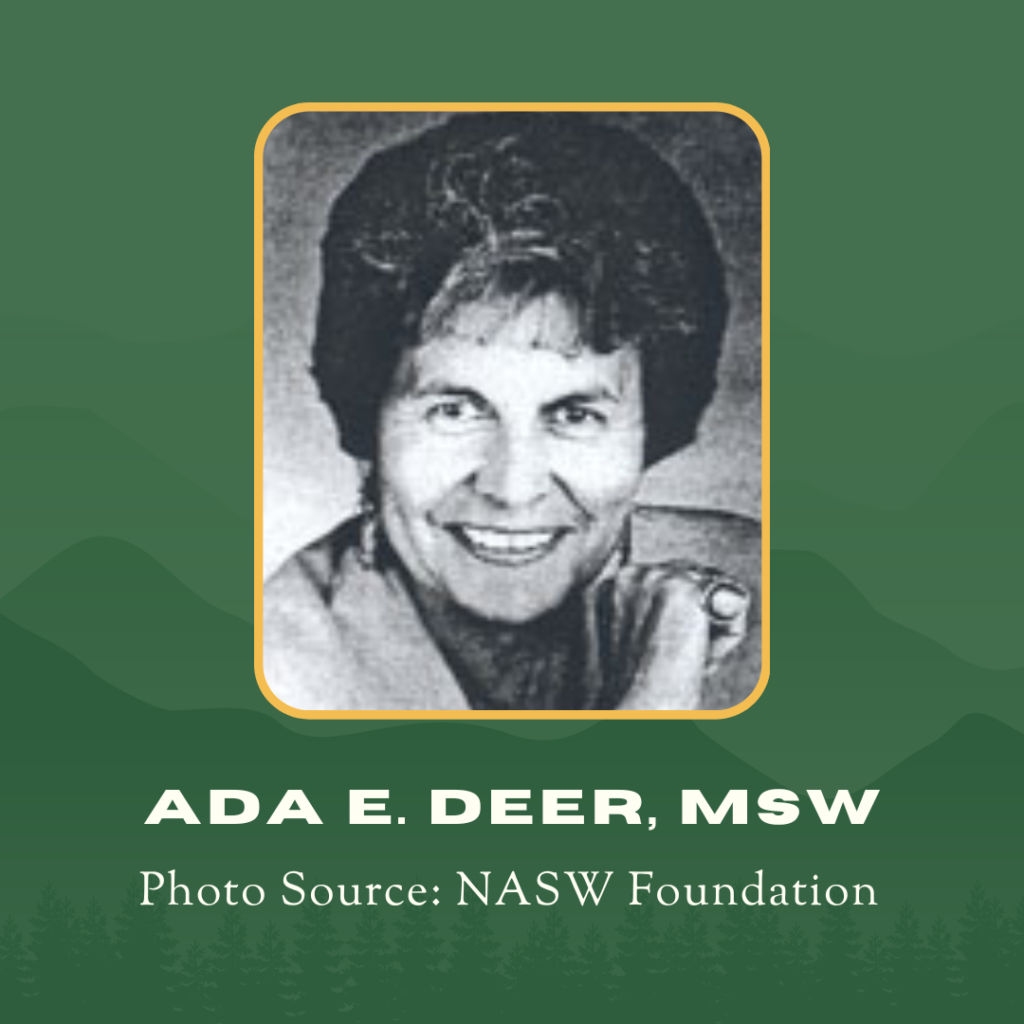 ---
Hilary Noel Weaver, DSW
Hilary Noel Weaver, DSW was raised in Eastern Washington State, far away from the traditional territories of her ancestors. Like many American Indians, her Lakota grandparents had been removed from their families and placed in boarding schools where they were forbidden to speak their language, practice their culture, or religion.
She began her post-MSW professional social work career at United Way and the Center for Social Policy and Practice in the Workplace. She transitioned to a career in academia where she first served as Coordinator of Social Work at the University of Idaho and most recently as Associate Dean for Diversity, Equity, and Inclusion and Professor at the University of Buffalo. Throughout her social work practice and academic career, Weaver has continually worked to promote awareness of important issues that affect indigenous people and communities.
Weaver has been a member of NASW since her student days and has served as head of the North Branch of NASW, Idaho Chapter, as well as on the national NASW board.
Source: https://www.naswfoundation.org/Our-Work/NASW-Social-Workers-Pioneers/NASW-Social-Workers-Pioneers-Listing.aspx?id=890
Photo Source: NASW Foundation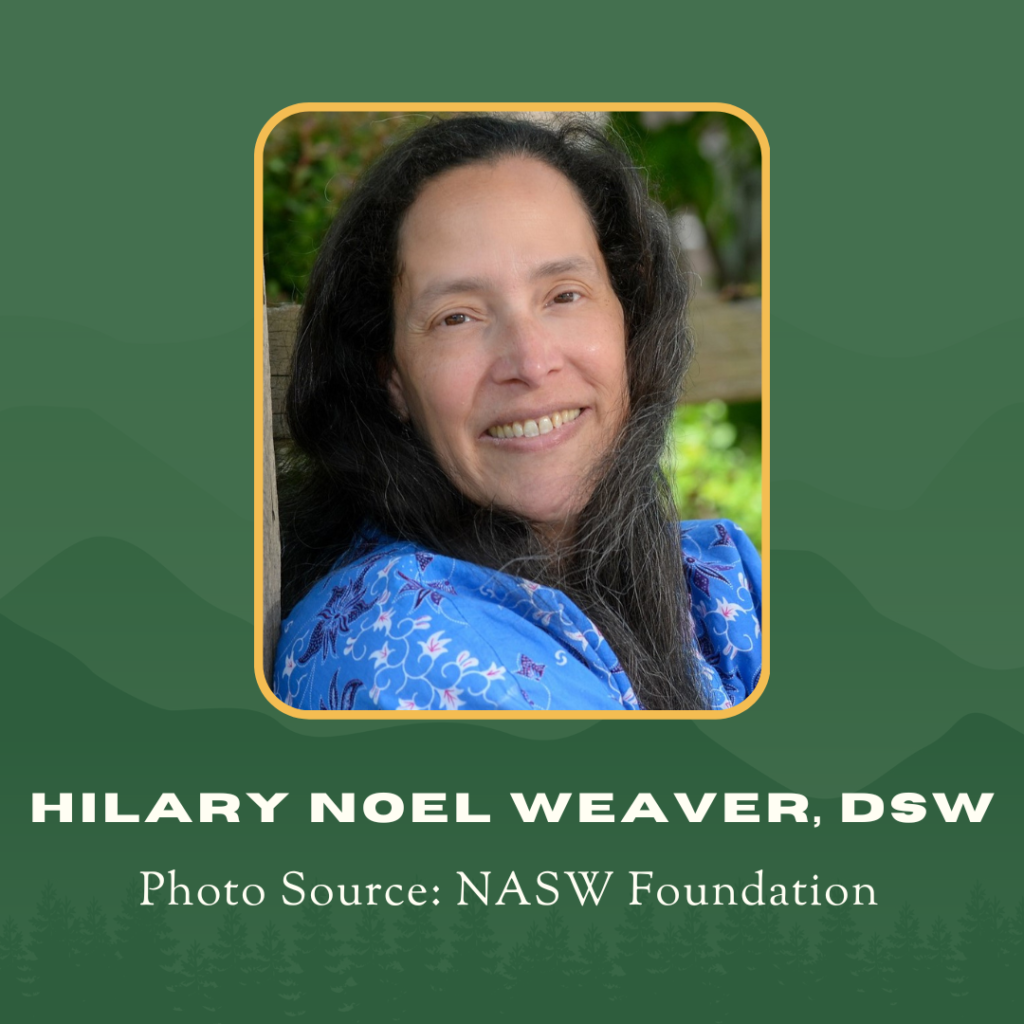 ---
Eddie F. Brown, DSW
Eddie F. Brown, DSW is a social work scholar, policy advocate, and Indigenous Elder whose work has made a lasting impact on Indian Country. He is an enrolled member of the Pascua Yaqui Indian Tribe and affiliated with the Tohono O'Odham Nation. Brown has served at the highest administrative levels in federal, state, and tribal governments as well as within universities and social work education.
Throughout his career, Brown's has endeavored to ensure tribal sovereignty, reduce poverty, and strengthen the sustainability of Tribal Nations, American Indian communities, and families, have been at the forefront of all his work. He pioneered an agreement that recognized tribal government sovereignty, took steps toward strengthening tribal capacity for self-governance, and guided the restructuring of the Office of Indian Education Programs. Brown directed research and demonstration projects on the impact of welfare reform on American Indian families and children, mental health assessment of American Indian youth, diabetes prevention in tribal communities, Title IV- E state/tribal agreements, Title IV-B funding for child welfare services, and state Indian Child Welfare Act (ICWA) compliance issues. Brown continues to emphasize the importance of tribal- driven partnerships between universities and Indigenous Peoples with research priorities set by tribal nations.
Source: https://www.naswfoundation.org/Our-Work/NASW-Social-Workers-Pioneers/NASW-Social-Workers-Pioneers-Listing.aspx?id=937
Photo Source: NASW Foundation