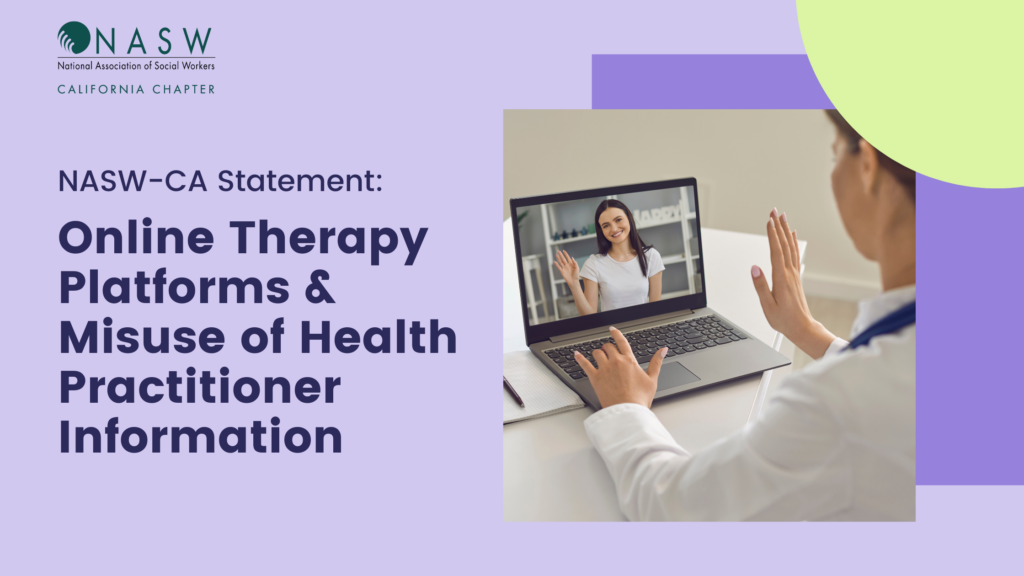 Update (August 15, 2022) on CareDash and BetterHelp Concerns
We previously informed you of our concerns about the posting of psychotherapists' profiles, without their knowledge or consent, in soliciting business for online psychotherapy platforms. We are happy to report that – with the help our members – significant progress has been made in addressing these concerns. For a summary of developments, see this NASW blog.
Given this progress and ongoing discussions between NASW's National Office and CareDash and BetterHelp, we ask that you refrain (at least temporarily) from filing complaints on this issue with law enforcement/consumer protection agencies, including the state attorney general and the FTC.
We will continue to update you on developments as they occur.
As noted in the blog, we are very grateful to you, our members, for your support and engagement on this issue.
---
Recently, NASW-CA was made aware of a significant issue affecting both California members and the broader mental health community. We want to assure mental health practitioners that we are working diligently to address what we view to be highly unethical practices of online platforms.
It has been discovered that online platforms promoting teletherapy, including CareDash, are collecting information that is publicly accessible about licensed health and mental health care providers, and presenting this information on their platforms in ways that are misleading, incomplete, and/or inaccurate. We have explored these issues and are dismayed at how information is being shared, as well as the processes these platforms require to have the information removed. To use data in this way is unacceptable by our standards and we will continue to act and seek remedy.
NASW's National Office has sent complaint letters to CareDash demanding that the practice be halted immediately. If necessary, NASW will provide guidance for affected members to file formal complaints with appropriate state and federal consumer protection agencies and review options for other legal remedies.
Social workers are not a commodity to be exploited by corporations, and our profession should have the autonomy and authority to decide where and how their services are advertised and promoted. We stand with our profession in confronting this deceptive practice and will continue to fight to have it corrected in collaboration with our partners across the state and country.