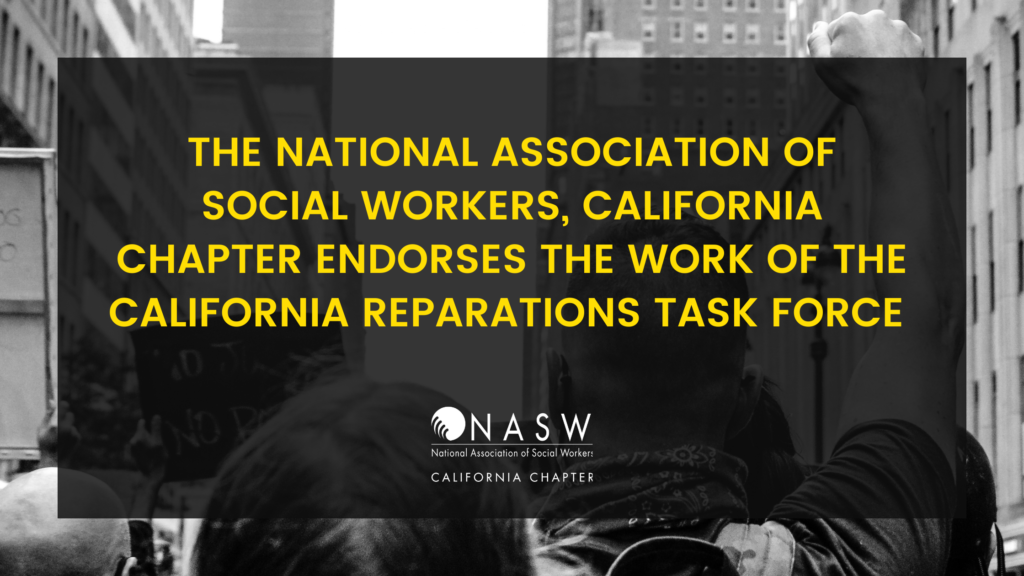 FOR IMMEDIATE RELEASE
The National Association of Social Workers, California Chapter Endorses the Work of the California Reparations Task Force
Sacramento, CA — The National Association of Social Workers, California Chapter (NASW-CA) publicly announces its endorsement of the California Reparations Task Force, which is tasked with the Study and Development of Reparation Proposals for African Americans who are descendants of enslaved ancestors. In June of 2023, the Task Force published a Final Report that evaluates and articulates the historical and ongoing harms experienced by African Americans as a result of slavery in American society. The report sheds light on centuries of enslavement, torture, oppression, and denigration of African Americans and the many ways in which government and institutional systems have perpetuated racism through their policies and practices. These compounded conditions have and continue to feed into the ways in which African Americans and Black individuals experience severe disparities in access to income, education, housing, health and human services, economic opportunity, and justice. NASW-CA affirms the necessity of this Task Force, the validity and value of the findings as articulated by the report and encourages and insists all social workers to take the time to honor the stories of the past and reflect on the conditions of the present, to actively ideate and act upon needed change using the Task Force's recommendations as a springboard for individual, organizational, institutional, and policy change.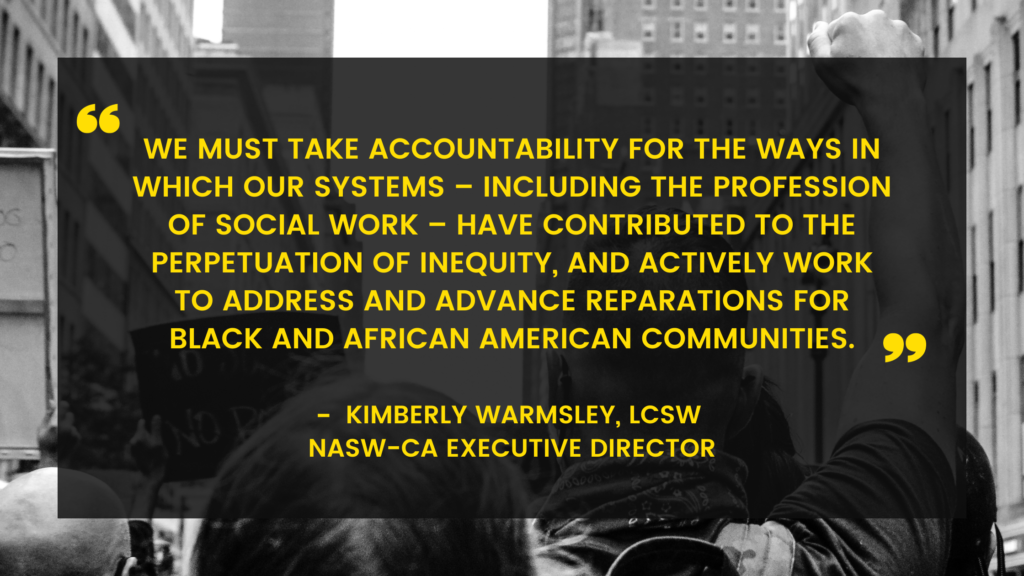 "The Task Force's report unearths the horrors and pains of hundreds of years of harm that have been brought upon African American communities. These shames are truth, and they are truths we should not and cannot turn away from," shared Kimberly Warmsley, Executive Director with the National Association of Social Workers, California Chapter." It is imperative that all individuals, systems, and leaders across the state and the nation respond. We must take accountability for the ways in which our systems – including the profession of social work – have contributed to the perpetuation of inequity, and actively work to address and advance reparations for Black and African American communities. As an association, we are wholeheartedly dedicated to cultivating a society that is fair, equal and inclusive for every individual. We are determined to actively dismantle systemic oppression and institutional racism through our persistent efforts and collective action."
The report published by the Task Force includes a thorough set of recommendations for state policies that California state leaders can pursue and implement to remedy the grave harms that continue to burden Black Americans. NASW-CA calls on social workers, social work leaders, and all other health and human service providers to invest the thought, energy, and action that is necessary to achieve true justice for all by reviewing these recommendations and taking the steps necessary to integrate them into their work and the organizations they lead. Social work upholds the ethical value of seeking justice, and embedding reparations into your daily practice is imperative in this pursuit to dismantle racist systems to cultivate an equitable future together. NASW-CA commits to holding ourselves accountable to ensuring our programs embed these values and to engage in work that assists in actualizing reparations.
Warmsley notes, "We thank the Task Force for leading in this important work and for their ongoing contributions. Racism and slavery do not just exist in our memory, they exist here and now and impact the lives of Black Americans and marginalized communities daily. There is an urgency for us to act, and we call on all those positioned in power to do so now."
###