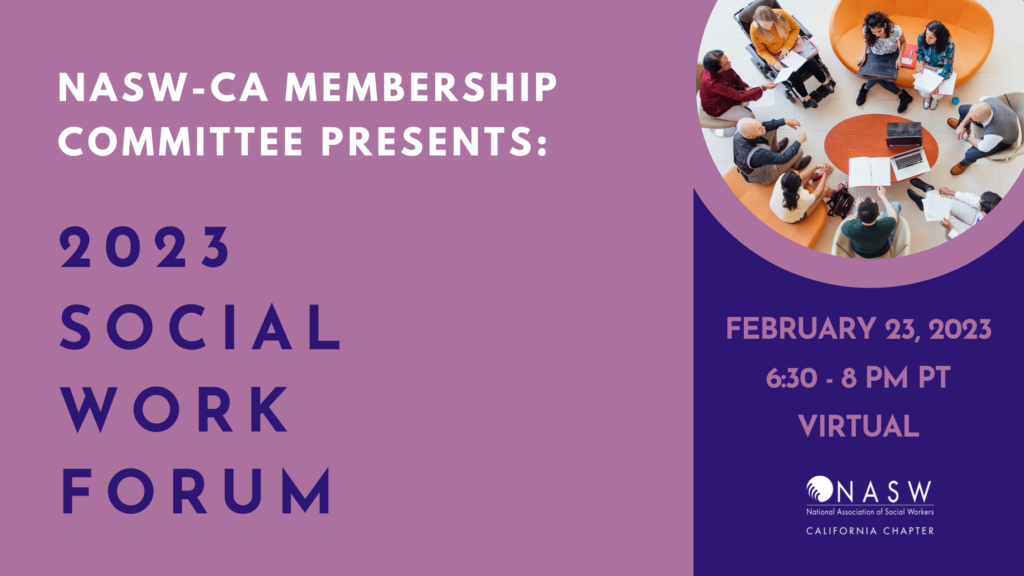 Members drive change, and NASW-CA welcomes the social work community to participate in our annual Social Work Forum, hosted by the Membership Committee, on February 23 from 6:30 pm to 8:00 pm PT. NASW-CA members and non-members are invited to share their input and feedback about the Chapter's membership, programming, events, and offerings for the 2023 year. In addition to the input shared through our annual Social Work Survey, forum responses will be used to expand and improve the Chapter's efforts to serve the social work community and beyond. All facets of the social work profession are encouraged to attend, including students, faculty, clinical professionals, macro practitioners, retired social workers, and beyond.
Chapter staff will share the outcomes of last year's forum and Social Work Survey, including relevant programs and offerings launched in 2022. Then, members will have the opportunity to join breakout sessions and offer input and ideas for programming, events, and benefits they are interested in. We value your input and hope you will participate in our efforts to ensure that we are effectively supporting your professional development, helping you build social work community, and offering relevant benefits and opportunities to all members. All attendees who complete a short feedback survey following the forum will be entered into a drawing for one of 5 $50 gift cards.
The deadline to register is February 22.
Please contact Alex Brown at abrown.naswca@socialworkers.org with any questions.