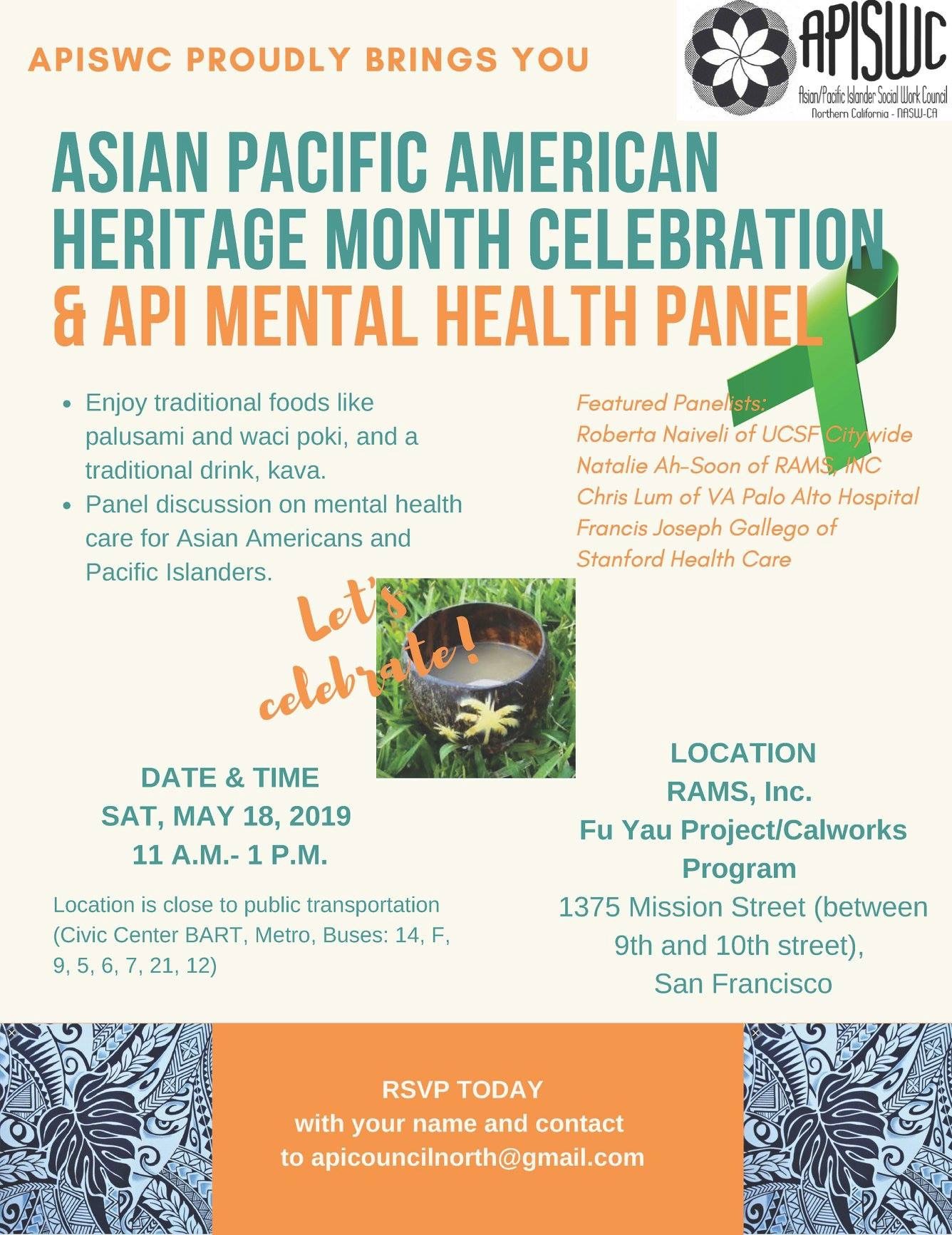 Asian Pacific Islander Social Work Council, Northern California, would like to invite you to our upcoming event, APA Heritage Month Celebration and API Mental Health Panel, on Saturday, May 18, 2019 at 11:00 am to 1:00 pm at RAMS' Fu Yau Project/CalWORKs Program site in San Francisco.
Please join us to celebrate Asian Pacific American Heritage Month by enjoying traditional foods such as palusami and waci poki, and a traditional drink, kava. Also, we will host a panel discussion on mental health care for Asian Americans and Pacific Islanders. Participants will have a chance to talk and share about issues related to API mental health, and together we will raise mental health awareness in API communities.
Here are our featured panelists:
Roberta Naiveli, ASW, Clinical Social Worker of UCSF Citywide Case Management, First Generation Fijian American
Natalie Tualemoso Ah Soon, MPH, Program Manager of API Mental Health Collaborative and Pacific Islander Wellness Initiative, RAMS, Inc.
Chris Lum, LCSW, Social Worker of Dialysis Renal VA, VA Palo Alto Hospital
Francis Joseph Gallego, LCSW, Outpatient Oncology Social Worker, Stanford Health Care
We look forward to seeing you at this event. Please RSVP with your name and contact to apicouncilnorth@gmail.com. Also, please feel free to contact us via this email if you have any questions or need accommodations.
–APISWC Steering Committee