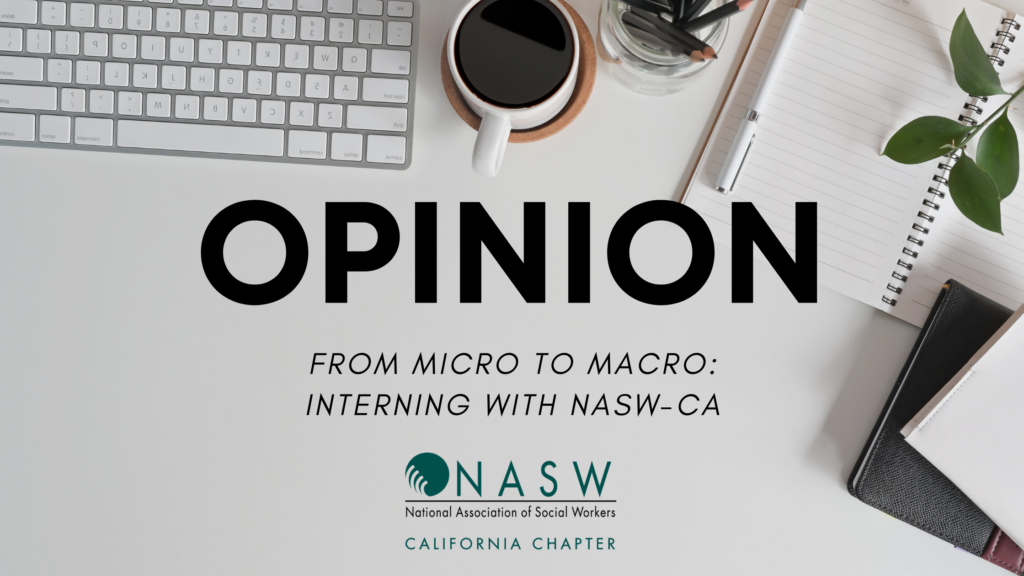 By Alan Young
When I started as an intern with the NASW California chapter in 2021, I was extraordinarily nervous. It was unfamiliar territory in many different ways. My experience up until that point had only ever been in micro social work, working with substance abuse as a counselor and group facilitator. In fact, until I started my MSW program at Arizona State University, I had no idea that macro social work even existed. I was intrigued, and when I got the chance to intern at the NASW-CA, doing macro social work, I was thrilled.
My supervisor introduced me to so many individuals who came from so many different practices, all of whom were now working toward the goal of moving social work forward. It was eye- opening to see just how many avenues social work covered and how many places there were for social work opportunities. The biggest revelation for me was seeing how social workers can advocate at a political level, working with legislators and community activism, practicing at a level that was bigger than I was used to.
Additionally, the NASW showed me how important it is to be connected to other social workers, both at a state and national level. I've learned so much about the different problems that social workers face in different states. Likewise, I have gained perspective into what problems seem to be dominating different counties of California. Though the challenges we face in our cities may be different, the connections that NASW provides help to create a network of support that we can all draw from – and that I will continue to draw from. Knowing that you are not alone as a social worker is a big deal, and that's a big part of what NASW is all about..
I participated as a team leader for this year's Lobby Days event. It was a wonderful experience, where we learned about the process that a bill goes through to become a law and how each assembly member and senator can advocate for or author such legislation. I led my team to a meeting with Senator Rubio's staff where we advocated for SB 1816, 1900, and 2222. SB 2222 was close to my heart because it set aside scholarship money for students from foster youth programs and homeless populations. This population has an understanding of the issue that is key to helping those in similar situations, so I thought it was an important and worthwhile bill.
One of the things I'm most proud of is how I was able to do a presentation about membership in the NASW to over 400 people during one of our events. Membership numbers have been increasing, and I feel proud that I helped in that. Another one of my great experiences has been working with the Membership Committee. Each month we convene to discuss membership and how we can better serve our members. Each committee member discusses the different councils that they are on, how we are reaching out to members, and how we can help each other in our goal of providing the best for the organization.
I have also been able to work on my professional development, particularly through the NASW's wonderful CEU opportunities. I recently completed a class entitled See My Color, which helped me to learn how to me more mindful of cultural and racial differences. It also helped me learn to be mindful that the clients are the experts on their own experiences.
I've been lucky enough to be able to be a part of some of the wonderful things that the NASW-CA has to offer, particularly the annual conference of 2021. I got to hear wonderful speakers discussing a wide array of issues in our field and profession. It was inspiring to hear the passion that our members had when talking about social work. Seeing how active our members are in all areas of social work let me know that when it comes to my future as a social worker, there are always going to be opportunities for engagement. The NASW-CA has been a wonderful place to intern, providing opportunities and really allowing me the space to explore what a social worker can do.
About Alan
Alan Young is an MSW student at Arizona State University, with a background in Substance Abuse work. He's interned with the NASW-CA since 2021, helping out with membership. In his spare time he enjoys writing books, watching classic films, and spending time with his family.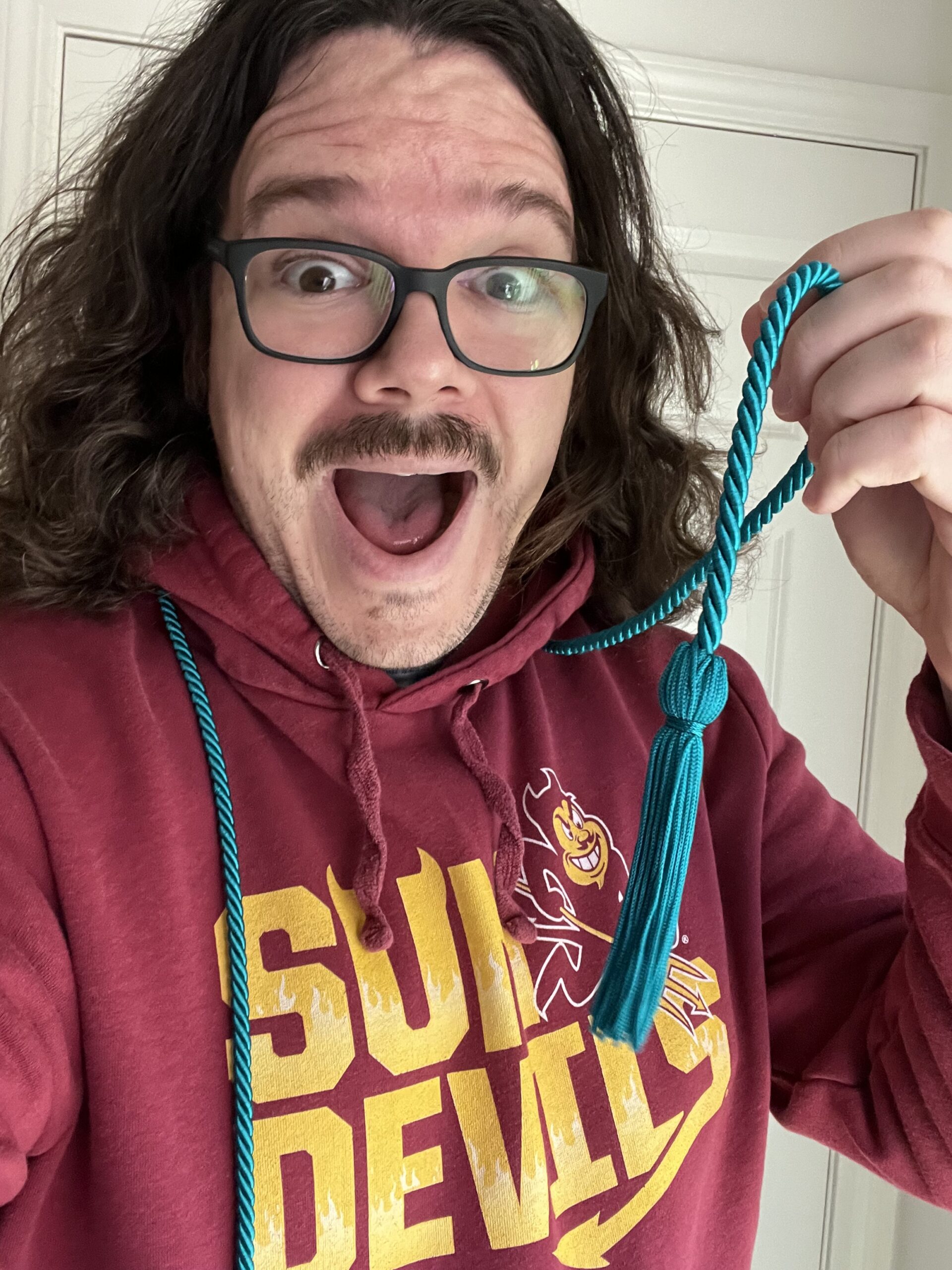 We are grateful to work with dedicated professionals and students like Alan and wish him an amazing graduation and next step into his social work career. Thank you for serving with us, Alan. We know you will go far in this work.