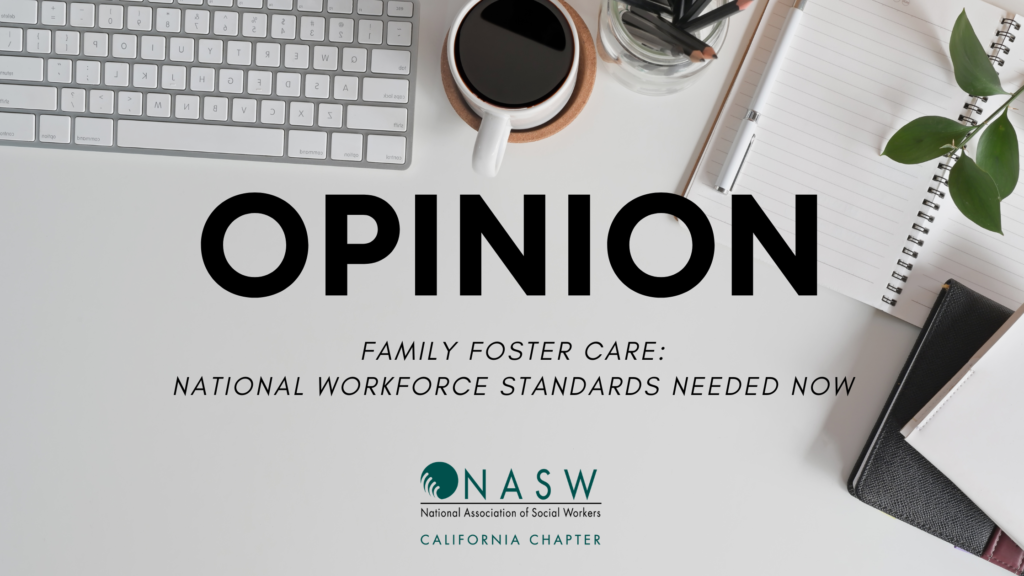 While we are proud to feature opinion pieces from our members and colleagues in the field, be advised that opinions and advertisements shared by NASW-CA do not necessarily reflect the views of the National Association of Social Workers, CA Chapter.
This article was originally published in The Imprint.
By Eileen Mayers Pasztor, Irene Clements, and Rick Delaney
Countless numbers of foster families, child welfare and mental health practitioners and other advocates strive to provide the best services possible. But the outcomes are uneven: some children get what they need, others do not.
From each of our perspectives of more than 40 years' experience in foster parenting, child welfare and mental health respectively, we are convinced there must be a mandate for foster care workforce national standards. Such requirements are essential to help ensure that child professionals and foster parents have the necessary skills and knowledge to fulfill their mission to serve children separated from parents by child protective services.
Even with the utmost commitment to family preservation and kinship care, some children and parents will need foster care provided by unrelated families. Family foster care must be implemented with the public's trust.
This requires a team of foster parents, child welfare professionals and mental health clinicians working with other disciplines that have specific skills, emotional strengths and support systems. Children with trauma histories need services that ensure safety while being nurturing and promoting stability for everyone involved.
This team must attend to children with traumas such as fetal alcohol syndrome, as well as youth with mental health challenges and pressing educational, vocational, and life skill demands. They must have the ability and resources to meet children's unique developmental needs while ensuring permanency. Foster families must not give up on the children who join them. Agencies — public and private — must not give up on the families, for in doing so, they give up on the children.
Over the last half century, a torrent of research papers, academic journals, books, training programs and legislation has touted new strategies to improve foster care. Billions of dollars have been spent to salvage and reinvent the system. This effort includes utilizing better ways to find and keep foster families and the staff who recruit, assess, train and endeavor to retain them.
In the 1940s, a journal article called for clarity on the role of foster parents. Researchers in the 1950s wrote about "foster care drift." The deinstitutionalization movement impacted mental health services and how they were delivered to children, recognizing that foster parents had to do more than basic parenting.
The 1960s produced the first national foster parent training program and the impetus for a national foster parent association that would provide foster parents with education, networking and advocacy. In 1970, "Foster Care in Question: A National Reassessment by Twenty-One Experts" provided strategies for foster parent recruitment and retention, along with teamwork among caseworkers and mental health clinicians.
Two decades later, the National Commission on Family Foster Care authored "A Blueprint for Fostering Infants, Children, and Youth in the 1990s." Scores of legislative, policy and practice recommendations were detailed. The only findings widely adopted were to change the historic name foster family care to family foster care to emphasize family first. And the name "kinship care" was proposed to describe policies and practices for children who would be living with relatives. And in 2013, a "National Blueprint for Excellence in Child Welfare – Raising the Bar for Children, Families, and Communities," advocated for workforce standards.
The aim has always been the same: keep children safe, ameliorate trauma, and ensure they leave foster care status connected to at least one adult relationship intended to be safe, nurturing and enduring. But despite the attention and dollars, progress remains inadequate.
News stories and professional publications highlight the failure of our child welfare system at two extremes. There is outrage when children die after child protection systems do not separate them from their parents following a maltreatment investigation. There also is frustration when children "languish" in care, waiting to be adopted, after moving repeatedly and traumatically from one foster family to another. Annually, thousands of children "age out" of foster care to become homeless, incarcerated or trafficked — exacerbating unresolved mental health issues. For children of color, especially African American and LGBTQ+, the results are bleaker.
Such revelations can prompt a public outcry, followed by a flurry of governmental actions. Laws are passed, personnel and policy changes are announced, improvements are made around the margins and the cycle begins again.
The federal government has invested many years and considerable funding to roll out a free voluntary training curriculum for foster and adoptive parents. But like other previous federal and state endeavors, it does not address the need for a systemically qualified multi-disciplinary workforce. Foster parents, child welfare staff and mental health clinicians must be trained and cross-trained.
There must be a common vocabulary along with comprehensive assessments and interventions that engage and respect families, focus on strengths and reflect cultural humility. Earmarking additional federal dollars and encouraging training that is voluntary is insufficient to translate into needed outcomes.
Leaders and other advocates with foster care, foster parenting and mental health expertise and lived experience, along with policymakers, will have to work out the specifics of proposed standards. These should include the following principles:
Children have the right to be served by foster parents and child welfare and mental health professionals qualified to work as an interdisciplinary team meeting developmental, cultural and permanency needs with an emphasis on family reunification.
To reduce employee turnover, public and private child welfare and mental health agencies should have sustained, funded plans to recruit, train and retain direct service staff and their supervisors. This commitment includes administrators and managers with the training and expertise to support interdisciplinary teams.
Recognize that foster or resource parents should be fully compensated for the costs of raising children who join their families. Resource parents providing treatment foster care should receive additional compensation for the skills they need to work with children and youth who otherwise would be in congregate care.
Mental health services must emphasize collaboration with birth parents, foster parents, child welfare staff and other disciplines to ensure culturally sensitive care that is evidence-based and trauma informed.
States should not be able to draw federal funds for foster care services unless they can certify that such principles and standards are being met.
Would this be expensive and require increased collaboration among agencies and professional schools? Of course. But don't children have the right to be served by a consistently stable and skilled workforce? Absolutely.
Other high-profile professions that deal with life and death issues — from commercial aviation to health care — have devised ways to apply mandatory standards to upgrade staff qualifications, resulting in enhanced safety and other improved outcomes. In both realms, public demands for safety forced governments, companies and unions to come together and forge common expectations and rules to meet them.
Common standards require pilots and air-traffic controllers to speak the same language and adhere to the same procedures even though they train separately. Likewise, doctors and nurses follow the same protocols during surgery, though they often meet for the first time in operating rooms. Why can't we do the same for child welfare in general and family foster care specifically?
There must be increased efforts to reduce the number of families separated because of abuse and neglect by expanding mental health, substance use, and parent skill-building supports. There must be policies and services that address the economic challenges of families and institutional racism. But we must also establish a moral imperative and build the political will for a qualified, interdisciplinary, supported workforce.
That begins with the aforementioned development of national standards. We must also elevate and honor the round-the-clock efforts of foster families, so that public opinion provides the respect deserved by arguably one of the largest populations of volunteers in our country.
As the U.S. Child Welfare Information Gateway states, "The child welfare system is only as good as the people who provide services to children and families and those who manage service delivery." While the site provides many suggestions for recruitment, training, assessment and support, it leaves out actual standards and implementation mandates. This requires courageous conversations and political will.