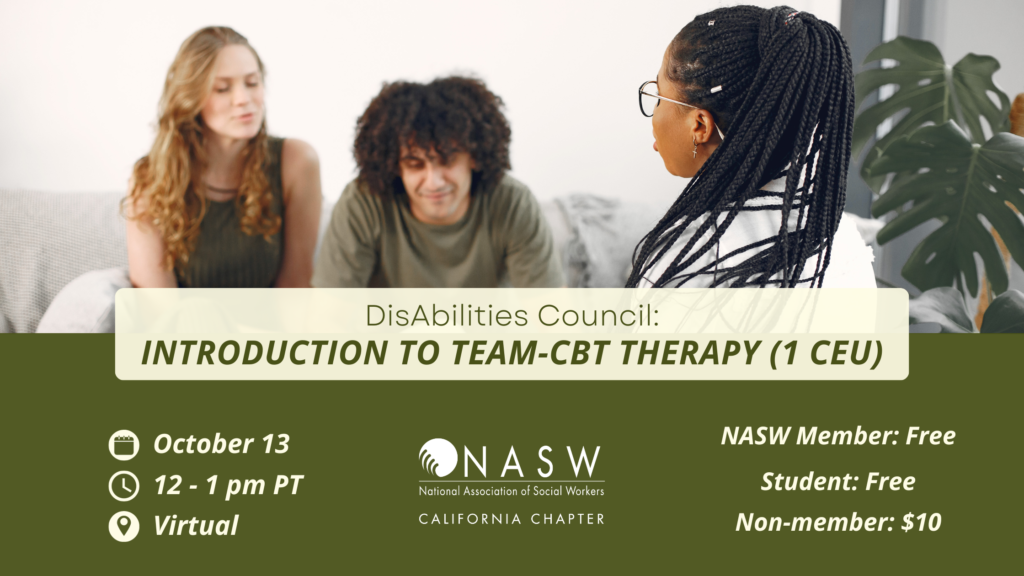 All types of therapists need the best tools available to support their clients' healing from depression, anxiety, stress, post-traumatic stress disorder, and unwanted habits and addictions. TEAM therapy can be used in individual and group treatment. Our goal as TEAM-CBT therapists is for our clients to reach a level of enlightenment in eliminating their symptoms and living a life of joy. TEAM-CBT therapy provides the most effective structure for therapy, and is a revolutionary approach to treatment. TEAM therapy was developed by David Burns, MD, for the treatment of depression, anxiety, relationship issues, and unwanted habits and addictions. David Burns is the author of Feeling Good: The New Mood Therapy, and Feeling Great: The Revolutionary New Treatment for Anxiety and Depression (in addition to other books). Feeling Good is the number one best-selling self-help book in the United States. This event is free for NASW members!


Rhonda Barovsky, LCSW, PsyD will introduce David Burns' Brief Mood Survey and teach the TEAM model including:
T = Testing
Rhonda Barovsky will introduce David Burns' Brief Mood Survey, and teach how to test clients' symptoms at the beginning and end of every therapy session to find out exactly how much they have improved or failed to improve in 5 areas: depression, suicidal thoughts, anxiety, anger, happiness, and with a relationship. She will also introduce the Evaluation of Therapy Session where we ask our clients to rate how empathic, supportive and helpful we were in that particular therapy session.
E = Empathy
Rhonda Barovsky will teach Dr. Burns' 5-Secrets of Effective Communication to provide empathy and create that safe, well-understood place for therapy to be successful.
A = Assessment of Resistance
Rhonda Barovsky will introduce how to use Process and Outcome Resistance tools to reduce clients' resistance by paradoxically revealing what is awesome about their distorted thoughts and negative feelings, how their symptoms reflect their core values or gives them an advantage.
M = Methods
Rhonda Barovsky will introduce powerful methods to change the way someone thinks and feels AFTER the TEAM therapist has reviewed their client's test scores, listened empathically, and melted away their resistance. Rhonda Barovsky will introduce Relapse Prevention to support our clients' long-term ability to challenge their negative thoughts and reduce or eliminate their symptoms.
Learning objectives:
Participants will learn the method for testing their client's levels of depression, anxiety, anger, suicidal ideation, and happiness before and after each therapy session, and how to use testing to deepen the empathy between themselves and their clients
Participants will learn two types of resistance, Process and Outcome Resistance, to improve their clients' therapy outcome
Participants will learn how to provide deep empathy using the 5-Secrets of Effective Communication
Fees:
NASW Member: Free
Student: Free
Non-member: $10
Please contact Helene Diamond at Naswcadisabilitiescouncil@gmail.com with any questions.
About the Presenter:
Rhonda Barovsky is a licensed clinical social worker in California, who also holds a doctorate in forensic psychology. Since 2013, she has dedicated her private practice to providing TEAM-CBT. She is a Level 5 certified TEAM-CBT trainer and therapist, and the host and producer of David Burns, MD's weekly Feeling Good Podcast. She is one of the main instructors of a TEAM-CBT international training group that she established in 2020. In her private practice she provides TEAM-CBT to patients who have experienced trauma, depression, and anxiety, or want to work on their relationship issues. She also provides EMDR, Hypnosis and Ketamine Assisted Therapy.

CEU Provider Statement: Course meets the qualifications for 1 hour of continuing education credit for MFTs, LPCCs, LEPs and/or LCSWs as required by the California Board of Behavioral Sciences, provided by NASW-CA.

Chapter Event Policy: NASW-CA is dedicated to providing a harassment-free experience for everyone, regardless of gender, gender identity and expression, age, sexual orientation, disability, physical appearance, body size, race, ethnicity, religion (or lack thereof), nationality, level of experience or technology choices. We do not tolerate harassment of program participants in any form, nor do we tolerate behavior that would reasonably lead to another participant being made to feel unsafe, insecure, or frightened for their physical or emotional well-being. All communication should be appropriate for a professional audience. Program participants, vendors, and stakeholders, violating these rules may be expelled from the program without a refund at the discretion of the conference organizers. By registering, you are agreeing to follow the code of conduct at NASW-CA virtual events.

NASW-CA Refund Policy: To receive a refund, requests must be emailed to naswca@socialworkers.org at least one (1) week prior to the event date. No refunds granted after the event, no exceptions. This policy also applies to group registrants. The refund for group registrations will go directly to the original payer of the registration fee. Refunds may take up to 10 days to process. If attendees pay with a credit card, the refund will be made to the same card. If attendees pay with a check, the refund will be made by check to the person or organization that originally paid for the registration.