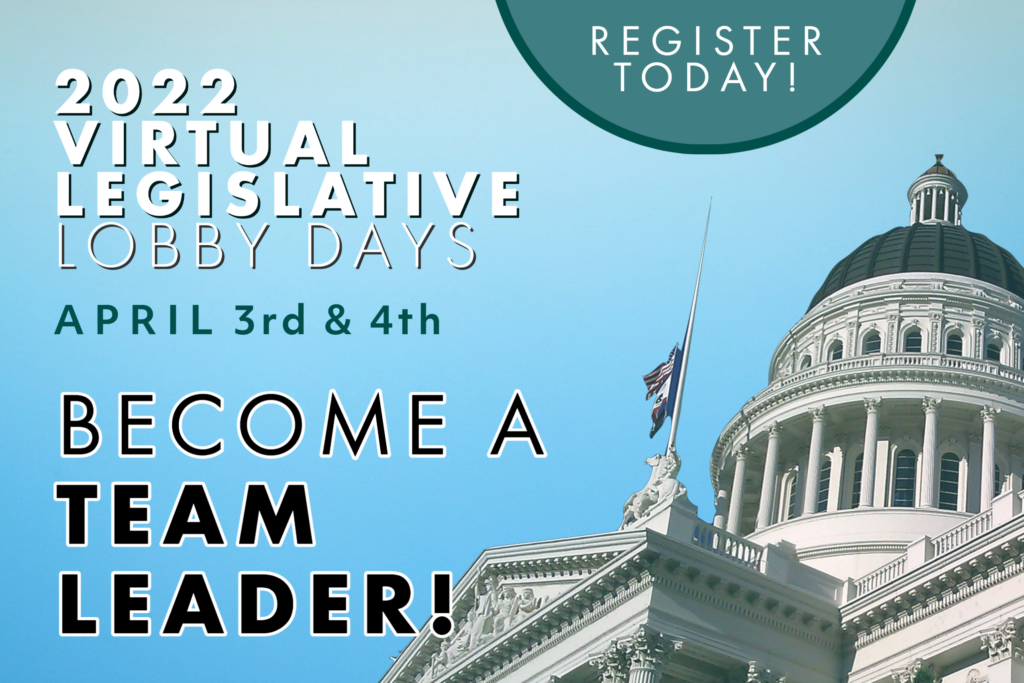 We encourage any interested Social Workers and students to participate as a Team Leader at the 2022 Legislative Lobby Days! You can influence the state legislature on social justice and social work issues by leading a team in policy conversations with elected officials. Team leaders assist in preparing participant groups or "teams" for legislative appointments. No prior experience is necessary. Anyone can be a Team Leader, and we offer training to help you make the most of Legislative Lobby Days 2022.
Why be a Team Leader?
As a Lobby Days Team Leader, you will:
Influence the state legislature on social policy changes
Engage in social and political action
Develop your leadership skills
Receive up to 8 CEUs
Receive a $10 registration discount
Receive training from the NASW-CA team to ensure your success
Help mentor student change-makers
The registration deadline for Team Leaders is March 14th, 2022. Team Leader slots are limited and are on a first come first serve basis, so we recommend that you register ASAP.
Team Leader Responsibilities
Choose an Assembly or Senate office during the registration process

Find state representatives and district numbers (use address where you are registered to vote) here

If neither your Assembly nor Senate District is listed, choose another one that's available

Help prepare a team of participants for their legislative appointments on Monday April 4th (appointments are pre-scheduled by NASW-CA with legislators and/or legislator staff)
Create a Zoom link for the legislative appointment, serve as the Zoom host, and facilitate the meeting
How to Apply for Team Leader
Register for Lobby Days and choose 1 of 4 registration types at the beginning of the registration process.
SW Student NASW Member
SW Student Nonmember
Professional NASW Member
Professional Nonmember
At the end of the registration process, choose Team Leader admission item.
Learn More About Becoming a Team Leader
Check out our Team Leader Guide for more information.
For any questions regarding Lobby Days or serving as a Team Leader, please email eventreg@naswca.org.