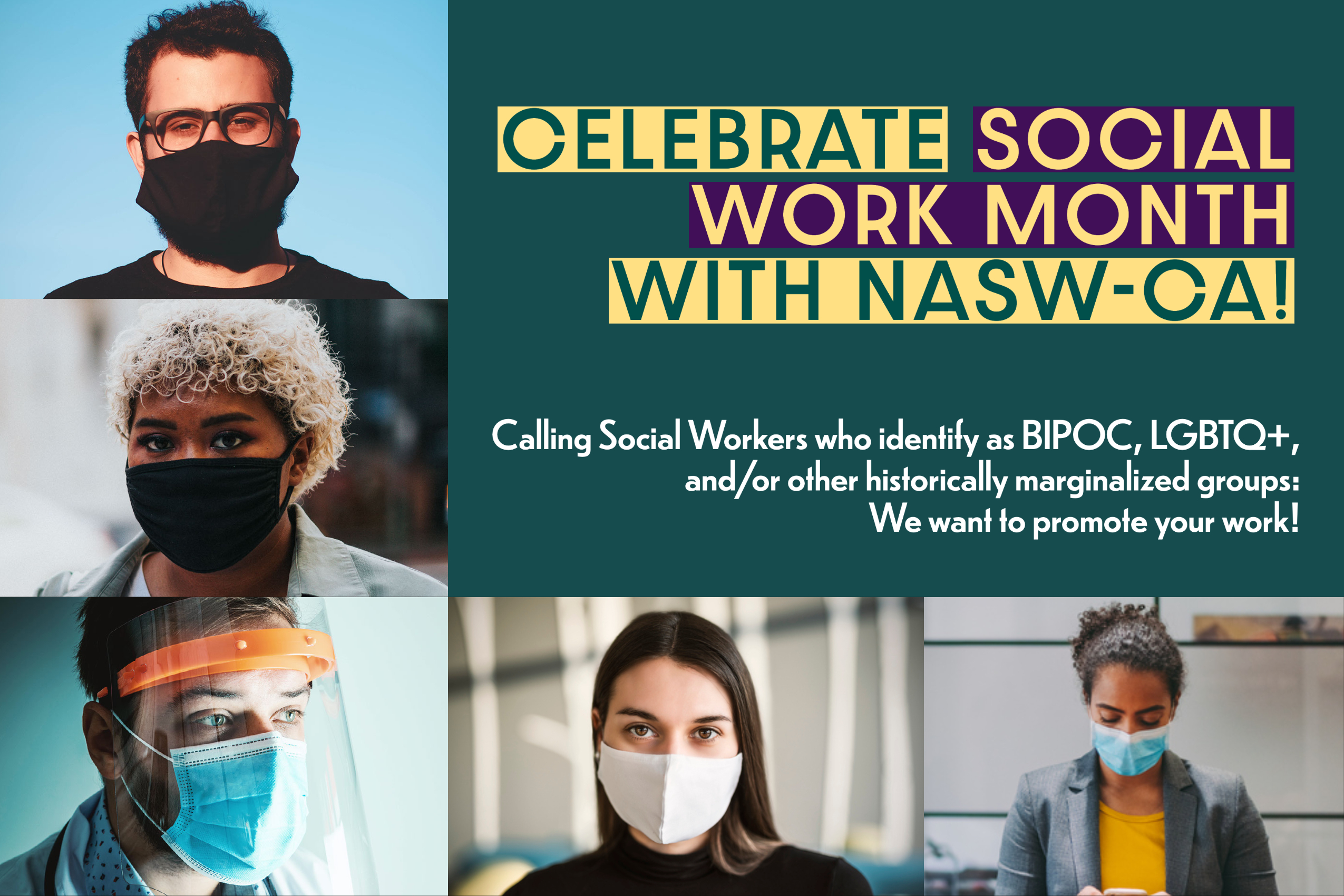 Calling Social Workers who identify as BIPOC, LGBTQ+, and/or other historically marginalized groups: We want to promote your work! NASW-CA announces an opportunity to showcase your experiences, research, and/or contributions to the community amid these challenging times.
Each spring, NASW-California hosts Social Work Month in the month of March in order to celebrate the field's dedicated practitioners, as well as the profession as a whole. Appropriately, the theme for Social Work Month 2021 is "Social Workers are Essential." This year's celebration will create space to honor those who have worked tirelessly on the frontlines, managing human service programs, and advocating for systems reform. Social workers are indeed essential and despite experiencing the stressors related to the pandemic right alongside their clients, they continue to answer the calls to action time and time again.
NASW-CA is committed to honoring California's social workers, and this annual celebration provides an opportunity for professionals to share their experiences & indispensable work. NASW-CA invites you to submit 1-2 paragraphs about yourself, along with any original research, articles, published written works, professional reflections, and/or personal profiles***. The content will be showcased during social work month on our social media platforms and included on our naswcanews.org website. NASW-CA is thrilled to provide an opportunity for you to share your vital insights & experiences with the California social work community.
SUBMISSION INSTRUCTIONS: E-mail Jennifer Cohen jcohen.naswca@socialworkers.org; e-mail should include your submission, a photo, & the location where you are practicing. Please use the subject line: Social Work Month 2021.
Rolling Submission Accepted through: March 15, 2021
***Note: We may do some light content editing to your submission, and will do our best to integrate all profiles submitted. We apologize in advance if we are unable to showcase your work this time around. If this is the case, NASW-CA will find alternative ways to lift up your work.
For more Information: Contact Jennifer Cohen jcohen.naswca@socialworkers.org;
For more information about Social Work Month: https://www.socialworkers.org/News/Social-Work-Month
SOCIAL WORK MONTH: March 2021