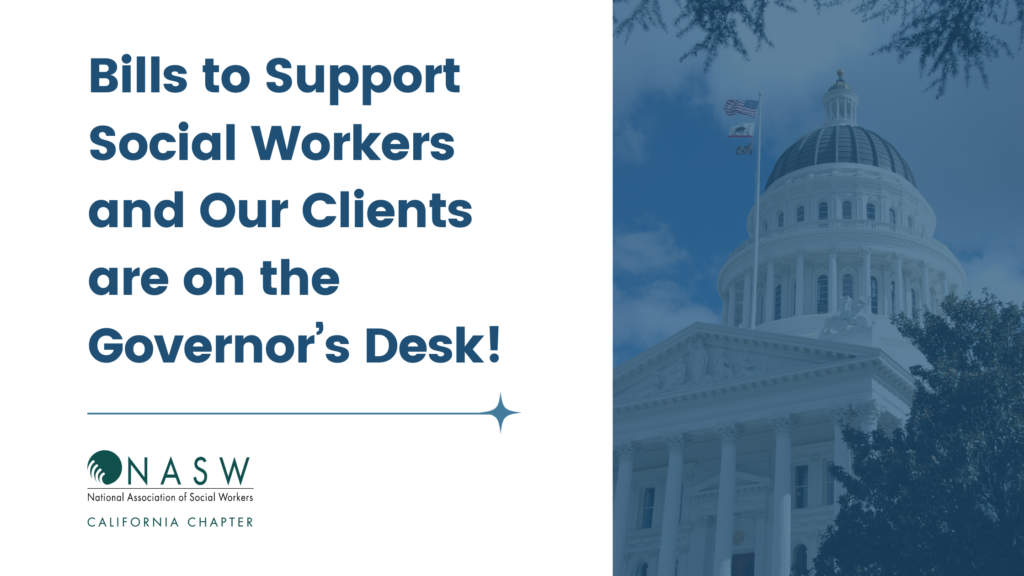 The California legislative session will end on September 14, and many bills sponsored and supported by NASW-CA are on Governor Newsom's desk for his signature or veto. The Governor will have until October 14 to sign or veto each bill. Here is an update on a small portion of the bills we have supported.
NASW-CA Co-Sponsored Bills on the Governor's Desk:
Other Bills Supported by NASW-CA on the Governor's Desk:
As previously mentioned in this newsletter, our priority sponsored bill, SB 766 (Eggman), Title Protection for Social Workers, is a two-year bill and it will be eligible for another hearing in January 2024. This bill only allows a person with a degree from a CSWE accredited school of social work to be called a social worker.  
At the time this article was written, we were still waiting for the final vote on one of our lobby day bills – SB 407 (Wiener). This bill requires a resource family to demonstrate an understanding of the unique needs of LGBTQ+ and gender-expansive youth, and the capacity and willingness to meet those needs.  
Other bills previously mentioned in this newsletter:
We would like to thank the social workers who have supported our advocacy efforts this year! This includes the 800 social workers and social work students at Lobby Days plus other social workers who advocated on specific issues. You may have noticed that several bills above were authored by our social work legislators – Senator Susan Talamantes Eggman, Senator Caroline Menjivar and Assemblymember Corey Jackson. We are so pleased how social work has positively impacted policy in the State of California and across the country. Please stay engaged and involved! After the Governor has completed his bill signings and vetoes, we will provide another update.