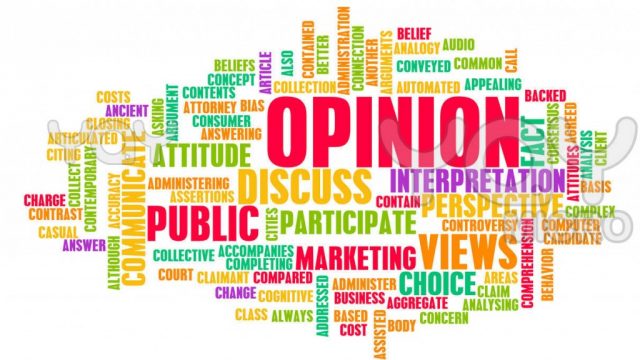 By Jason Bloome
Money Follows the Person (MFP), a federal program first launched in 2007, allocated $1.75 billion dollars over five years to fund state programs to transition participants from skilled nursing facilities (SNFs) to home and community-based services (HCBS). In 2011 Congress extended the program and increased the program's allocation to $4 billion. Forty-four states and the District of Colombia currently participate in the program and, as of 2018, there have been more than 88,000 transitions. MFP is the largest demonstration program in the history of Medicaid.
MFP expired in 2016 and, while states can still continue access funding through fiscal year 2021, many states have already exhausted their funding allotment. Earlier this year, Congress provided short-term funding to extend the program but those monies are expected to run out by September. Currently pending in the Congress is the EMPOWER ACT, a bill which would strengthen MFP and extend the funding until 2023. Despite its bipartisan support, the final outcome of the bill is uncertain.
HCBS is far more affordable than long term support and services (LTSS) Medicaid payments to SNFs. According to the Center for Budget and Policy Priorities, from 2008 to 2013 MFP saved more than $978 million in Medicare and Medicaid dollars and has played a significant role in states' LTSS rebalancing programs. Findings suggest individuals who participate with MFP lower Medicare and Medicaid expenditures by 20%.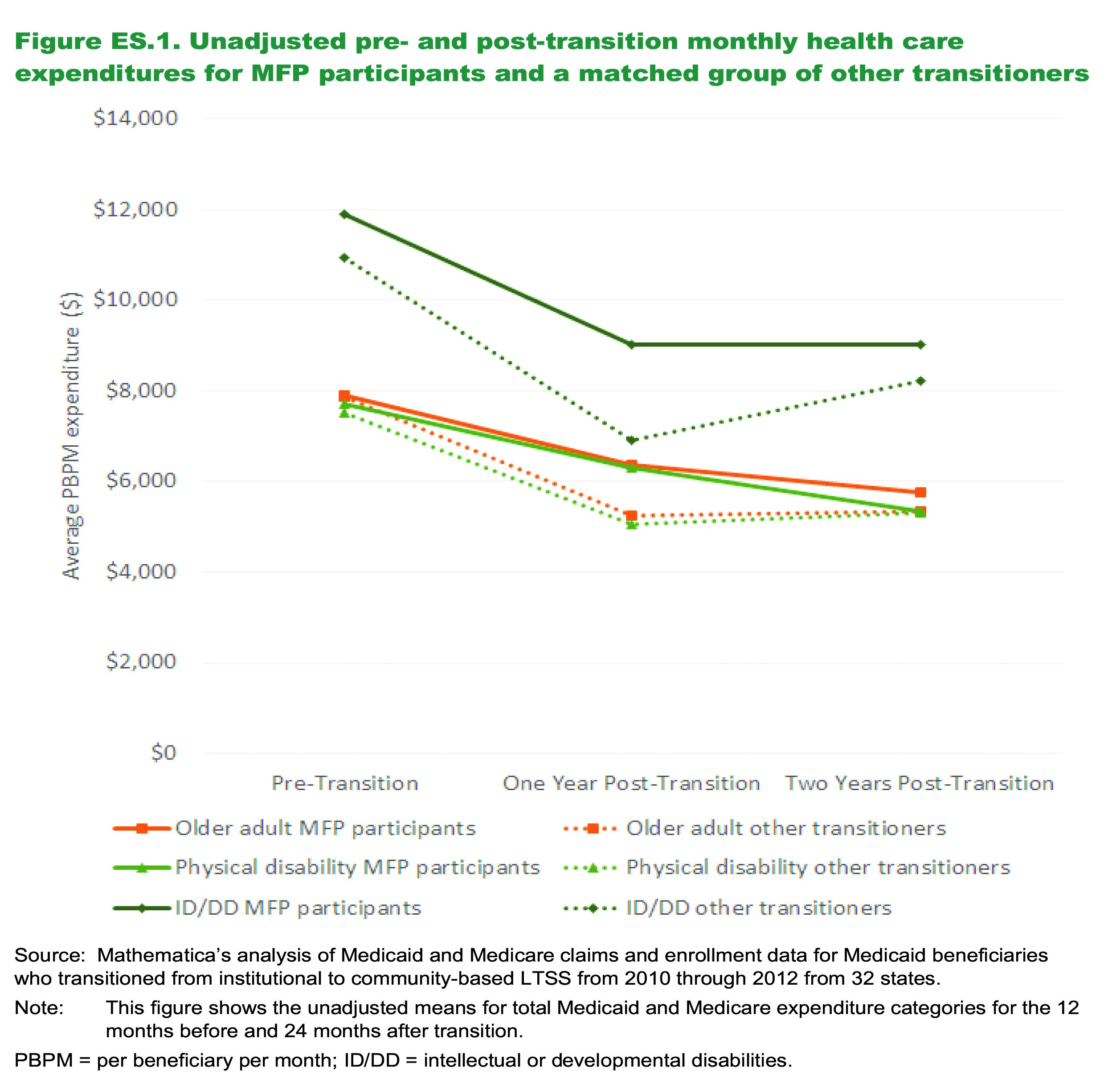 Recent evaluations show MFP has many positive outcomes: early access to HCBS minimizes the length of institutional stay, beneficiaries are three times more likely to return to the community after an institutional stay compared to SNF residents on LTSS and participants have a much lower SNF readmission rate after their initial discharge to the community from the SNF.
MFP has also improved quality of life outcomes for participants. Ninety-two percent of those surveyed report they liked the place they lived after one year of transitioning to the community — a 30 point increase when compared to surveys of SNF residents on LTSS.
MFP programs also generated an 18-point decline in barriers for participants transitioning from SNFs to community-based care settings, and resulted in less depression for participants as compared to SNF residents on LTSS.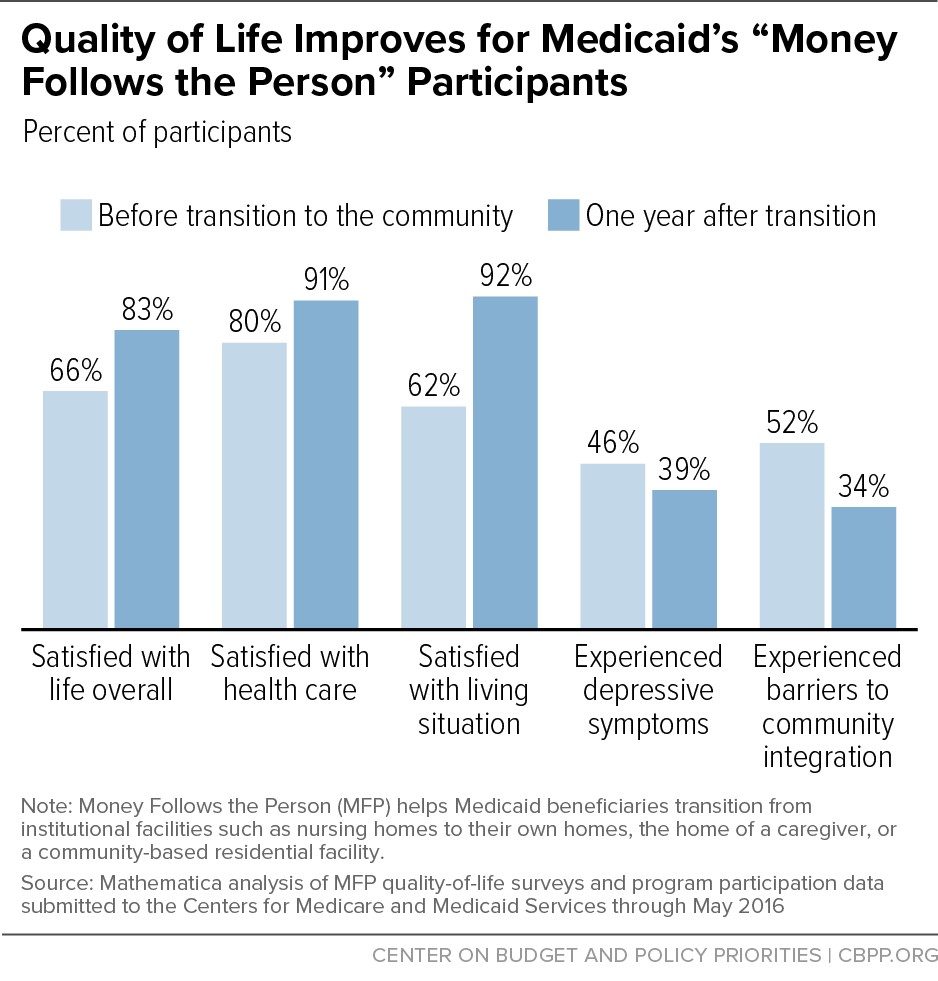 Significant variations for populations that need HCBS exist from state to state. For example, HCBS accounted for 75% for persons with developmental disabilities when compared with 41% expenditures for the elderly, people with physical disabilities and people with serious mental illness.
Most MFP participants are young (more than 62%) even though the majority of MFP eligible candidates are seniors (65+) who reside in SNFs. Relatively few seniors participate with MFP when the overall eligible population in considered: for every 1,000 seniors eligible there are only three SNF transitions.
States experience significant challenges when implementing MFP, including housing shortages, limited HCBS capacity, shortages of direct-care providers and inefficient Medicaid policies. Despite these handicaps, MFP is very popular and many SNF patients could benefit. In a recent analysis of Minimum Data Set reporting more than 50,000 SNF residents said they wanted to speak with someone about leaving the facility.
It is up to Congress and the President to sign into law the bill titled the EMPOWER ACT that will extend MFP until 2023. A bill that saves money and allows patients to transition out of SNFs should have swift passage but like many things in Washington even the most commonsense of proposals face tough odds when the tempest of political winds blows without rhyme or reason and good ideas like doomed sailing ships lie broken against the shore.
Jason Bloome is owner of Connections–Care Home Referrals, an information and referral agency for care homes for the elderly in Southern California. More information can be found at www.carehomefinders.com.
Sources:
https://www.cbpp.org/blog/congress-should-extend-successful-money-follows-the-person-demonstration.
https://blog.aarp.org/2019/03/18/money-follows-the-person-program-a-win-win-solution-but-will-it-stay-around/.
https://www.cms.gov/medicare/quality-initiatives-patient-assessment-instruments/nursinghomequalityinits/mds30raimanual.html.
https://medicaid.publicrep.org/feature/money-follows-the-person/.
https://www.medicaid.gov/medicaid/ltss/downloads/money-follows-the-person/mfpfieldreport21.pdf.