To My Fellow NASW Member: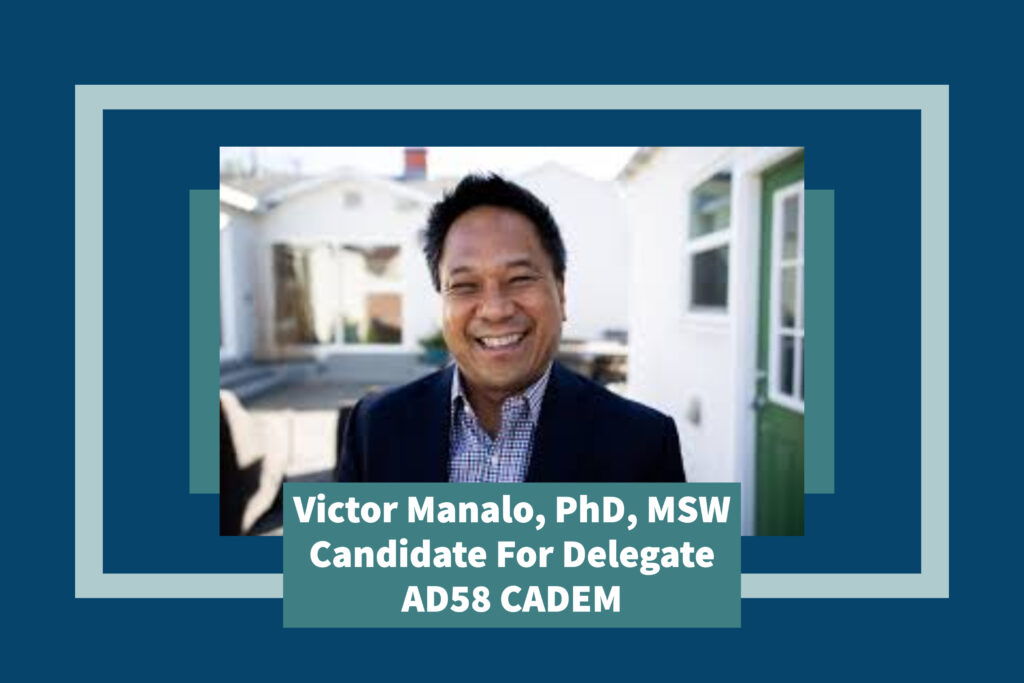 My name is Victor Manalo.  I am a long-time NASW member and President-Elect of the NASW-CA Board of Directors.  I am a retired Associate Professor in the School of Social Work at California State University, Los Angeles and a former Councilmember for the City of Artesia.
I am running for CA Democratic Party Delegate for the 58th Assembly District, and I am asking for your vote. 
As your Delegate, I will represent social work values as we endorse Democratic candidates at the state and national levels, and, as we develop the CA Democratic Party's agenda, I will work to ensure that the Party advocates for social justice issues, such as establishing universal health and mental health care for all and increasing public investment in under-resourced communities.
To vote in this election you must have requested a mail-in ballot at ADEMElections.com by January 11th.  All registered Democrats are eligible to vote in this election, but you will not receive a ballot automatically–you must request your ballot at ADEMElections.com. If you have any problems or questions, feel free to email me at Victor@VictorManalo.com.
Thank you for your consideration, and I hope that I can count on your vote.
Sincerely,
Victor